Mt. Bloomfield (787+) in Puerto Princesa, Palawan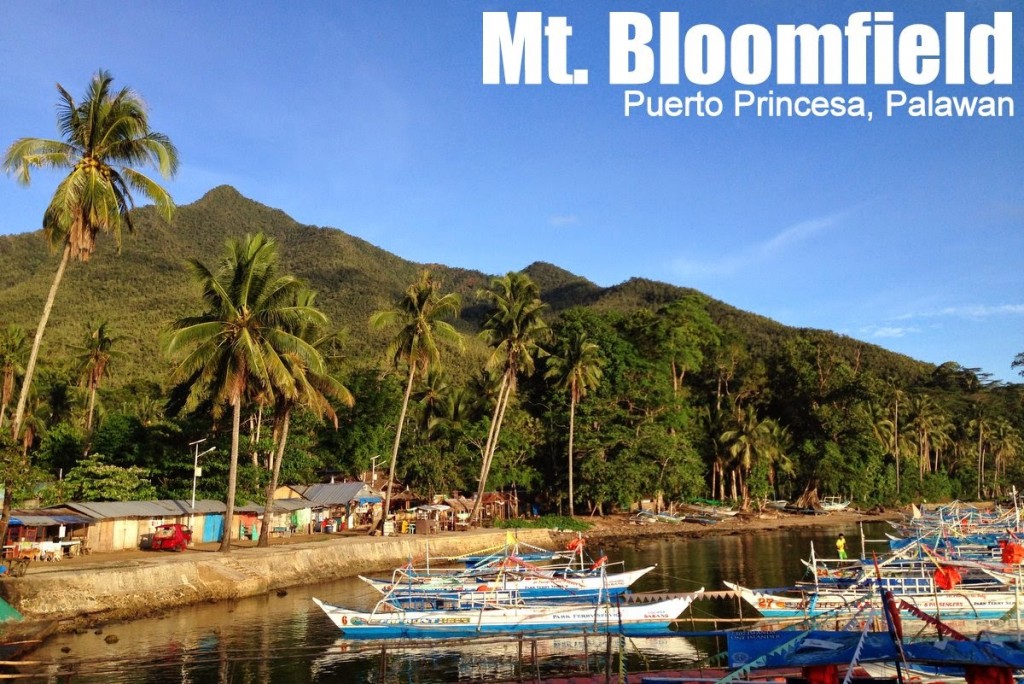 MT. BLOOMFIELD
Puerto Princesa, Palawan
Major jumpoff: Sabang Beach, Puerto Princesa
LLA: 10°11′47.8′′N 118°52′19.2′′ E, 787 MASL (+787m)
Days required / Hours to summit: 1 day / 3-4 hours
Specs: Minor climb, Difficulty 4/9, Trail class 1-4
Features: Ultramafic forests, scenic coastal views
Article created: August 19, 2014
Last updated: August 19, 2014
BACKGROUND
One of Puerto Princesa's beautiful mountains, and one that is conveniently accessible to visitors of the famed Underground River, with its trail starting from Sabang beach itself, Mt. Bloomfield offers the unique opportunity of trekking on a mountain that lies within a UNESCO World Heritage Site.
The trek starts from Sabang beach itself, and after a brief march through agricultural lands, the trail quickly turns rocky, until you reach the purely ultramafic slopes that lead up to the mountain. As is the case elsewhere in Palawan, these rocks are actually nice to walk through, and are not very slippery.
A view of the sea that faces Sabang beach quickly emerges, and follows you even after you enter the forest. Stunted trees, akin to those of Mantalingajan and Victoria, cover the higher reaches of the mountain, allowing hikers a 'sneak preview' of what it feels to be hiking in Palawan.
At the Eagle's Ridge, an excellent viewpoint right before the summit, the views are stunning. Mt. St. Paul, the mountain which houses the Underground River, rises like a behemoth to the north, and behind it, Cleopatra's Needle, the highest mountain in Northern Palawan. Amazingly, even the distant Mt. Capoas in Malampaya Sound can be seen, if you follow the western shoreline. (Past the Eagle's Ridge, there is a quick but steep ascent to the summit proper, which is covered with trees and doesn't offer much of a view.)
Mt. Bloomfield gives outdoor enthusiasts a great reason to spend the night in Sabang, after an Underground River tour. Certainly, hikers used to seeing Philippine forests would find it way more interesting than the Jungle Trail. Also, the hike is just 1.5-2 hours away from Puerto Princesa, making it an attractive dayhike for locals. Either way, Mt. Bloomfield with its amazing scenery and great ultramafic trails makes for a rewarding day in Palawan.
ITINERARIES
DAYHIKE
From Puerto Princesa
0530 Take shuttle van to Sabang
0715 Arrival at Sabang. Register at the Park Office.
0730 Start trekking
1100 Arrival at Eagle's Ridge
1130 Arrival at summit. Head down to the Lunch.
1300 Start descent
1530 Back at trailhead. Tidy up
1600 Take van or jeep back to Puerto Princesa (last trip: 1800)
1800 ETA Puerto Princesa.
OVERNIGHT (WITH JUNGLE TRAIL AND UNDERGROUND RIVER)
From Puerto Princesa
*Note: It is necessary to make prior arrangements for the Underground River permits as well as the guide/s for the Jungle Trail.
Day 1
0530 Take shuttle van to Sabang
0715 Arrival at Sabang. Leave things at your hotel; Register at the Park Office.
0800 Start trekking via the Jungle Trail
1000 Arrival. Commence Underground River Tour.
1200 Head back to Sabang by boat
1300 Late lunch.
1400 Relaxing afternoon in Sabang.
1800 Dinner / socials
Day 2
0500 Start Mt. Bloomfield trek early in the morning
0830 Arrival at Eagle's Ridge. Enjoy the views.
0900 Summit assault.
0930 Back at Eagle's Ridge. Start descent
1200 Back in Sabang. Lunch / Tidy-up / Checkout
1400 Take van or jeep back to Puerto Princesa (last trip: 1800)
1600 Back in Puerto Princesa
PRACTICALITIES: MT. BAHILE
Transportation
from Puerto Princesa

Public

(1) Shuttle van: San Jose Terminal to Sabang [140 pesos; 1.5-2 hour]

Private Take the Puerto Princesa North Road and follow directions to Sabang. You can park at the main parking area near the Puerto Princesa Underground River office.

Registration

At the PPUR Park Office in Sabang
[No fees as of Aug 2014]

Forest rangers of PPUR can potentially act as guides, but availability is not always assured (Suggested rate is 500 pesos/guide/day)

Jessa Garibay (volunteer coordinator): + 639272285321

Campsites

The summit itself can potentially act as campsite, but with space for just a few tents

Water sources

None identified

Cellphone signal

Weak at the trailhead, stronger from 400m upwards, sporadic at first, but brisk at the summit

River crossings

None

Roped segments

None

None

None

Rattan

None

Hiking notes

This is a very new hiking destination so many changes may still happen in the itinerary and in the process of going up the mountain.

Sidetrips

The Jungle Trail and of course the Underground River (see itinerary above). Additionally, the hike itself can be done as dayhike that is part of a multi-day Puerto Princesa hiking trip.

Alternate trails

Possible traverse to the southwest face of the mountain in Brgy. Cabayugan.

Yes (3-4 hours to summit; 2-3 hours down)

400-600 pesos (Dayhike)
1500-2000 (Overnight including Underground River and basic hotel stay in Sabang)
MT. BLOOMFIELD PICTURES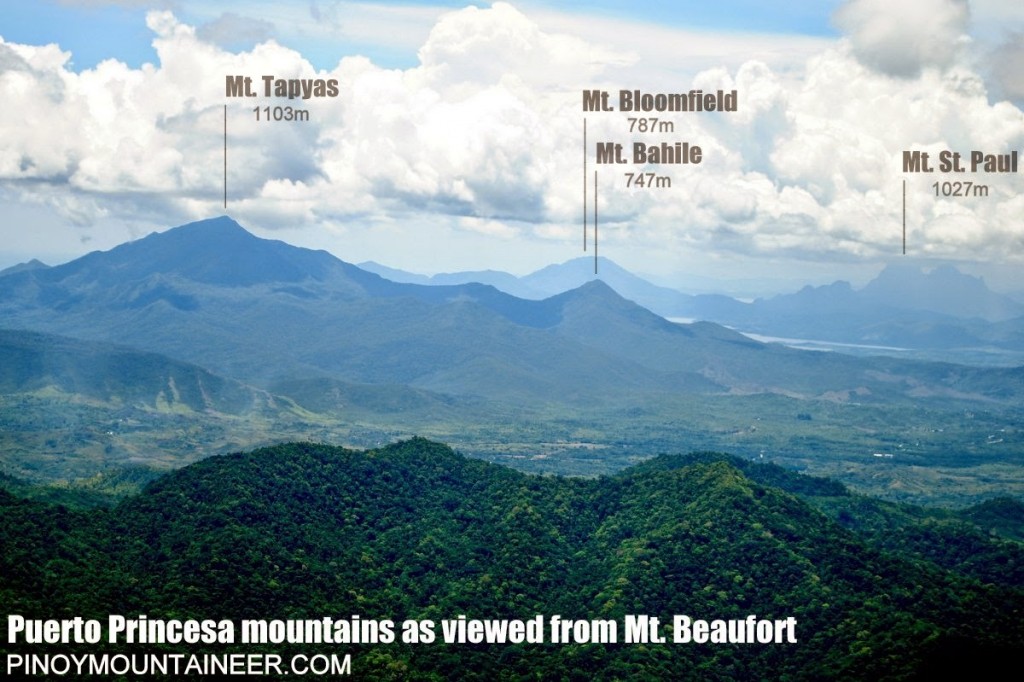 Mt. Bloomfield and the other mountains of Puerto Princesa (G. Lasco, 2014)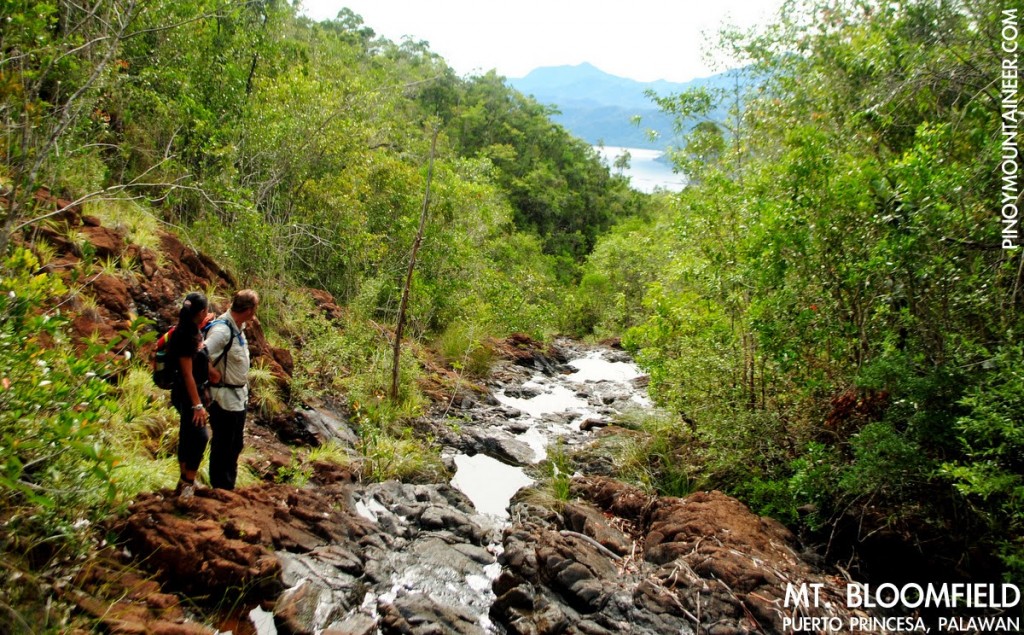 Ascending through the ultramafic rocks of Mt. Bloomfield (G. Lasco, 2014)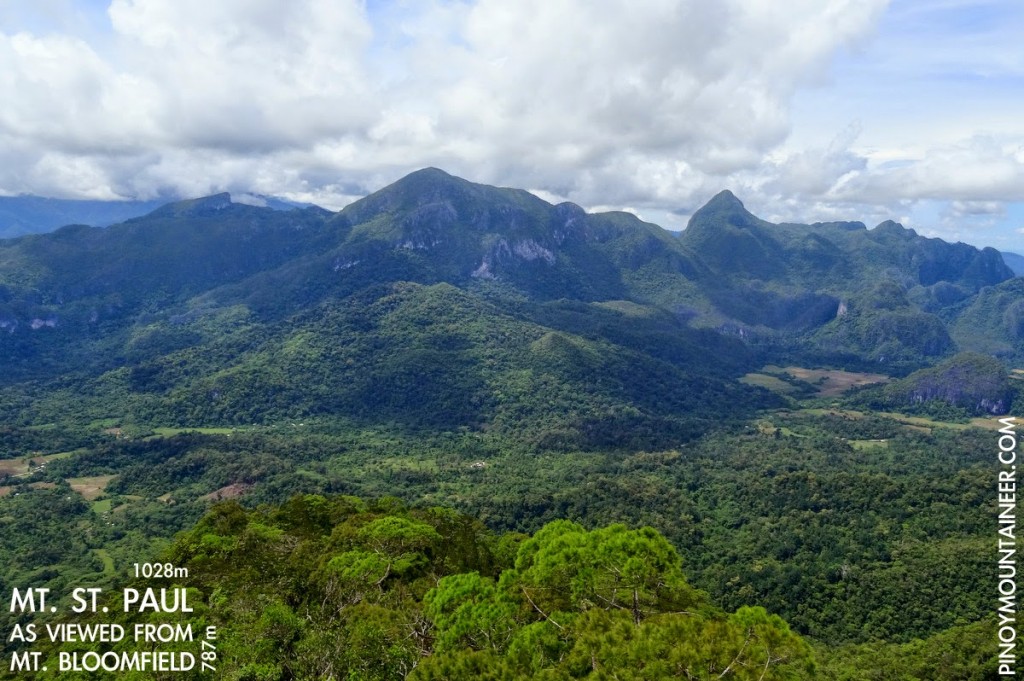 View of Mt. St. Paul, the mountain that houses the famous
Puerto Princesa Underground River (G. Lasco, 2014)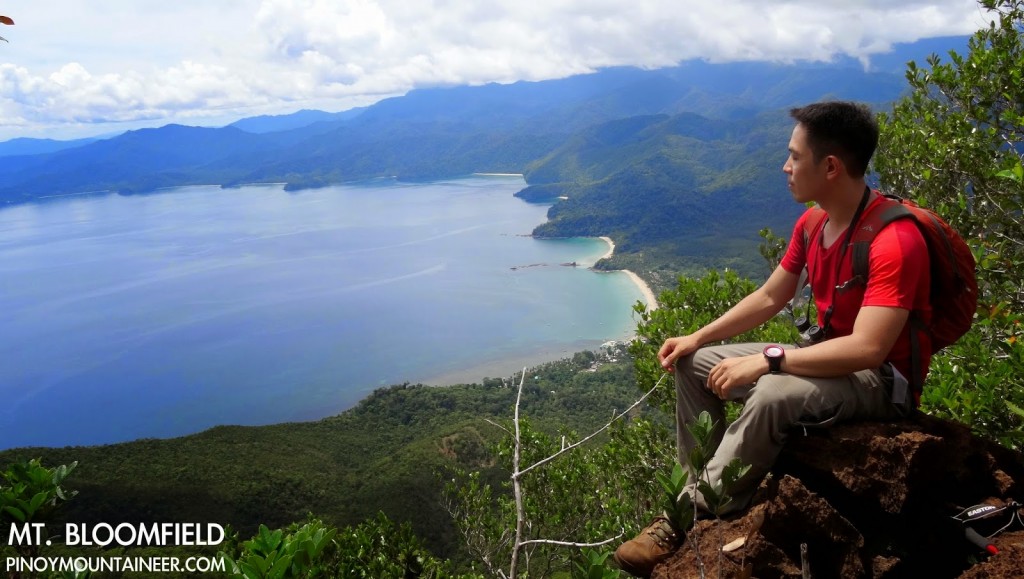 The blogger at Eagle's Ridge, 700 MASL (J. Garibay, 2014)
TRIVIA
An account of the blogger's hike up Mt. Bloomfield is narrated in Hiking matters #406.