Hiking matters #361: The other side of Mt. Natib – The traverse from Orani to Morong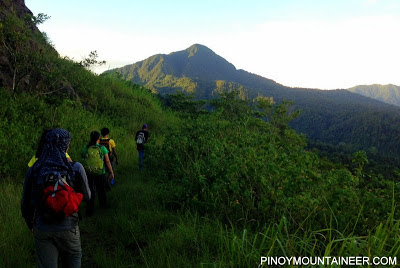 SUBIC, ZAMBALES – Exactly two weeks after reaching the summit of Mt. Elbrus, I am glad to hit the Philippine trails again today with a traverse of
Mt. Natib
from Orani to Morong, Bataan. It's been three years since I first hiked this peak (see
Hiking matters #77
) so it was great to be back especially with the opportunity to take the Morong Trail – in what would essentially be east to west traverse of the mountain.
The trip was organized by
Ivan Lakwatsero
. We took the Genesis Liner bus to Orani, Bataan (187 pesos; 2.5 hours) and waited at the junction for the tricycle that took us to the Brgy. Tala jumpoff (P200 per trip). There, guide Wilnor (09186139628) was waiting for us. We started trekking at around 0520H.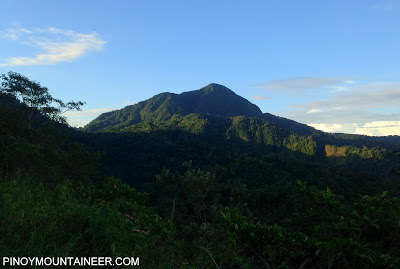 The trail up to Mt. Natib summit i.e. the regular Mt. Natib trail from Orani can be divided into two parts. The first is a gradual ascent leading to the campsite at the foot of Natib's peak, which took us 2.5 hours; the second is a rather steep ascent to the peak itself, which took us 45 minutes. The first part is quite pleasant, alternating between woodland and occasional grassland – and at times with nice views of surrounding mountains. The second part is forested, sometimes with rattan and other 'specs' akin to the assault of Pantingan Peak.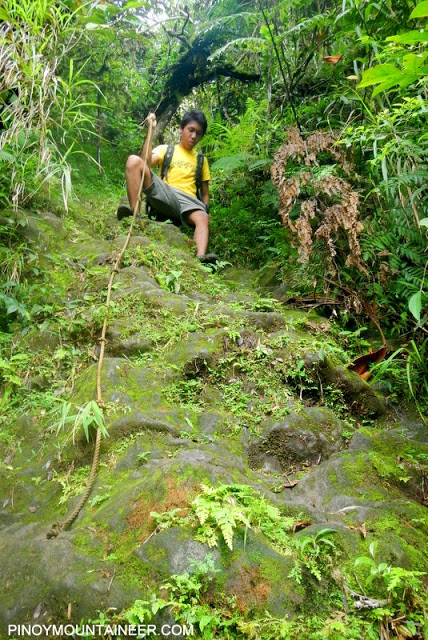 As expected, there were limatik in Mt. Natib and they gave us a warm welcome. But honestly I don't really mind them too much. For all their slime and blood, limatik are largely harmless, leaving no trace of their bites in a matter of hours or days. They are overrated creatures, feeding on our blood less than feeding our imagination.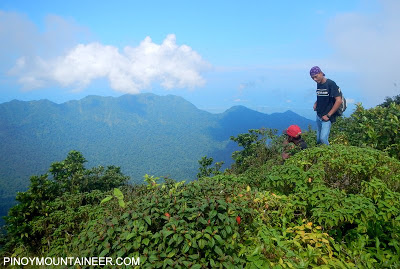 We had a partial clearing at the summit, allowing a glimpse of Mt. Samat and its white cross, as well as a blurry Mt. Mariveles. We couldn't see Arayat and the rest of the Central Luzon repertoire of mountains, but we were thankful enough that we had non-rainy weather! We stayed at the peak for a good 30 minutes or more.
The traverse of Mt. Natib is not through the peak, and we had to return to the campsite, then headed west towards Morong. This trail is beautiful; park-like in some parts, with lots of forested ridges featuring a variety of trees that would have delighted many a botanist and tree-lover. The descent was very gradual – a mere 100 meters per hour on the average!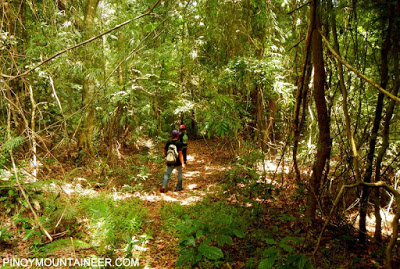 Along the way we met Tatay Rolly, who offered us some kamote which I gladly accepted. He has a small hut and a vast plantation of all the Bahay Kubo vegetables and a variety of fruits. Don't miss a chance to talk to this jolly old fellow!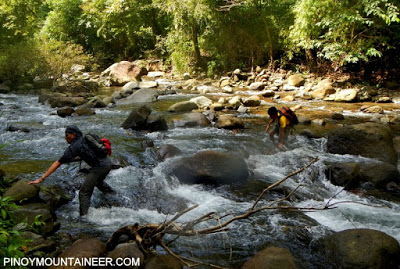 Eventually, we reached sections of Morong River, which we had to cross eight times. The knee-deep water was easy enough to pass through, but I was also thankful that there was so sudden rainstorm that would have complicated the final hour of the trek. After the river, just as we began to think that it was all over, there was a not-so-final ascent to a tiny village, and then a descent to a final section of the river, and then a truly final ascent to the Aeta village that serves as exit point: Sitio Kanawan.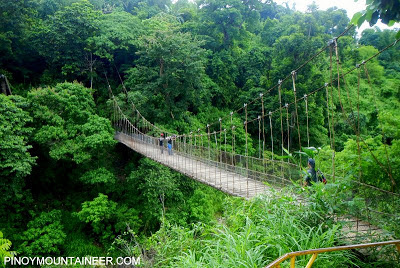 What a long hike it was! It took just over 3 hours to reach the summit, but over 7 hours to reach the exit point in Morong! I would give an approximation of 12-14 kilometers for the descent alone; the sheer length makes for an exciting dayhike! From Morong we headed to Subic, where we are having a postclimb dinner; from here we will head back to Manila via Olongapo. Thanks to Ivan for organizing the hike and to the rest of the team!
Note: An updated Mt. Natib article containing an itinerary for this traverse is now available in PinoyMountaineer.com