Mt. Labo, Camarines Norte (1,544+)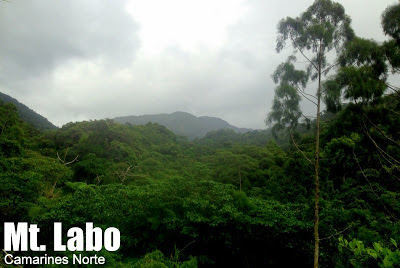 MT. LABO
San Lorenzo Ruiz, Camarines Norte
Jumpoff: Sitio Butan, Brgy. San Isidro, San Lorenzo Ruiz
LLA: 14°0.79′ N, 122°47.3′ E, 1544 MASL
Days required / Hours to summit: 2-3 days / 8-10 hours
Specs: Major climb, Difficulty 6/9, Trail class 1-3
Feartures: Tropical forest, waterfalls, river crossings, scenic views of Southern Luzon mountains, rafflesia
Last updated: September 19, 2013
BACKGROUND
Rising to an impressive height of 1544 meters above sea level, Mt. Labo in Camarines Norte is a haven of biodiversity whose roster of species include the rafflesia (Rafflesia manillana) as well as the rufous hornbill (Buceros hydrocorax). Hikers, for their part, can take delight in the challenging trails of the mountain system (it is too big to be called just a single mountain). Straddling three different municipalities, the possibilities for traverse trails are many.
This article describes the regular trail to Mt. Labo coming from Brgy. San Isidro, San Lorenzo Ruiz. This trail is based on previous geothermal prospecting done more than a decade ago. These efforts did not come to fruition, but in its aftermath, rough roads were left behind leading to the drilling site located 9 kilometers from the trailhead and around 800 meters above sea level. These rough roads – overgrown since – became the initial (and very long) part of the trail, while the site became the campsite.
From the campsite, over 700 meters of altitude have to be gained to reach the summit which is 1544 MASL. Here, the environment is different: the forest is central rather than peripheral to the trail, and the hiker can immerse in it, experiencing the beauty of the moss-covered trees, and at the summit, on a clear morning, Mt. Mayon, Mt. Isarog, and even Mt. Banahaw can be seen.
Meanwhile, from the campsite one can take a trail to the Angelina Falls (actually named after Tiong Ani himself) just thirty minutes away – it is a worthy sidetrip. Finally, during June or July, there is a week or two when the rafflesias are in bloom, making them a seasonal but very rewarding destination for hikers who have an interest in our unique tropical flora and fauna.
ITINERARY
Day 0
2100 From Pasay or Cubao, take bus to Daet
Day 1
0500 Arrival at Daet. Buy supplies at market / Breakfast
0700 Rent jeepney to jumpoff (Brgy. San Isidro, SLR)
0800 ETA jumpoff. Register with Tiong Ani and secure guide/s
0900 Start trekking
1200 Lunch along the way
1300 Resume trek
1600 Arrival at Campsite. *Optional sidetrip to Angelina Falls
1900 Dinner / socials
Day 2
0400 Wake up call
0430 Begin assault to summit
0700 ETA summit of Mt. Labo (1544 MASL)
0730 Start descent
0900 Back at campsite. Brunch / Break camp
1030 Start descent
1630 Back at jumpoff. Tidy up
1700 Take jeep back to Daet
1800 ETA Daet. Dinner
2000 Take bus back to Manila
*Note: Because the jeepney from Daet to the jumpoff is very irregular and will still require some walking to the trailhead, I decided not to make public transportation the default mode in this itinerary.
PRACTICALITIES
Transportation

(1) Pasay or Cubao to Daet – PhilTranco, DLTB, Superlines or Amihan bus
– P550

(2) Daet to trailhead by rented jeepney – P1500 roundtrip or P800 one-way

Registration

Logbook at Brgy. San Isidro; no fee required

Guides

Available: Tiong Ani (+639104051851)

Campsites

One: around 800 MASL, 9 kilometers from trailhead

Water sources

Multiple; last water source ~500
meters from campsite

Cellphone signal

Present in most parts of the trail including summit (Globe >
Smart)

River crossings

Three crossings before the campsite

Beware of flashfloods

Roped segments

None

Limatik

Yes – mild to moderate

Lipa

Yes – minimal

Rattan

Yes – minimal

Sidetrips

Angelina Falls – 30 minutes away from campsite

Alternate trails

There are traverse routes but not very established as of 2013

Dayhikable

Yes (6 hours up, 6 hours down)


MT. LABO PICTURES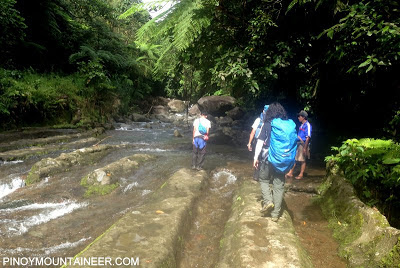 This part of the trail is called 'spillway' and is 2.2 kilometers away from
the trailhead.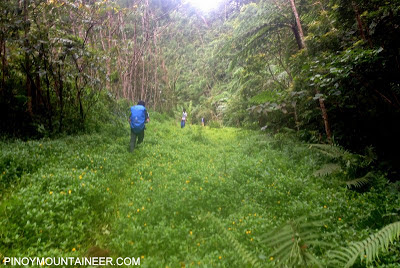 The first part of the trail is a wide, overgrown rough road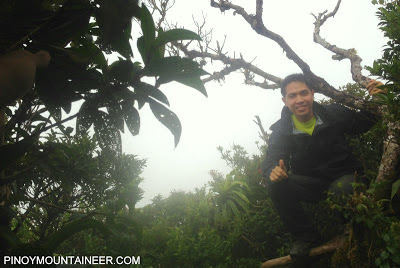 At the summit of Mt. Labo, 1544 MASL



TRIVIA
The exploration efforts that culminated in the establishment of the current trail were initial by the members of the Camarines Norte-based Oryol Outdoor Group from 1999-2001.
This mountain was climbed as a dayhike by the blogger on September 14, 2013. See the account in Hiking matters #367.