Hiking matters #367: Hiking up Mt. Labo in Camarines Norte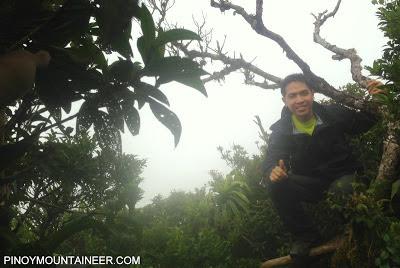 At the summit of Mt. Labo, 1544 MASL in Camarines Norte
DAET, CAMARINES NORTE – Bicol is one of my favorite regions for hiking, since 2009 when I first climbed Isarog via Panicuason (see Hiking matters #75). Memorably, I did seven Bicol hikes in 8 days in 2011 with Iron Lady (Asog, Mayon, Mayon again, Malinao, Pulog, Binanderahan, Masaraga) and I have since come back for Bulusan, Isarog via Patag-Patag, and the Catanduanes mountains.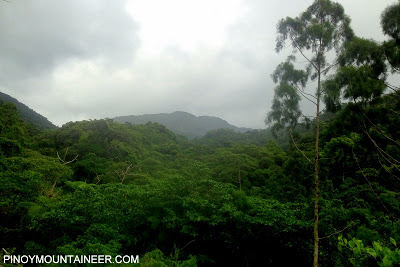 Yesterday, I had the opportunity to continue my appreciation for Bicol mountains with a dayhike of Mt. Labo in Camarines Norte. This province – the northernmost in the region – actually has at least four mountains – Mt. Labo, Mt. Cadeg, Mt. Bagacay, and Mt. Balagbag. I decided that I would try to go for Mt. Labo as the highest and 'most major' of the four, and come back for the rest next year.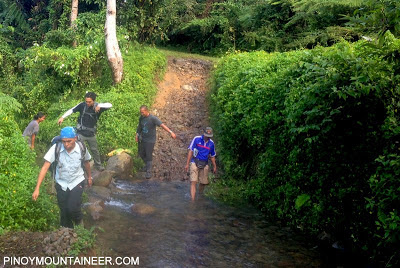 Our group of four from Manila was accompanied by Kulot, a hiker from Daet, and we were guided by the affable Tiong Ani, also a member of the ORYOL Mountaineers. At first, he was skeptical abut the plan to do a Mt. Labo dayhike, saying it has never been done, but I told him: "Let's just see how far we reach. We will turn back at 1400H, summit or no summit." We started at 0800H from Brgy. San Isidro, San Lorenzo Ruiz – Tiong Ani is actually a kagawad in that barangay.
Mt. Labo's trail can be divided into two parts: An overgrown rough road that used to be a path for geothermal explorations, and then a steep, forested ascent to the summit. The Mt. Labo campsite area divides the two parts of the trail. Usually, in a two-day itinerary, hikers head for the campsite on Day 1, assault the summit the next morning, and descend on the same day.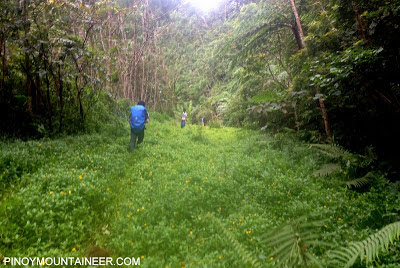 The rough road trail is estimated by Tiong Ani to run to 13 kilometers, and it is very long by any yardstick. It is wide and the altitude gain is very gradual. There are three crossings on streams that can swell and compromise the hike; fortunately we had good-enough weather. The trail will make you appreciate how vast Mt. Labo is, as you pass by peak after peak only to be told that Mt. Labo itself was way beyond them.
It took us 3.5 hours to reach the campsite, on a brisk pace. We took a 30-minute lunch break, and resumed the trek at noontime, in the hope of reaching the summit before my declared turn-back-time of 1400H. A dramatic shift of trail and environment ensued; suddenly we were trekking on a dense jungle, parts of which remind me of the Makiling Traverse trail, or Mt. Isarog. There were some interesting fauna around and I'm sure if we had more time I would have seen more.
As we went higher it became mossier, and I took a video at around 1400 MASL to document the beauty of it:

Finally, at 1350H, we reached the summit of Mt. Labo, 1544 MASL. There was no clearing, which was what I expected anyway. Had we hiked on sunnier day, however, we would have seen Mt. Banahaw, Mt. Isarog, Mt. Mayon, and probably even Mt. Guiting-Guiting. This ought to be an encouragement for those who are interested to climb this mountain! As for me, I was just so happy to reach the summit. Perching myself in one of the trees there, I was reminded of Mt. Makiling's Peak 2.

There was still the matter of going back, which was no joke. Driven to the summit by the momentum and excitement of reaching for the summit, we now had to drag ourselves back the same trail, draining much of our energy and taking almost as long as the ascent. It rained, but fortunately the rivers were passable and after finally reaching the jumpoff, we headed back to Daet where we spent the night. Today I am heading back home, thankful for the opportunity to climb Labo, and looking forward to the next Bicol hike!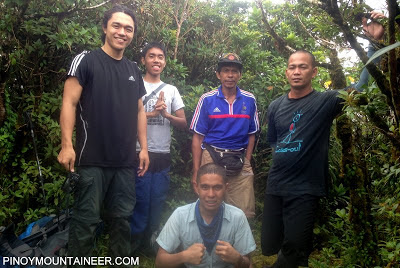 PinoyMountaineer thanks Melvin Brinas for assisting us in our hike, and for Kulot and Tiong Ani for accompanying us! Dakulong salamat! Thanks also to Coby, Ivan, and Arvin for joining the hike.