Hiking maters #381: Delphi, Greece – the site of ancient Oracle on the slopes of Mt. Parnassos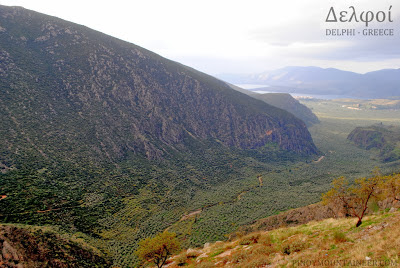 AMSTERDAM – A day after the relaxing walk in Cape Sounion (see Hiking matters #380), Mai and I went to Delphi, the site of the ancient Oracle and one of the most important places in Ancient Greece. Kings and emperors alike sought the counsel of the Oracle, a priestess who was believed to receive tidings from Apollo himself. From the Trojan War to Alexander's conquests, Delphi loomed large as in indispensible part of the narrative.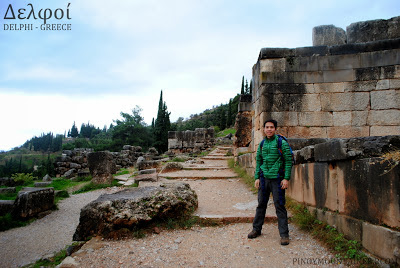 For me, the added bonus was that Delphi was perched in the slopes of Mt. Parnassus, one of the loftier mountains of Greece (for Parisians, this is where Montparnasse comes from). Delphi can be the beginning or the end of a hiking trip – in the same way that Batad Rice Terraces can be the beginning or end of a Mt. Amuyao Traverse. I actually considered doing a longer hike of Parnassus but ultimately – given the bad weather that weekend – I had to content myself with a walk within Delphi, with the ruins as the highlight. It was still a very memorable trip and I would like to go back to hike in the area someday.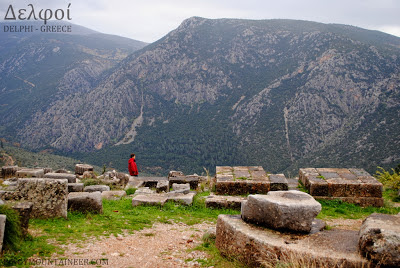 The highlight was the archaeological site where ancient Delphi stood. A winding stone trail takes you up the various buildings that once stood on the slopes – from small shrines to the once-magnificent Temple of Apollo, as well as the Theater (see picture below). All of these ancient monuments have their own interesting tales – involving gods, earthquakes, Roman invaders, and a 2500-year old Sphinx that is still intact, kept in the Delphi Museum.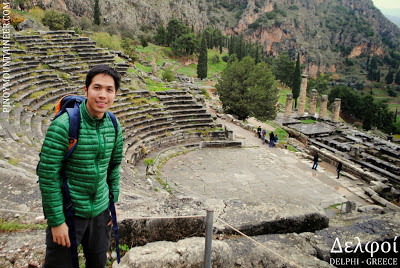 By the time we finished visiting the ruins and exploring the town, we had walked for over four hours in inclined footpaths. I'm sure without our background with mountains we wouldn't have gone that far. Which makes me reflect that being a hiker is more than being able to climb mountains. It is also having an open mind to explore new places and try new things. Having said thus, I'm glad I decided to go to Delphi. There is no Oracle that can tell me if I would be able to come back, but I certainly hope I can. Meanwhile, I will take the injunction in the Temple: "Know Thyself", to heart.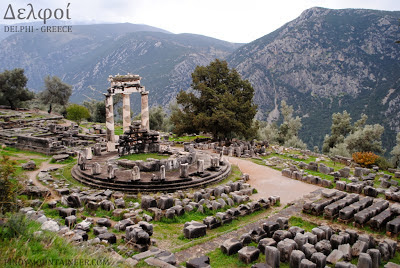 The Temple of Athena in Delphi
GLIMPSES OF GREECE: ATHENS AND DELPHI
Hiking matters #381: Delphi at the slopes of Mt. Parnassos