Letter to a young mountaineer, IV: A difficult situation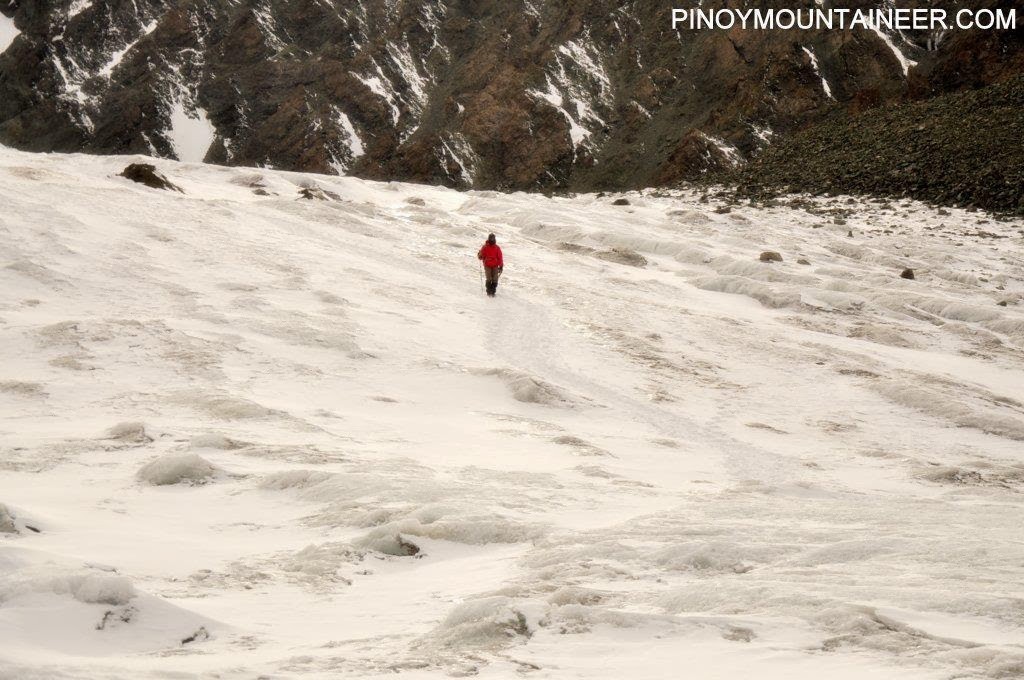 YOU KNEW it was tough, but you never expected it to be that tough. You thought that because you had already climbed so many mountains with ease, you would just march your way up every mountain that comes your way. And there you were, in your dream mountain, high above the clouds, with the summit in front of you.


But suddenly, you find it difficult to breathe. Every step becomes painful. The cold becomes oppressive to your nostrils. Your body throbs, no longer with excitement but with anxiety. Suddenly, you are not even sure if you can continue. 
***
No matter how strong or experienced we are, there will come a time when we will face a difficult situation. It may be on the mountains, as when we reach our limit, or in our everyday lives, when we encounter predicaments like losing a loved one, or suffering an illness or an accident. Even the easiest mountain can get difficult during a storm, and even the toughest guy, when he gets sick, becomes feeble. We change all the time. We are not perfect. Whenever we embark on something like an expedition – or a life project – we strive to put our best foot forward; the best of who we are, but there are times when this would not be enough.
It is not a sunny day that a mountaineer must prepare for. It is for a storm. Ironically this is difficult to do when all we've had thus far is sunshine. Sometimes, a blessing becomes a curse when we have too much of it. Sheltered by God from sorrow and pain, what do we do when He finally decides it's time for us to face a trial? We must muster the full repertoire of our emotional and mental powers if we are to remain standing amidst a storm.
If you face a difficult situation, the immediate task is to make an assessment. Are you just panicking? How far are you from your goal? The most important thing to consider is your own safety. Are you really okay? Remember the time-honoured saying: "Getting to the summit is optional. Getting home is mandatory." When summit fever sets in, the first casualty is the ability to think properly. And the ultimate casualty can be yourself. But if you realise that you actually have enough energy to push onwards, by all means, press on. Think next of the tactical moves you need to make things more manageable. A sip of hot water can do so much for a parched throat. A properly-worn balaclava can give so much comfort, and properly-tied shoelaces can make a mountain of a difference. In mountaineering, as in life, little things matter.
Mountain climbing is a test of mental strength. You cannot always say that the spirit is willing but the body is weak. It is the willingness of the spirit that gives strength to the body. Our feet can only take us one step at a time. But our spirits can take us to the highest mountaintops, and the most distant lands. They have formulated all kinds of energy gels and bars for the body, but faith is the best trail food for the soul. The first step in reaching the summit is believing that can you make it there.
The long term goal is to evaluate what happened. Did you wear the right gear? Was your training enough? This may be a hard question, and you may not readily admit the answer, but you should nonetheless ask yourself: Did I underestimate the mountain? That, however, will be for another time.
***
You press on, slowly and cautiously. You realise that by taking it one step at a time, you can actually make progress. Every step is still a pain, but it's a pain that you now realise is something you must bear if you are to reach the summit. You think of how far you've come just to get to this point, and this inspires you to go on. 


You think of all the people expecting you to reach the top, waiting for the good news. They add an layer of anxiety. What if I fail them? It will be embarrassing, you think. But they are so far away and you are brought back to the immediacy of your struggle. The prospect of dying, of losing a limb, or of having to be evacuated, is a far worse fate. 


In the end, you realise that your life is precious and you shouldn't risk it for your pride. You still press on, but you are prepared to go down if it gets any harder. 
***
What is the reason why you climb? Is it all about aiming for achievements? If so, the summit would be mandatory and it will be difficult to accept failure. When we put our pride at stake, we stand to lose more than what we need to. Humility is not for the weak. It is merely the recognition of who we really are. Strength that comes from humility is the strength of a old bonsai tree whose roots run deep in the ground.
Of course, striving for the summit is a valid goal. But it must be with the proper attitude. Glory, honour, fame? A mountaineer craves not for these things. Climb for fulfilment, not achievement. Fulfilment is personal, and it involves finding meaning not just in the success of the summit, but in the trials of the trail; the joy and beauty in every step. Sometimes, in pursuit of the destination, we forget how beautiful the journey is. Remember, there is more to mountain than its summit, just as there is more to life than our career goals, or our dreams. This is what the mountain should teach us.
Do you climb for the acclaim of others? In this age when people can follow you online, there is the seduction of fame. Do you get numerous 'likes' and a plethora of comments from people saying how good you are? Never let these approbations obfuscate the reality of your humanity; of your vulnerability to the elements, of your finite physical and mental reserves. The support of others can give your strength; the thought of your loved ones can inspire you. But do not let others' expectations pressure you. And more importantly, do not let them define your experience of the outdoors. As one wise climber said to me once: "Let them push you, but never let them pull you." There in the white or grey expanse of rock and ice, it is just you and the mountain.
No one else but you can decide when it's time to turn back. There will be no doctor to evaluate your physical fitness, no Reinhold Messner to decide on your behalf. Remember, a good mountaineer not only knows how to go up, but when to go down.
***
Finally, after much effort, you reach the summit. You can't believe it. You are so happy. But instead of shouting for joy, you are left speechless, and feel the tears streaming down your face. Instead of raising your hand in victory, you clasp your hands in prayer. Your teammates are all around you, taking your pictures. You manage to smile, and hold the flag. But deep in your heart, you know that something has changed. Something was going on in your heart. It was more than a climb. it was a struggle. Defeat was almost there, but you fought it. You did your best, and you succeeded. But you feel humbled.


There will be a time to celebrate the summit. There will be a time to reflect, and to relive the moments you've just gone through. But for now, you are concerned about going down, about mustering enough strength to safety. Suddenly, instead of the summit, your dream destination is home.
***
You did not conquer the mountain. The mountain conquered you. And in the process, you have learned a lot about the outdoors, about life, and about your own self. Congratulations.
Gideon Lasco
Los Baños, Laguna
March 7, 2014