Hiking matters #400: Sunrise hike up Gunung Batur in Bali, Indonesia
BALI, INDONESIA – I have come back. Nine years after I visited Bali with my father and did my first hike abroad – Gunung Batur – an early 19th birthday present before I entered medical school (see Hiking matters #18) – I found myself climbing the same mountain, this time a few days before my 28th birthday. Between now and then, a lot of things have changed, but when you climb a mountain again, it reconnects you with your past and perhaps allows you to reflect on what lies ahead in the future.
Gunung Batur, a 1707m active volcano, is easily Bali's most popular hike, attracting hundreds of visitors daily. Amazingly for a relatively small island like Bali, it is not the tallest mountain in the island – this distinct belongs to the 3000-meter Gunung Agung, which is a more formidable hike. Gunung Batur, however, offers rewarding views which is remarkable considering that is just an easy hike.
As is customary in many Asian mountains, the goal is to reach the summit by sunrise. Thus we started early, leaving Kuta by 0215H, traveling by rented vehicles, and arriving at the trailhead two hours later. There were ten of us in the group – with me were Arvin, Bong, Coby, Ed, Foncy, Genesis, Ian, Mayan, Mutya – and were given three guides – two females and one male.
We started trekking at around 0415H. As expected from an active Indonesian volcano, the trail was made of rock and black volcanic sand decked with grass and shrubs – think of Mayon's slopes. Initially, the trail is a rough road where motorbikes can pass through. It meanders up the mountain, reaching a 'halfway point' from which the trail, though similar in character, gets steeper. There were many people in the trail and oftentimes there were bottlenecks.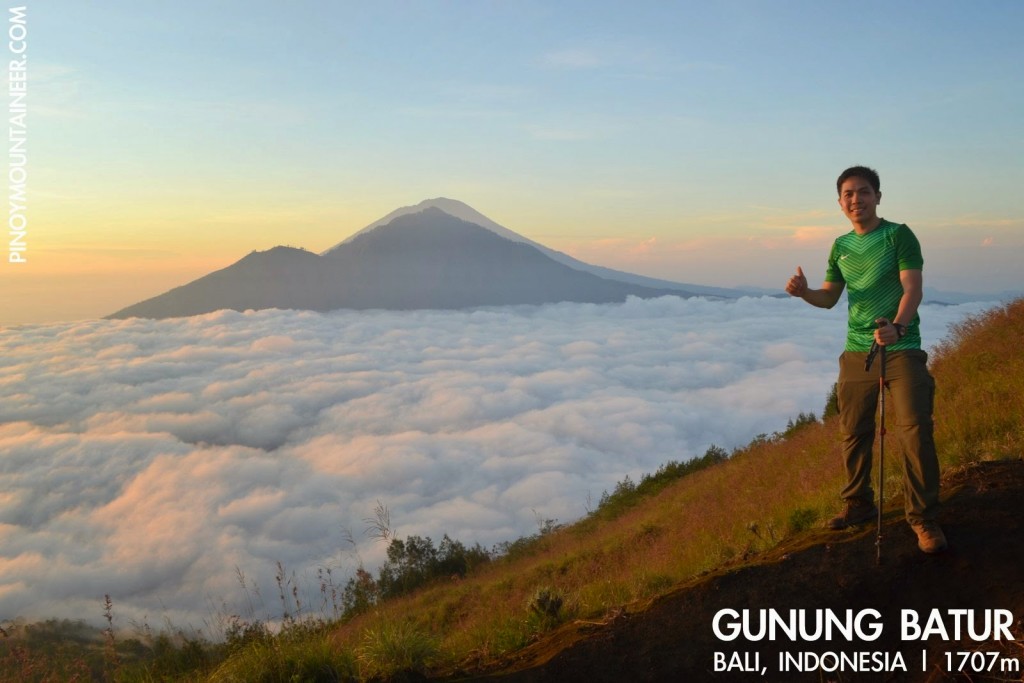 The stars signalled a clear day ahead, and the dawn fulfilled their promise: the outline of two mountains – Abang and Agung – in near-total eclipse as though the former were the moon and the latter the sun – gradually emerged above a sea of clouds, not unlike Pulag's on a fine February day. And further east – pale majesty bathed in the colours of dawn – stood Mt. Rinjani, on Lombok island – one of the highest volcanoes in Indonesia and a wonder to behold.
Sandy trails make for loose footing and thus can feel steeper than they actually are – and this can be a bit of a challenge especially when there's nothing to hold on to. Still, I would rate the Batur hike as an easy to mild trek – perhaps comparable to Maculot – and less than two hours after we started we found ourselves facing the beautiful sea of clouds at the summit of Batur, and on the other side, the crater rim that somewhat evokes Kanlaon or Bulusan.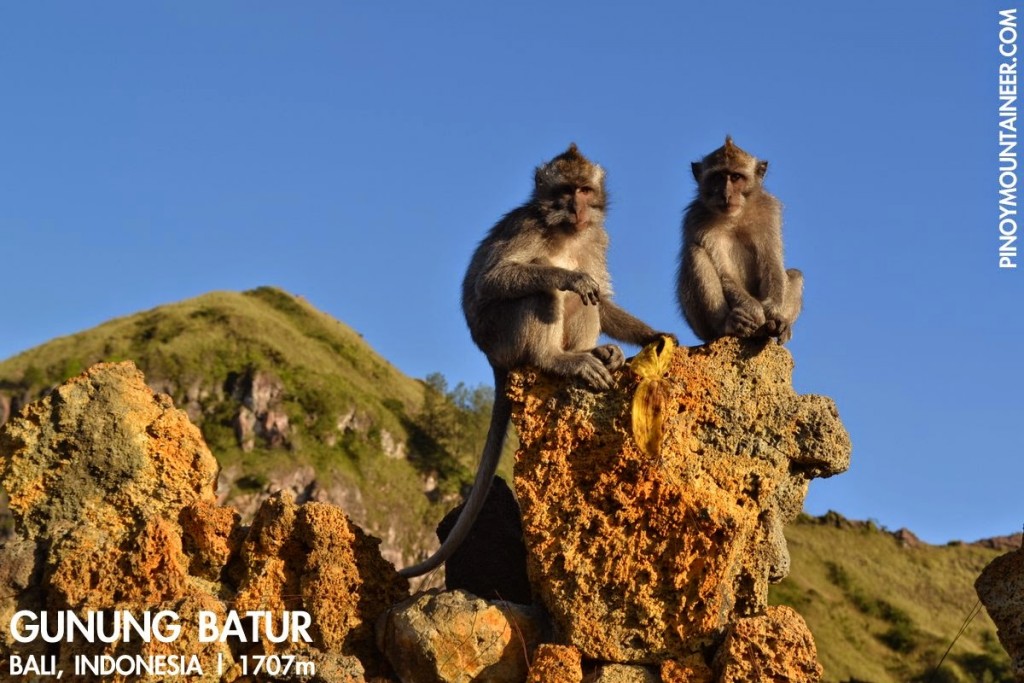 There were some small vents that release steam around the crater – a subtle reminder of the volcanism of Batur that in the past wrought havoc to the people, and today an ominous sign of the danger that lies within. We took our time enjoying views of the sea of clouds and the mountains – a visual feast and early reward at the beginning of our week-long trip. The descent was brisk; perhaps the only interruption was the sight of a troop of monkeys near one of the rest areas. After an hour we were back at the trailhead, and we passed by the cultural village of Ubud before heading back to our hotel to prepare for our next destination: Mt. Rinjani.