(UPDATED 2) Mountain News: Mt. Apo is burning. Here's how mountaineers can help in Mt. Apo fire.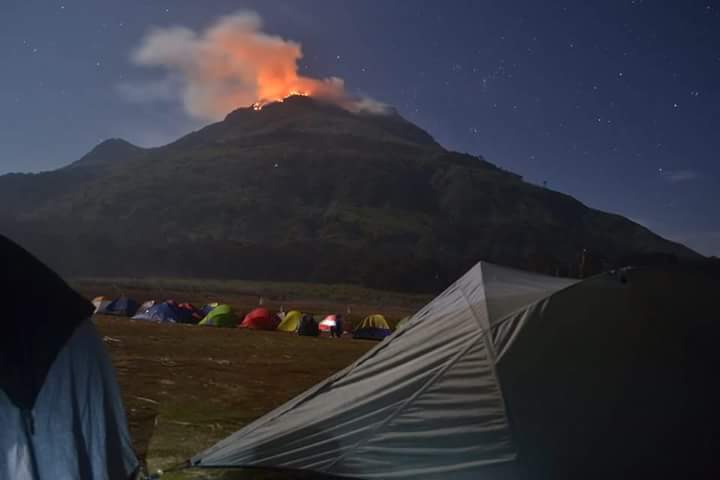 Note: This is a developing story. Please contact news@pinoymountaineer.com if you have updates or further information.
Update (3/28/2016): We are getting reports that the Mt. Apo fire has been contained in the Kidapawan side, but it's still threatening the Davao side, including Mt. Talomo. Meanwhile LGUs including that of Davao City are mobilizing.
ORIGINAL POST: 
On Black Saturday, March 26, 2016, a massive fire that apparently started from the summit campsite of Mt. Apo has "totally burned the summit" and is "moving from summit down to Lake Venado and Talomo – Davao City side", according to according to comments from Jake Caspi, one of the first responders from the municipality Sta. Cruz. Others hikers who were on Lake Venado at the time reported seeing a huge flame engulf the summit "like a torch", prompting them to evacuate the mountain.
An Inquirer report states that over 100 hectares of forest has been affected by the fire as of Sunday, and it is threatening to spread in various sides of the mountain. Caspi, also on Sunday, reported that responders were "ground to a halt at the Boulders" because the trail is still on fire.
Mountaineers have expressed dismay over the incident, which will certainly rank as one of the most devastating forest fires in recent mountaineering history.
"Alam ng dry spell ngaun bakit pina akyat pa meron sana control measures ginawa ang local tourism office to check first the area if fire hazard na ang location. Tsk tsk naka ligtaan ang practice ng due diligence," one commenter said, while many others called for an investigation – and justice for whoever may be at fault. Though there is no definitive finding as to the cause of the fire, its having originated from the summit campsite points to a probable human cause. The fact that the mountain has been very dry due to the El Niño phenomenon has, in any case, set the conditions of possibility for this incident, and will surely raise questions of regulation – and whether vulnerable mountains should remain open if the risk of a forest fire is very high.
How mountaineers can help in fighting Mt. Apo fire
Mountaineer Dave Leydan, whose father Darrio Leydan is with DENR-Kidapawan, is calling for mountaineers to volunteer in fighting the fire in Mt. Apo. The goal is to make a fire line by cutting a perimeter of grass beyond which the fire will not be able to advance. Dave is on his way up Lake Venado and we have asked Ryan Tuiza to help coordinate between Dave and the mountaineers who want to volunteer. You can contact Ryan +63 926 152 1584 for more information.
We are also calling on the highest levels of government to support the LGUs in dealing with this environmental emergency. What is at stake is not just a hiking destination, but an area of immense environmental and cultural importance.