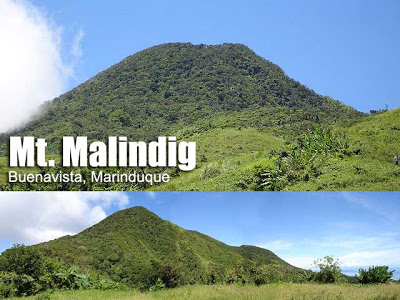 Mt. Malindig
Buenavista, Marinduque
Jump-off point: Brgy. Sihi, Buenavista
LLA: 13.2413°N; 122.0136°E; 1157 MASL
Days required / Hours to summit: 1-2 days / 4.5-5.5 hours
Specs: Minor climb, Difficulty 4/9, Trail class 1-2
BACKGROUND
Mountains are deeply steeped into the culture of Filipinos. Pampaguenos have Mt. Arayat; Tagalogs have Mts. Banahaw and Makiling. For the residents of Marinduque, they have Mt. Malindig. In fact, Marinduque itself have been derived from "Marindik" or "Malindik". Anthropologists may trace this cultural link to the volcanic origins of the island. Indeed, Malindig is being proposed as an inactive stratovolcano. The therapeutic, sulfuric springs of Malbog is one sign of this historical – if not prehistorical – volcanism. As for the name itself, Malindig, it is linguistically descriptive of the gentle slopes that characterize the mountain, as well the island's high areas.
Armed groups were still active until the past decade, when the military seems to have kept them in check. This paved the way for Malindig's discovery as a mountaineering destination. Its unique location, at the heart of Southern Tagalog, creates a panorama that encompasses Mindoro, Verde Island, and Southern Luzon all the way to Bicol and Burias Island. The Tres Reyes islands are particularly enchating. Elephant Island, reportedly being developed another "Boracay", may also be seen SW from the military radio outpost, 900 MASL. This outpost is also the staging ground to the summit assault. From this point on, you will be hiking across the forests of Malindig. Lush and mossy, they are not different from the forests in Mt. Makiling.
Mountaineering groups also do what is called a "Marinduque Traverse", involving the other mountains in the area. Notable sites to visit include the Bathala cave in Sta. Cruz, as well as several waterfalls i.e Kawa-kawa falls which is near the jumpoff to Malindig.
Going to Marinduque is usually commenced by a bus ride to Lucena. From there, you can board a ferry to either Sta. Cruz or Mogpog towns. Within the island, tricycles, jeeps, and vans ply inter-town routes, but be advised that places are faraway from each other, and transpo costs are quite significant.
ITINERARY
Day 0
2100 Board Dalahican-bound bus from either Buendia or Cubao (P190)
Day 1
0200 Board ferry to Mogpog port or Sta. Cruz (P140)
0600 ETA Marinduque, make arrangements for transportation to Buenavista. (P50-100/person)
0900 ETA jump-off point in Brgy. Sihi. Start trek.
1130 ETA military outpost, 900 MASL. Lunch.
1230 commence summit assault.
1330 ETA summit. It is covered with trees and there is much to see.
1345 start descent
1430 back at the outpost.
1615 ETA jump-off point. Proceed to Malbog Hot Springs for post-climb dip
1730 Back to Boac or your planned sidetrip. Last trip back to Lucena is at 2000hr.
SPECIAL CONCERNS
Trails are generally easy to moderate, but Mt. Malindig can become really muddy during the rainy season, so prepare accordingly. In particular, the one-hour summit assault may not be advisable if weather is severe. Also, be advised that the military may enforce some policy changes, so ask first before planning the trip. An update on 3/25/08 says that a permit from Camp Aguinaldo must be secured in order to go past the military outpost.
The above itinerary may also be difficult on a very sunny day, because there tree cover is minimal. Adjust accordingly; if you want to avoid the sun, an overnight trip may be suitable. You cannot stay at the outpost, but there is a campsite nearby, called Digelo point by some.
From the military outpost to the summit, long-sleeved shirts are advised due to the "poisonous" plants which irritate the skin. If you brush with these plants, apply alcohol or vinegar to the affected skin part. These plants proliferate during the rainy season. The grass and shrubs grow fast as well, so if you're not climbing on the summer months, trails may be hard to follow.
TRIVIA
It is said that on a very clear day, Mt. Mayon can be seen from Malindig. This claim has yet to be verified.
The old name of Malindig, used during the American period, is Mt. Marlanga. Until now it is debatable whether this volcano should be classified as "extinct", "dormant", "inactive", or "potential active".
RELATED POSTS
Hiking up Mt. Malindig in Marinduque
MARINDUQUE WEATHER OUTLOOK