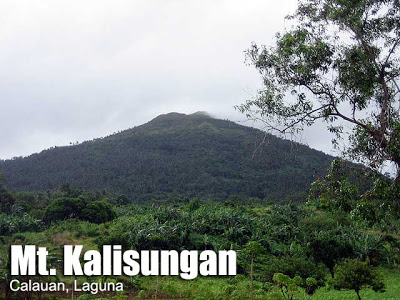 MT. KALISUNGAN
Calauan, Laguna
Jump-off point: Brgy. Lamot 2, Calauan
LLA: 14° 08.790N; 121° 20.683E; 760 MASL
Days required / Hours to summit: 1 day / 2.5-3 hours
Specs: Minor climb, Difficulty 3/9, Trail class 1-2
Article history: Created 8/14/07, last updated 02/20/14
BACKGROUND
Mt. Kalisungan In Calauan, Laguna is one of the smaller mountains in the Southern Tagalog region, but is nonetheless prominent because in many points of view, it is one of the mountains that flank the Banahaw Trilogy. Moreover, it has a special place in history as the final stand of the retreating Japanese soldiers in Laguna towards the end of World War II (1945-1946). It used to be – and still is – a mountain that has many names. Some call it Mt. Calauan or Mt. Nagcarlan after the two towns it borders; others call it Mt. Lamot because it lies in Brgy. Lamot. There is growing consensus, however, that this mountain, rising to 760 MASL, should be known as Mt. Kalisungan.Japanese guerrillas at the twilight of World War II made Mt. Kalisungan their last stand in Laguna. Afterwards, locals erected a white cross at its peak. It has become a local Holy Week custom to climb the mountain. Throughout the year, Mt. Kalisungan receives ample rainfall, and because of its relatively rustic location, its great charm lies in its serenity. Fruit trees – from
rambutan
to
kaimito
, and of course
buko
– provide trail food year round, as well, but don't forget to ask permission before picking!Verdant fields surround the slopes of Kalisungan. There are coconut trees, banana plantations, corn fields, citrus orchards, and vast grasslands leading to the summit. As one goes higher, the view becomes more distinct: directly in front of you, to the north, is Talim island with its Mt. Tagapo shaped like a young woman's breast; you can also see Jalajala peninsula jutting into Laguna Lake like a ship, with Mt. Sembrano on its helm. Moving your eyes to east, the highlands of Caliraya appear. And once you reach the peak, you will be able to glimpse upon the seven lakes of San Pablo, flanked by Mt. Cristobal and Mt. Banahaw. Then, from a distance there is Mt. Makiling, to the west, completing the circle.
ITINERARY
0600 Board Green Star bus bound to Sta. Cruz from LRT-Buendia (P117)
0830 Alight at Victoria, Laguna (at the Duck junction). Take tricycle to Brgy. Lumot
0900 ETA Brgy. Lamot. Ask for the way up. Register at Brgy. Hall.
0915 Start trek
1200 ETA summit. It is marked with a white cross. Lunch.
1300 Start descent
1530 Back at Brgy. Lamot. Take tricycle to Victoria, Laguna
1600 Wait for Buendia or Cubao-bound buses at highway
1900 ETA Manila
PRACTICALITIES: MT. KALISUNGAN
Transportation

Public
(1) Bus, Cubao or Buendia to Victoria junction  [P120, 2.5 hours]
(2) Tricycle to Brgy. Lamot 2 barangay hall and optionally, a kilometre or so in the cement road in the initial leg [50/trip; 10 minutes]
Private
(1) Head to Calamba via SLEX; (2) Follow through the national highway passing through Pansol and Los Banos until you each junction of Victoria. (3) Make a right turn at junction and go straight until you reach Brgy. Lamot 2 barangay hall; parking is available [2 hours]

Registration

Logbook at the barangay hall. [Note: As of 2016-17, there are reports of conflict between certain guides and local officials. PinoyMountaineer does not take sides in local disputes]

Available; 400/day

Campsites

At the base of the summit and at the summit itself

Water sources

None in normal course of trail

Cellphone signal

Present throughout the trail

River crossings

None

Roped segments

None

None

None

Rattan

None

Hiking notes

Caution when ascending the steep portion before the summit; there may be loose rocks. The blades of the talahib can cause 'papercuts'.

Sidetrips

Bunga Falls and Underground Cemetery in Nagcarlan; Mt. Mabilog

Alternate trails

There is a traverse to Mt. Atimla but there are security concerns so it is best to ask the guide or locals if it's okay to continue. See description of this traverse in

Hiking matters #339

.

Yes (2-3.5 hours to summit; 1.5-2.5 hours down)

600-900
MT. KALISUNGAN PICTURES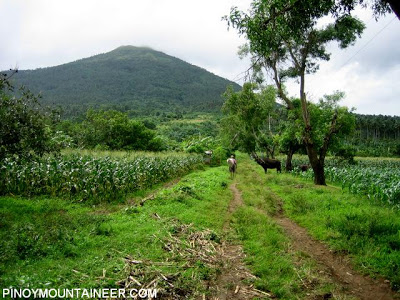 At the foothills, the trail is wide and surrounded by beautiful trees and plantation fields (2007).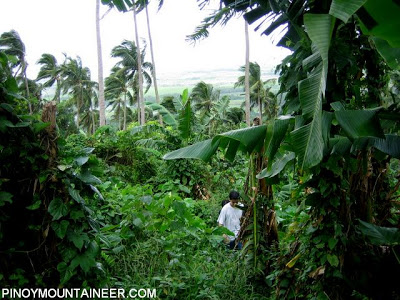 Midway, you will encounter some dense foliage comprised of grasses, shrubs, and banana trees.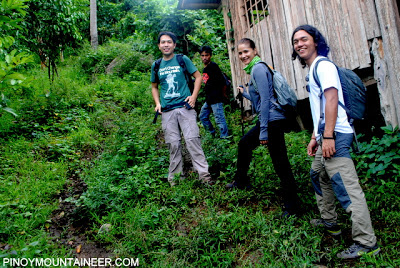 Along the trail with Ms. Agot Isidro and Coby Sarreal (Jan 2013)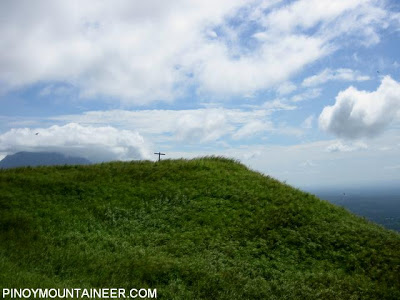 The summit is meadowy and verdant: the winds are quite refreshing (2007).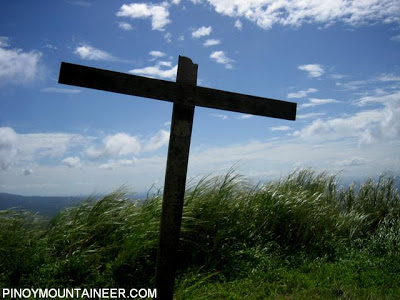 A wooden cross used to mark the summit; it has since been replaced by a cement one (2007).

One of the best views at the peak is that of San Pablo's Seven Lakes – at least six of which are visible at the peak. In this picture, the lakes seen are Mohicap, Palakpakin, and Sampaloc (2007).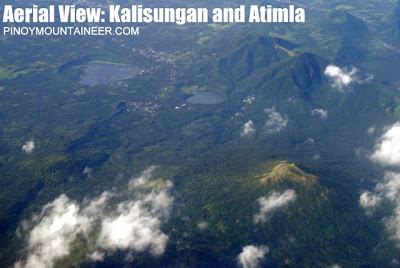 Aerial view of Mt. Kalisungan (lower right) shows its grassland peak, Mt. Atimla beside it, and the San Pablo's Seven Lakes (2011).
TRIVIA
The blogger first reached Mt. Kalisungan as a New Year climb in 2007 — an accidental climb after a failed attempt to reach Mt. Tagapo from the piers of Calamba. The initial pictures shown are from this climb.