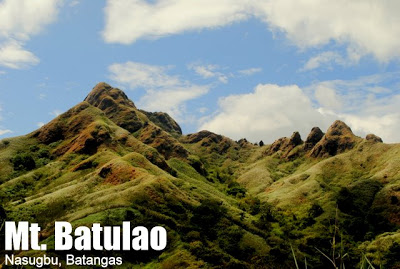 MT. BATULAO
Nasugbu, Batangas
Jump-off point: Evercrest Golf Course, Nasugbu
LLA: 14.0408 N 120.8011 E 811 MASL
Days required / Hours to summit: 1 day / 2-4 hours
Specs: Minor climb, Difficulty 4/9, Trail class 3 with 60-70 degrees assault
Features: Open trails, rolling slopes, scenic views of Batangas
Date posted: August 9, 2007
Last updated: February 16, 2013
BACKGROUND
The cool weather in Mt. Batulao is a pleasant escape from the city. The moment you arrive at the Evercrest Golf Course – the jumpoff – you will feel the same coolness felt by the visitors of Tagaytay. And this temperature will be with you all the way, especially during the months of January and February, where it is usually dry and cool.
There are days, on the other hand, when Mt. Batulao can feel like a desert – very hot and humid – owing to the exposed nature of its trails, which also makes it prone to muddiness during the wet season (June to October). On the other hand, Mt. Batulao is usually visited by winds that make any climb – hot or cool – refreshing. This combination of elements make Mt. Batulao a very interesting destination.
But that's not all. The landscapes of Batulao are quite remarkable; and although the view remains basically the same throughout the trek, the rolling slopes, through which trail pass by, and the new variety afforded by two major trails – the "Old Trail" and the "New Trail", makes Batulao one of the most popular dayhikes or near-Manila hikes. It is favored not only for the pleasantness of the hike, but also because it makes for a very good training climb.
With this popularity, of course, comes the challenge of maintaining the cleanliness of the mountain, as well as a local economy of kid guides and buco juice stalls. Over a hundred campers troop to Batulao on weekends, making it a good option for crowd-seekers but not for those looking for some mountain peace and quiet.
Nevertheless, Mt. Batulao is truly an appealing destination, also because it is very easy to access: It's just one ride away from the MRT-LRT connection in Taft cor. Edsa — plus an optional tricycle ride from the entrance of Evercrest to the furthest a vehicle can reach. As soon as you arrive, kid guides (and tricycle drivers) will offer their services.
The trails are initially rough roads, then transition to paths that are well-maintained, taking you up and down, up and down, at first gently, and then the slopes will be ore pronounced later. After around forty minutes of trekking, you will encounter a hut, fondly called 'Mini Stop' where buco juice is sold for P25 each (as of 2012). 500 meters beyond this hut is the fork between the two trails to Mt. Batulao's summit, on which another hut as been built. Click on the panoramic image to see the two trails in relation to each other.

OLD TRAIL (EAST)
Fork to summit: 1.5-2 hours. Take the left, downward path to follow the old trail. You will enter a woodland, then emerge into the campsites (or stations) marked 1-10. At the earlier campsites the facilities are larger and there is a water source. There is a logbook and you will have to pay a registration fee of P20.Same old slopes till station 8, after which the final ascent commences. Beyond this point, at the you have to be extremely careful because the trails are really steep, there are loose stones, and the winds can set off you balance although as of 2012, they've carved out steps from the challenging parts, making this leg easier. This will just take 30-45 minutes, though. Campsites are marked from 1-10, with stations 8-10 being the steep parts, "Campsite 10" being the summit itself.NEW TRAIL (WEST)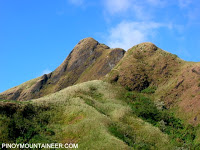 Fork to summit: 1-1.5 hrs.
Take the right/middle, upward path (but not the extreme right, which goes downward)
. There is a small wooden marker. You will immediately ascend into a hill, and continue ascending and descending some so-called numbered peaks. Around 20 minutes uphill is the lone campsite of the trail, good for several tents. There is a water station – the locals who man the site sell water which they get from a nearby river (around 30 minutes away). Here is also the counterpart registration area of this trail.
You might be surprised to see, before the campsite, a wooden house that's right beside the trail. This is the house of Janet Belarmino, one of the first Filipina (and Southeast Asian) women to climb Mt. Everest, in May 2007 (see picture below).
From the campsite, go up the hill and continue trekking until you reach a point where you have to go down and enter a forested area. There are two options now: either to go rightward and downward to the forest or leftward and downward to more grassland slopes. A third option is to go up the 'Peak of Deception' but this is a sidetrip that leads nowhere, but is a good challenge in itself (see pictures below).
If you decide to enter the woodland, you will emerge back into the grasslands 10-15 minutes later. The path goes between two rocks; turn right towards the summit. Soon, the non-woodland trail, too, will emerge and the two trails will reunite: at this stage you are just 5-15 minutes away from the summit.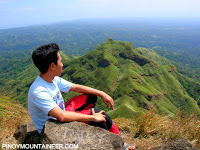 At the peak, the rocky landscapes climax into beautiful formations. Set in the backdrop of the plains of Cavite and Batangas, the photo ops are excellent. Views include the peninsula of Calatagan (SE), the coastline of Nasugbu (E), Mt. Talamitam (ENE), the mountains of Maragondon, Cavite (N), the Tagaytay highlands (WNW), Taal Lake (W), behind it, Mt. Maculot (WSW), and the vast Balayan Bay (S). Here the breezes that menaced the assault are now a refreshment.Going down with a brisk pace takes just 1-2 hours. From the Evercrest entrance, you may cross the highway to avail of the makeshift shower areas in the sari-sari stores. After the Batulao climb, which is a challenging Difficulty 4/9 dayhike, a postclimb meal in Tagaytay with its plethora of food choices – is a blissful reward.
ITINERARIES
Old to New Trail

0400 ETD Coastal Mall bus terminal to Nasugbu, Batangas
0715 Arrival at Evercrest
0730 Start trek
0845 Arrival at Fork. Take the left, downward trail that enters some woodland
0900 Arrival at Camp 1. Register. ⛺
1015 Arrival at Camp 8, commence final assault
1100 Arrival at summit; lunch
1200 Start descent via New Trail, which is opposite the Old Trail at the summit
1300 Arrival at New Trail Campsite. Register again.⛺
1530 Back at Evercrest; clean-up at nearby sari-sari store
1600 ETD for Tagaytay by jeepney (P30.00)
1630 ETA Tagaytay; anything goes from here
New to Old Trail
0400 ETD Coastal Mall bus terminal to Nasugbu, Batangas
0715 Arrival at Evercrest
0730 Start trek
0845 Arrival at Fork. Take the middle/slightly right upward trail
0930 Arrival at New Trail Campsite. Rest / Register. ⛺
1030 Arrival at summit; early lunch
1200 Start descent via Old Trail, which is opposite the New Trail at the summit
1300 Arrival at New Trail Campsite. Register again. ⛺
1530 Back at Evercrest; clean-up at nearby sari-sari store
1600 ETD for Tagaytay by jeepney (P30.00)
1630 ETA Tagaytay; anything goes from here
PRACTICALITIES: MT. BATULAO
Transportation
Public (1) Nasugbu-bound bus, Coastal Mall to Evercrest – P104
(2) optional Tricycle, Evercrest to trailhead P25/person
Approximately 2.5 hours travel time Private From Manila, go to Tagaytay via SLEX (Greenfield exit) then proceed via the Tagaytay-Nasugbu Road until you reach Evercrest. Go past the gate, follow through, turn left at the fork, and then go down the rough road to the trailhead.
Approximately 2 hours travel time but do avoid the weekend lunch/dinner Tagaytay crowds.
Registration
Logbook at Old and New Trail campsites. Total fees per hiker: P20 per trail if you are just passing; P30 if you are camping on that trail

Note: As of November 2015 there is also an attempt to impose a registration regime at the trailhead itself – this is apparently supported by the Nasugbu Tourism Office. Standby for updates.

Guides
Available (P300-400/day); there are some reports that it is required but there are also those who say that guides are not mandatory.
Contact numbers ✆
New Trail Campsite (Roel) +639279008496
Nasugubu Police Station – (043) 931-9952
Campsites and waypoints ⛺
Campsites:
(1) New Trail campsite 🚰📶
(1) Old Trail campsite 🚰📶
Water sources 🚰
None in normal course of trail but available in campsites – ask from caretakers.
Cellphone signal 📶
Present in most parts of the trail
River crossings
None
Roped segments
Fixed rope in steep part of Old Trail (between Camp 8 and summit) that can get slippery when wet
Limatik
None
Lipa
None
Rattan
None
Hiking notes
Can be very muddy during the rainy season and dusty/windy during the dry months

Mt. Batulao is generally safe and we have not received any reports of theft. It helps that there are locals who stay in the campsites. In February 2012, an accident involved the death of a first-time hiker who fell from Peak 8 of the New Trail; this however is an isolated incident and should not be a cause of worry provided that hikers are always careful and properly oriented.

Sidetrips
Nasugbu or Tagaytay; Twin dayhike with Mt. Talamitam (see itinerary here)
Alternate trails
There is a walkable trail to Mt. Talamitam
Dayhikable
Yes (2-3 hours to summit; 1.5-2 hours down)
Facilities at jumpoff
(+) Sari-sari stores
(+) Shower facilities
(+) Parking – expect to be charged P50
Estimated budget
600-900
ADDITIONAL NOTES
Private transportation. Going by car is also easy: just go to Tagaytay via SLEX (take Sta. Rosa or Mamplasan-LIIP exit and follow through) and make a right turn upon reaching the Tagaytay Rotonda, going all the way beyond Tagaytay Public Market and past the marker welcoming you to Nasugbu. Evercrest is just a little past KM. 72. Inside Evercrest, go straight then make a left turn. You can either park in the village (take the right, downward road) or follow through and randomly park in the road, or fall for some 'parking spaces' that locals have created for P50-100/day.
Environmental concerns. As one of the most popular hiking destinations near Metro Manila, Mt. Batulao receives a lot of hikers on weekends, and campers at times reach hundreds. To reduce impact on Mt. Batulao, PinoyMountaineer suggests avoiding camping in the weekends or peak seasons such as the Holy Week, or minimizing group number to 15 or fewer (with 30 as upper limit). Dayhikes have less impact. Moreover, PinoyMountaineer does not advice hikers to patronize refreshment stalls in the mountain as profitable activities may encourage further commercialization of the mountain.
MT. BATULAO PICTURES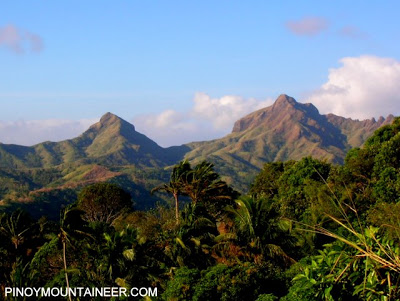 Even at the start of the trail, the twin peaks of Batulao can be seen.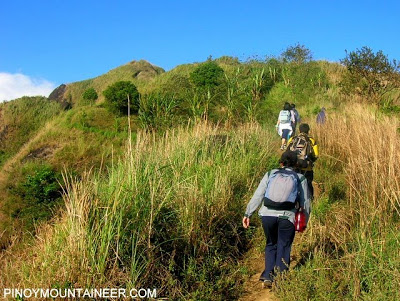 Practically the whole trail passes through grassland slopes that are at times steep.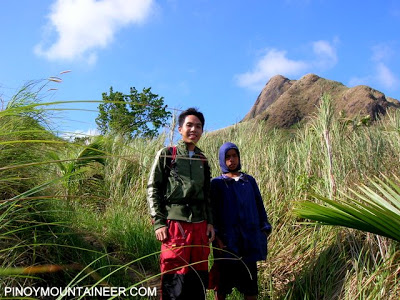 Local kids guide trekkers up Batulao as a means of augmenting their school allowance.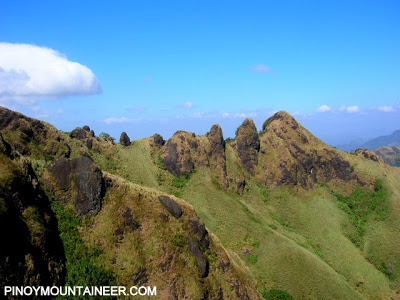 Some of the rock formations near the peak are vaguely reminiscent of Mt. Guiting-Guiting.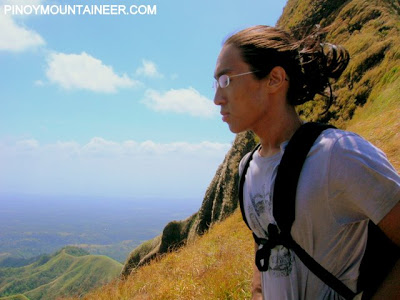 The scenery at the peak is dramatic and breathtaking.
TRIVIA
Becuase of the many 'ups and downs' of Mt. Batulao, the altitude gain from the jump-off point to the summit is actually less than 300 MASL.
Batulao's name is said to derive from a spectacular origin. Every yearend, the sun sets right between Batulao's two peaks, creating an image of rocks surrounding a disc of red light. In Tagalog, this phenomenon of "Bato sa Ilao" (Illuminated Rocks) became abbreviated to "Batulao". Although this happens only in the last week of December, Batulao's charms throughout the year are more than enough to make it among the favored mountaineering destinations.
The First Amputee Climb was held in Batulao in November 2009. Four amputees reached the summit, and the event was featured in GMA 7's Born to be Wild and ABS-CBN's Rated K. The climb was organized by PinoyMountaineer.com and the Mu Sigma Phi medical fraternity.