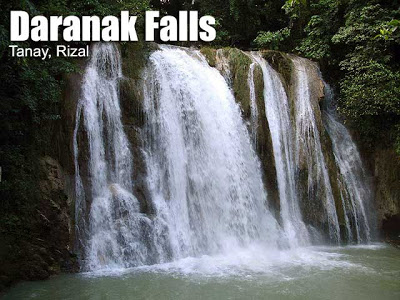 DARANAK FALLS
Tanay, Rizal
Height: 14 meters
Jump off point: Brgy. Plaza Aldea, Municipality of Tanay
Trail length: 5 minutes
Entrance fee: P20.00
Following the Manila East Road, a fork ensues: take the left turn – it is a fast lane to Laguna. From Antipolo, Tanay is a one-hour drive. The turning point is 3 kilometers from the start of Brgy. Plaza Aldea (a sign marks the spot). From there is another 0.5 km of driving; parts of the road are not cemented. There is ample parking space at the park entrance; you may also rent cottages for P150 each. A five-minute walk will take you to the much-cleaner, grander Daranak Falls. Like Hinulugang Taktak, it has a wide cascade, plunging into a catchbasin where you can swim (a rope attempts to create a boundary where to swim and where not to, but it is violated anyway). The waterfall is flanked with beautiful rivers and ponds which add to the paradise-like setting of the place. It has been the site of several TV commercials and pictorials in the past.
If without private transportation, you may hire a tricycle from the Tanay market to take you to Daranak Falls and back. Usual prices play around P300.
Part 1: The waterfalls of Rizal
Part 2: Hinulugang Taktak
Part 4: Batlag Falls
Related articles
Hinulugang Taktak, Daranak and Batlag Falls