Hiking matters #363: Tinuy-an Falls and Hinatuan River, Surigao del Sur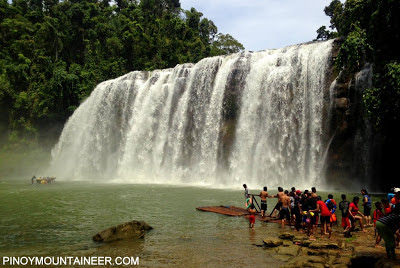 One day after our Mt. Mayapay hike (see Hiking matters #362), we proceeded to Surigao del Sur to visit two of its most famous attractions: Tinuy-an Falls and Hinatuan River. Had I known that it was along the way, I would have dedicated half a day to Mt. Magdiwata in San Francisco, Agusan del Sur, but it's too late for regrets and I will just have to come back for Magdiwata.
Actually Bislig is quite far from Butuan – a good five hours by bus. But we anticipated the long travel times and delays, so we left Butuan even when it was still dark. By 0930H we were at Tinuy-an Falls, and it was really majestic and worth the effort of getting there! There's an opportunity to swim and head up to the higher levels of the falls, which have their unique beauty.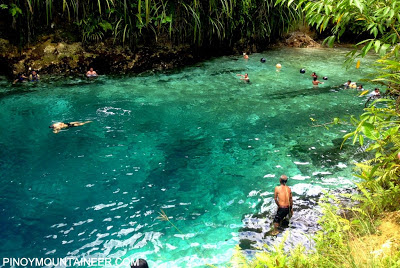 About forty kilometers away from Tinuy-an is the Hinatuan Enchanted River, which is really a gorgeous river with has a crystalline blue-green array of colors, and a wealth of fish that dwell in its waters. Swimming on it is one of the highlights of my short Caraga trip. The waters were clear and pleasant and I could have gone on swimming the entire afternoon, if not for the need to get back to Butuan!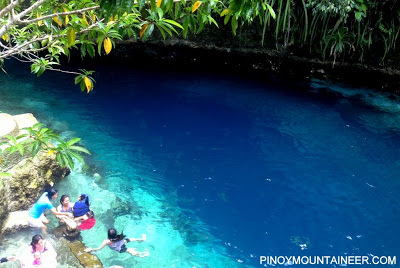 I'm sure there will be travel blogs that will give detailed instructions to these places; I found
Gael's blog
very informative. My purpose for writing this is to add another voice to the chorus that says Caraga is worth visiting, and to entice mountaineers to explore this region which holds many more enchantments, not the least of which is one of my dream mountains in Mindanao: Mt. Hilong-Hilong.
PS: I'm no longer using my poor three-year old Nikon D3000, which has received considerable abuse from all my outdoor adventures – having fallen off a ridge in Kalatungan, having been soaked by rainwater in Manabu, and many other mishaps. Most of my pictures now are taken with my iPhone 5 which comes with a Lifeproof case, and a Nikon AW 110 which I bought for the Elbrus climb. I'm not too happy with it right now because the photos aren't clear but I'm still hoping that it will improve!