Mt. Tukduang Banoi in Tanay, Rizal (1258 MASL)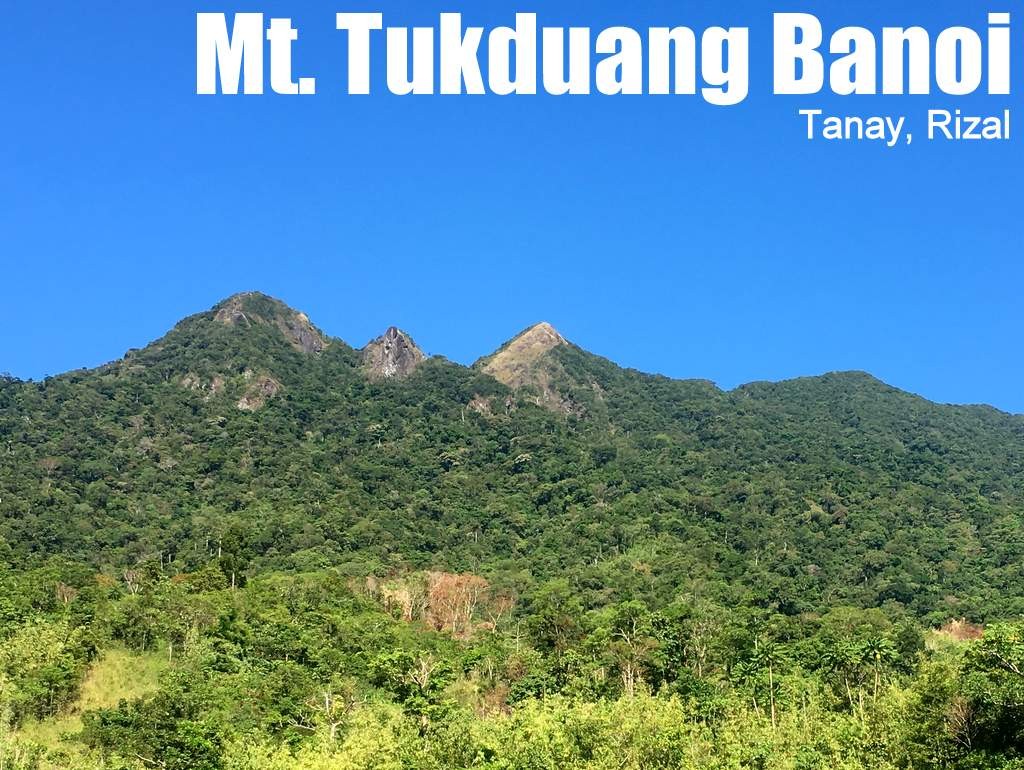 MT. TUKDUANG BANOI
Tanay, Rizal
Major jumpoff: Brgy. Sta. Ines, Tanay
LLA: 14°45′36.8′′N,121°18′6.88′′ E, 1258 MASL (+998m)
Days required / Hours to summit: 1-2 days / 4-6 hours
Specs: Major  Difficulty 5/9, Trail class 1-4
Features: Tropical rainforest, scenic views of the Sierra Madre
Article history: Created June 1, 2016 by Gideon Lasco

Note: For more information please check out the Mt. Irid page.
BACKGROUND
The companion mountain of Mt. Irid on the other side of Brgy. Sta. Ines, Mt. Tukduang Banoi is a challenging hiking destination in its own right. Named after the eagles (banoy) that locals say used to bring their prey atop the mountain, the mountain has a distinct W-shaped summit with three distinct peaks, only one of which (the easternmost) is commonly-accessible to hikers.
Sharing the first part of the Mt. Irid trail, it branches off past the village of Kinabuan, and enters the slopes of the forested mountain: a straightforward ascent to reach the eastern peak, which rises at 1258 MASL. Mt. Tukduang Banoi doesn't have the same spectacular rocky formations of Mt. Irid, but it is a nice addition to an action-packed Mt. Irid overnight trip – or a dayhike in itself.
ITINERARIES
DAYHIKE
0300 Leave Manila for Antipolo (Cogeo Gate 2)*
0400 Take jeep from Antipolo to Brgy. Sta. Ines
0530 ETA Sta. Ines. Register, secure guides.
0630 Start trekking
0800 ETA Sitio Kinabuan
0830 Arrival at Tukduang Banoi junction
1100 ETA summit of Mt. Tukduang Banoi, Lunch.
1200 Start descent
1400 Back at Sitio Kinabuan; optional sidetrip Kinabuan Falls
1500 Head back to Brgy.Sta. Ines
1630 Back at Brgy. Sta Ines. Tidy up.
1730 Head back to Manila
200 ETA Manila
OVERNIGHT (COMBINED WITH MT. IRID)
Day 1
0500 Leave Manila for Antipolo (Cogeo Gate 2)*
0600 Take jeep from Antipolo to Brgy. Sta. Ones
0730 ETA Sta. Ines. Register, secure guides.
0830 Arrival at Tukduang Banoi junction
1130 ETA summit of Mt. Tukduang Banoi, Lunch.
1300 Start descent back to Sitio Kinabuan
1500 Back at Sitio Kinabuan. Proceed to Sitio Sadlak
1700 ETA Sadlak basecamp; set up camp
1800 Dinner / socials
Day 2
0400 Wake up call. Breakfast.
0530 Start summit assault. Earlier is better
0900 ETA summit of Mt. Irid
1000 Start descent
1200 Back at campsite. Lunch.
1300 Break camp. Head back to Brgy. Sta. Ines
1530 Back at Brgy. Sta Ines. Tidy up.
1630 Head back to Manila
1930 ETA Manila
*Note: For small groups habal-habal to Batangasan then jeepney rental or commute thereafter. Add 30 minutes. 
*Note: The dayhike itinerary assumes moderate pace with minimal stops.
PRACTICALITIES: IRID
Transportation

Public (1) Van, EDSA Crossing to Cogeo Gate 2 in Antipolo (2) At Cogeo Gate 2, take jeep and get off at 'Batangasan' junction where there is an entrance arch for Brgy. San Andres (3) Take a habal-habal to the barangay (P150/person).Alternatively, travel to Tanay, Rizal and take the twice-daily jeep (1200H, 1700H? – please confirm) that goes to Brgy. Sta. Ines
Approximately 2-3 hours travel time because of various stops and delays. 

Private. Follow the Marcos highway to reach the Batangasan junction. Park there and take a habal-habal to Sta. Ines, or if you have a 4×4, you can go all the way to Sta. Ines. There are several river crossings though and the rivers swell after heavy rains so I wouldn't advise it.  Approximately 1.5-2.5 hours travel time.

Registration

Note: Prior written permit must be secured beforehand. The permit can be coordinated over the phone with the numbers below, and can also be done by email (tanaymenro@gmail.com) 1 week before the hike proper. Include a "letter of intent", the names of your participants, and a contact number. The written permit will then be handed to you during the hike.

(1) Logbook at the barangay hall (P20 registration fee)
(2) Courtesy call with military detachment in Sta. Ines.

Available; assigned at the barangay hall. 1250/2 days and 700 for dayhike
Required? Yes.

Kagawad Toto: +639302355562
Pitoy- +09293265454 or 09263652353
Contact either of the two for assistance in securing the permit beforehand. 

Campsites and waypoints

Camping is possible in Sitio Sadlac and Sitio Kinabuan. Theoretically, the summit can also make for a small campsite.

Brgy. Sta. Ines 14°42′30′′N 121°19′42′′ E 426 MASL

Kinabuan Falls  14°45′34.5′′N 121°19′19.7′′ E 514 MASL

Water sources

Sitio Kinabuan, Sitio Sadlac

Cellphone signal

+/- Sporadic at the summit and >1000m
(+) Smart (-) Globe at Brgy. Sta. Ines

River crossings

Eleven river crossings from Brgy. Sta. Ines to Sitio Sadlac. Exercise caution especially during the rainy season or after heavy rains as the rivers can become impassable or precarious.

Roped segments

None

++

++

Rattan

+

Hiking notes

The rocks on the final ascent — not just at the top – can be very slippery.

Sidetrips

Kinabuan Falls and other waterfalls along the river system
Mt. Irid
Mt. Maynoba
Mt. Batolusong

Alternate trails

Other rrails exist but it is important to coordinate with the locals about security.

it is possible as an extended dayhike with moderate pace (5-6 hours up, 4 hours down). Logistically challenging.

Facilities at jumpoff

(+) Sari-sari stores
(+) Carinderias / paluto
(+) Wash-up / shower places
(+) Habal-habal rental

600-800 (dayhike)
800-1000 (overnight)
MT. TUKDUANG BANOI PICTURES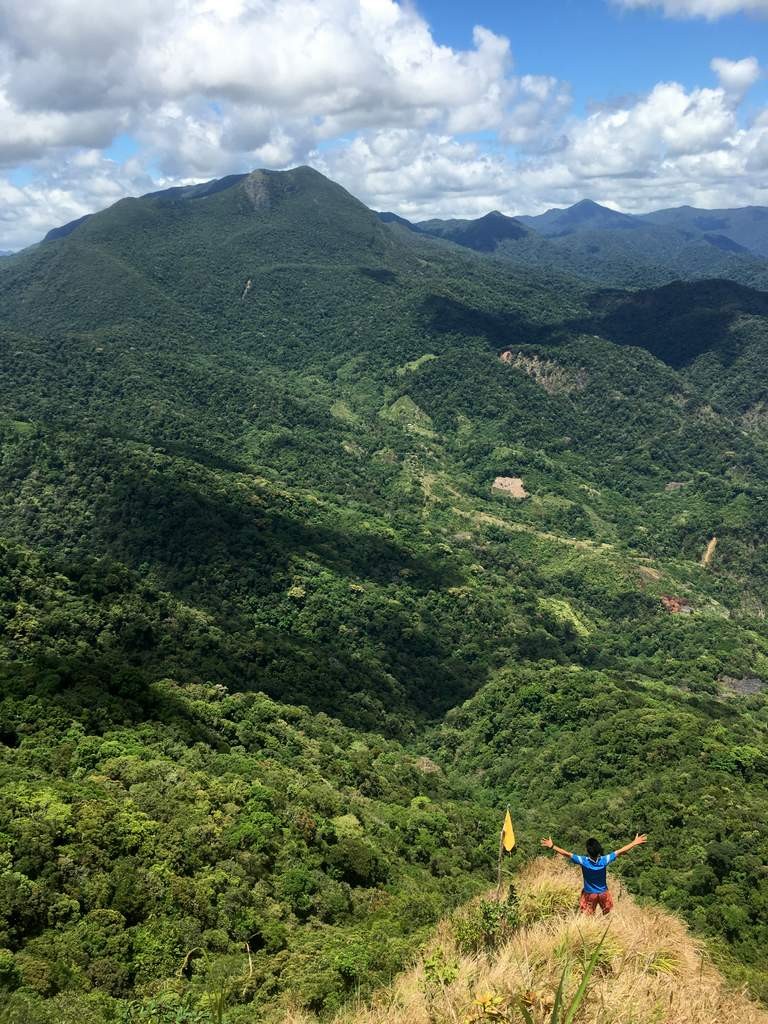 TRIVIA
There are many other trail possibilities in the vicinity of Mt. Tukduang Banoi, including a possibility of traverse to Quezon via Mt. Angelo.
Though there have always been trails in and around Mt. Irid and Tukduang Banoi, we acknowledge the efforts of Simpson Domoguen and other mountaineers for pioneering the recent spate of hiking activities (2010-present) in the area.