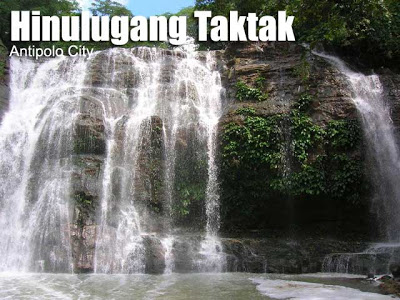 HINULUGANG TAKTAK
Antipolo City
Height: 12 meters
Jump off point: Hinulugang Taktak National Park, Brgy. Dela Paz, Antipolo City
Trail length: 5 minutes
Entrance fee: P8.00
This waterfall is made famous by a folk song that goes: Tayo na sa Antipolo / At doon, maligo tayo / Sa batis na kung tawagin / … ay… ay… Hinulugang Taktak… tak… tak… tak… At the time this song was composed, the waterfall was an excellent excursion from Manila; the roads leading there were not yet built, and a whole hiking trip was required, very much like the Buruwisan Falls in Mt. Romelo of today. A five-minute walk via cemented paths from the highway will take you this famous waterfall. If you are using public transport, you may hire a tricycle to take you there.
The history of Hinulugang Talktak is as rich and colorful as that of Antipolo itself. Legend has it that sometime during the 16th century, the townsfolk of Antipolo were bothered by a church bell that produced harsh, unbearably loud sounds when rung during Angelus. They demanded that the local priest get rid of the bell . Bowing down to the clamor, the priest had it dropped in a nearby river. This explains the name, "Hinulugang Taktak" which means 'where the bell was dropped'. As Antipolo became a religious site, the waterfalls also become a prominent destination for bathing and sightseeing. In the 1980s, it was declared a National Park by the government.
Today, unfortunately, the place is poorly maintained. Even as there are cottages and facilities, it is quite far from the distinction of being a National Park. Trash and sods are littered in the park, ruining what would've been a fantastic view. A faint smell of detergent permeates the air. Three years ago, the city government declared that a restoration will be done, but until now, the only thing moving in the park is the water. However, in spite of these, Hinulugang Taktak endures. Going there wouldn't hurt because it is along the way and a visit can take as fast as 30 minutes. Hopefully, however, it would soon get its badly-needed facelift.
Part 1: The waterfalls of Rizal
Part 3: Daranak Falls
Part 4: Batlag Falls
Related articles
Hinulugang Taktak, Daranak and Batlag Falls