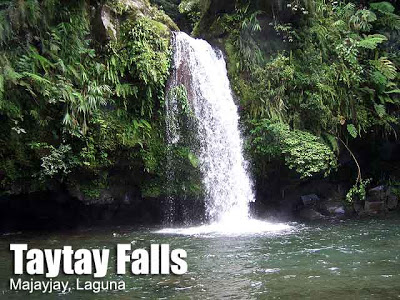 TAYTAY FALLS (IMELDA FALLS)
Majayjay, Laguna
Height: 12 meters
Jump-off point: Brgy. Gagalot, Majayjay, Laguna
Trail length: 10 minutes (to first waterfall); 30 minutes (to final waterfall)
Entrance fee: P35.00
We conclude our tour of Laguna's waterfalls with perhaps the waterfalls with the cleanest and clearest water, Taytay Falls in Majayjay. Indeed, the water is so clean that you could still see a one-peso coin if you drop it in the 10-feet pool! This waterfall is actually a series of seven waterfalls – you could scale your way up to reach the seventh waterfall, which has a beautiful and wide pool, even clearer than the pools below. Taytay Falls, also known as Imelda Falls, has become a popular local picnic destination due to the sheer clarity of the water, as well as the large campsite area nearby. Also, the very cold waters of the waterfalls are refreshing. But I repeat: very cold!
The exploration of the waterfalls system adds up to the adventure. In one waterfall, you have to use a vine to rappel your way down; you may also have to use all sorts of 'maneuvers' to go all the way up. Each part of the system has its distinct beauty, and since it is at the foot of Mt. Banahaw, the forest is also serene.
To reach Taytay Falls, one can go to San Pablo City then proceed to Nagcarlan. Since the place is generally out-of-the-way, it is best to just charter a jeep from either town (Liliw could also be a staging-off point). Entrance fee is about P35.00 as of 2007. The path from the jump-off to the waterfall passes by a cemented foothpath; water flows in a stream beside you, foreshadowing the clarity of the looming waters.
Camping near Taytay Falls is a pleasant experience, although it could be noisy and crowded as there are many locals who love to spend the night there (and drink) — this is especially true on weekends. There are sari-sari stores and parking space at the jump-off; and some comfort/ shower rooms in the campsite. Taytay Falls may also be reached by foot from the ranger station at Mt. Banahaw de Lucban in Lucban, Quezon.
Part 1: The waterfalls of Laguna
Part 2: Pagsanjan (Magdapio) Falls
Part 3: Buntot Palos (Hidden) Falls
Part 4: Bunga (Twin) Falls