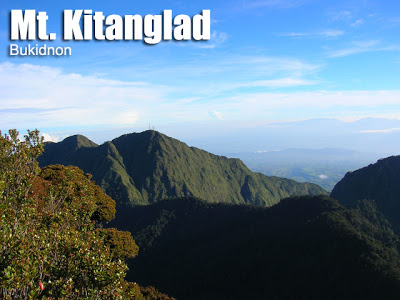 MT. KITANGLAD
Impasug-ong, Bukidnon
Major jump-off: Sitio Intavas,La Fortuna, Impasugong
LLA: 8°8'2″N; 124°47'0″E; 2,899 MASL (#4)
Days required / Hours to summit:
Specs: Major climb, Difficulty 6/9, Trail class 2-4
BACKGROUND
Mt. Kitanglad is the fourth highest mountain in the Philippines. Amazingly, there are bunkhouses with electricity at the summit, for it is a communications center. Since people actually work at the summit, the trails going up are well-established. Still, the trails are challenging, the views beautiful, and experience unique. There are steel stairs that will assist you in ascending the very steel trails, and at the top, so many mountains and places in Northern and Central Mindanao are visible. The Kitanglad mountain range is very rich in biodiversity, and the forests are refreshing. A more thorough discussion is found in the "Mt. Dulang-Dulang" entry in this blog.
ITINERARY
INTAVAS TRAIL
Day 1
0400 Depart from CDO to Impasug-ong
0800 ETA jump-off at Sitio Intavas. Register and start trek.
1200 ETA "Aerial Roots" area; lunch along the trail
0330 ETA summit. Sa
1800 Prepare for next day's climb, dinner
1900 Attend ritual sacrifice by the Talaandig tribesfolk
2100 Lights out
Day 2
0600 Mountain-viewing session: Mt. Ragang, Mt. Balatucan, D2, etc.
0700 Breakfast, break camp
0800 Start descent via Intavas trail. Muddy and steep.
1100 Reach "Aerial roots": roots suspended in air
1300 ETA rough road
1400 ETA jump-off point at Sitio Intavas.
1500 Take jeepney back to Malaybalay or CDO
1800 ETA CDO
SPECIAL CONCERNS
It would be much better if you can make prior arrangements to reserve bunk-beds at the summit. You may contact the DENR – Mount Kitanglad Range Natural Park at (088) 813 3453. A bunkbed will protect you from the otherwise chilling temperature at the summit. Two persons can snugly fit in one bunkbed. There is electricity at the summit; you can even watch TV there. Cellphone signal is ample throughout the climb.
Be careful because the electric wires run parallel to the trail up to the summit. These high-voltages lines are a potential hazard. Also, apply the same caution with the communications towers at the summit.
It is advisable to bring a map because so many places are visible atop Mt. Kitanglad. You can see Cagayan de Oro City, as well as Camiguin Island up north, along with the various mountains of MindanaO: the Balatucan mountains, Mt. Ragang, and the other peaks of the Kitanglad range, most prominently Mt. Dulang-Dulang.
TRIVIA
According to a DENR newsletter, the name Kitanglad came from a legend: a great flood submerged the native lands and only the tip of the mountain, the size of tanglad (lemon grass), remained visible (kita in Tagalog). Today, it is the domain of several old cultural communities like the Bukidnon, Higaonon and Talaandig.
WEATHER OUTLOOK: IMPASUG-ONG, BUKIDNON