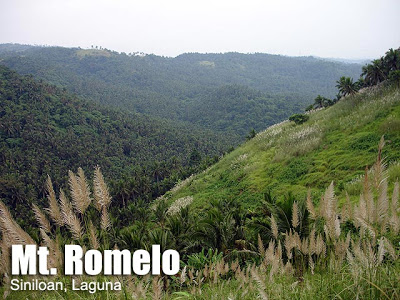 MT. ROMELO
Siniloan, Laguna
Major Jump-off: Brgy. Macatad, Upland Siniloan
Elevation: 300 MASL
Days required / hours to summit: 1 day, 2-3 hours
Specs: Minor Climb, Difficulty 2/9, Trail Class 1
Features: Waterfalls, rain forest
First posted: September 2, 2007
Last updated: October 16, 2012
BACKGROUND
This land of waterfalls is a captivating retreat at the southwest border of the Sierra Madre, known to hikers as Mt. Romelo. By some mistake that got perpetuated among hikers, the place also used to be called "Famy" after an adjacent town. Nestled in the town of Siniloan in the quiet, eastern side of Laguna province, it is as tropical as mountains can get. Easy trails (albeit oftentimes very muddy), taking just two hours to complete, lead to a wide campsite, and from there, one can explore several waterfalls.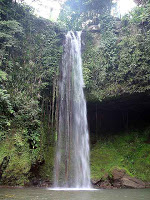 Just below the campsite, accessible via a brief but steep trail, Buruwisan Falls descends majestically into a wide, clear catchbasin, veiling an enclave verdant with moss and ferns. At 180 ft, it is ideal for rappelling, and photography. Long vines grow on the falls itself, enabling trekkers to do a "Tarzan jump" through the falls into the pond (though this activity has led to some accidents). Buruwisan Falls is named after a hardwood variety that used to grow on the banks of Romelo River.
Not far downstream are two other falls: the Old Buruwisan to the right is the original reason why people used to visit Romelo; it is even higher than Buruwisan, except that it is difficult to access. Rappelling is one way to reach this elusive wonder. Meanwhile, to the left is Lanzones Falls (right). At 70 ft, it has its own personality: instead of a cavern, it descends on sharp, jagged rocks, which form a wall ideal for rock climbing. Lanzones trees abound in the area, and from August-September, you may even buy Lanzones fruits at the jump-off point.
Upstream, on the other hand, are Batya-Batya and Sampaloc falls. Batya-Batya is a two-level falls. At its second level, the water is deep, around 18 feet. Here, the attraction is the interesting formation of rocks and the natural pools. Further up is Sampaloc falls. This is another grand waterfalls, with its own unique cascade and also a sizeable catchbasin.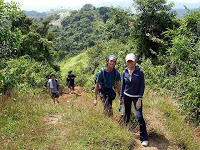 After the exploration, you can return to the campsite and spend the night there. The space is wide, and can accommodate several groups. On weekends, sari-sari stores are open and you can buy food, beverages, and toiletries. Unfortunately, these same stores promote the commercialization of Mt. Romelo that has also caused it to lose its former glory. The erection of wooden structures in the campsite has not abated, and as of 2012, it looks like a mini-village.
Throughout the climb, you may appreciate the highlands of Rizal-Laguna. To the northwest is Laguna Lake, and you can see Mt. Sembrano beside it. However, the highest point (marked by a hut and some benches just before you hear the sound of Buruwisan) is only 300 MASL and it is not really for reaching new heights that you will climb this mountain (technically, not even a mountain). As of 2012, a so-called 'peak' or 'summit' just 30-45 minutes from the trail was designated and marked with a cross (one of several wooden crosses along the trail).
Thus far, I have described Mt. Romelo as an place of pristine beauty, and this is based on my trips there in 2003 and 2007. Since then, however, a couple of things has caused hikers to turn away from it. First, numerous cases of theft have been reported at the campsite, raising serious security concerns. Until 2012, a "Hiking advisory" was in place for mountain warning hikers not to bring valuables, and be vigilant while hiking and camping. Though lifted now, the same vigilance is advised. The second reason why Mt. Romelo has fallen in favor is because it has become increasingly commercialized. The once quiet campsite at the source of Buruwisan Falls has become a weekend getaway for local youths, many of whom do not practice Leave No Trace principles. The economic activities at the campsite has also caused more traffic in the trails – for humans and horses alike – making them very wide and muddy.
Although Mt. Romelo is still a nice destination, but those searching for the pristine mountain described in the original version of this article, and by many mountaineers, might be disappointed.
ITINERARY
OVERNIGHT
Day 1
0600 Assembly at Raymond Bus Terminal, Sampaloc, Manila
0630 ETD for Siniloan
1000 ETA jump-off point. Register (P50/person) and get optional guides (P100/day)
1030 Start trek
1230 ETA Campsite. Set up camp. Visit Buruwisan. Lunch.
1230 Commence exploration: Batya-Batya and Sampaloc Falls
1700 Back at campsite
1800 Dinner, socials
Day 2
0600 Breakfast
0700 Rappel down Buruwisan Falls; try to explore Old Buruwiasn
0900 Explore Lanzones Falls
1200 Lunch at campsite; break camp
1300 Start descent
1500 ETA jump-off; tidy-up.
1600 ETD Manila
2000 ETA Manila
DAYHIKE


0600 Take bus or van to Brgy. Macatad, Siniloan, Laguna
1000 ETA jump-off point. Register (P50/person) and get optional guides (P100/day)
1030 Start trek
1230 ETA Campsite. Visit Buruwisan. Lunch.
1330 Explore Lanzones Falls
1430 Start descent
1600 Back at jumpoff. Tidy-up.
1630 Head back to Manila
2030 ETA Manila
SPECIAL CONCERNS
Best time to visit. Mt. Romelo is hiked year-round. During the rainy months of June to October, trails are muddy but the waterfalls have more water, and the surroundings are more verdant. It is best to avoid the summer months (March to early May) when the campsite is overcrowded.
Getting there. Two bus companies, Raymond Bus and MRR Bus, ply the Manila to Infanta route via the Manila East Road, and they pass through Brgy. Macatad, very close to the trailhead of Mt. Romelo. Raymond Bus has its terminal at Sampaloc, Manila, in 246 Teresita St., Legarda. Tell the conductor to drop you off at Buruwisan / Mt. Romelo; most of them are familiar with the exact spot. Otherwise, tell them that it is just around two kilometers from the junction at Siniloan. The fare is P112. This is the most convenient way to get to Mt. Romelo from Manila, and the same bus can be intercepted in Ortigas, Antipolo, and elsewhere along the route. There are also vans near the Raymond bus station that ply the same route, and groups can negotiate chartered trips.
The jeepney-tricycle option is as follows: EDSA-Shaw Crossing -> Tanay Rizal (Jeep, 53 pesos); Tanay Rizal -> Siniloan, Laguna (Jeep, 44 pesos); Siniloan, Laguna -> Brgy. Macatad trailhead (Trike, 20 pesos/person).
For private vehicles, just follow the course of the Manila East Road towards Siniloan – this takes 2-3 hours depending on the traffic, which can be quite heavy. There will be a junction in which you have to make a left turn, towards the road going to Infanta.
On the other hand, for people coming from the South (i.e. Laguna, Batangas), an easier access point is Sta. Cruz, Laguna, which is reachable by bus from Calamba. From there, take a jeep to Siniloan and then a triycle to the jumpoff. Private vehicles would also just follow through the highway to Siniloan. Don't forget to ask locals for directions, and don't just double check…triple check!
Registration and guides. Since 2011, there is a P50 registration fee in Mt. Romelo, collected at the barangay outpost. Additionally, you will be requested to wear/carry an ID which prominently features the face of the lady mayor of Siniloan (PinoyMountaineer finds this fee too expensive and the ID superfluous). Though the trail is very wide and easy to follow (just go for the wider trail), kid guides can be secured for as little as 100 pesos per day. The guides will come in handy when it comes to the river and waterfalls exploration, particularly if you wish to access all the falls. Ask the guide in advance whether he is familiar with the different waterfalls.
Security issues. Theft, including brazen hold-ups but more commonly covert tent break-ins in the evening, have been reported many times throughout the years, and even though the barangay says they have stationed a barangay tanod in the campsite, vigilance and caution is advised. Foreigners are especially cautioned to join local hikers and refrain from doing solo hikes. On a positive note, reports of theft have decreased as of 2012.
Safety. There are many reports of people who fell, accidentally and intentionally, from the campsite to Buruwisan Falls. Some have died, others severely injured. There are also cases of survivors. When PinoyMountaineer last visited Mt. Romelo on Sept. 8, 2007, a hiker got injured while doing the "Tarzan jump" described above. Fortunately, we had an medical intern with us and he was able to do first aid. Indeed, the variety of sports one may engage in on Mt. Romelo makes it an accident-prone area. In organized climbs, members must be monitored not only during the climb itself, but also during explorations, and even on seemingly-easy activities such as swimming and river trekking.
Hiking notes. The trail is very easy. However, it can get really, really muddy. Limatik are present.
Camping notes. The campsite at the source of Buruwisan Falls can accommodate many hikers (way too many). There are stores selling food, liquor, and toiletries, cottages where you can stay, among many others. There is even electricity in the campsite. As I mentioned earlier, this is a bad state of affairs.
Postclimb. There are shower / wash-up facilities at the trailhead, for a small fee.
LNT notes. River ecosystems are sensitive to human activity. Hikers ought to make sure they render minimal environmental impact to Mt. Romelo.
MT. ROMELO AND BURUWISAN FALLS PICTURES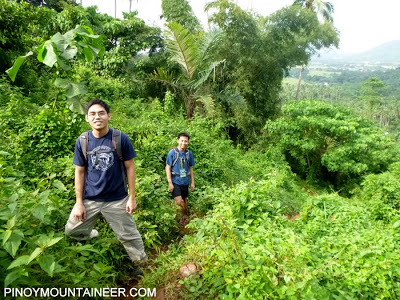 The trail of Mt. Romelo passes through verdant woodlands
At the so-called "summit" of Mt. Romelo, less than 300 MASL
The trails of Mt. Romelo are notorious for being muddy.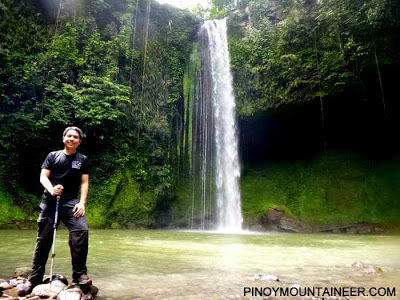 At Buruwisan Falls, October 13, 2012
TRIVIA
There are soft turtles and crabs (talangka) that roam in Romelo River. Monkeys, cloud rats, and musang are also said to inhabit the nearby forests. In 2003, when Mt. Romelo wasn't as commercialized as now, hundreds, if not thousands, of fireflies would light up the mango trees at the campsite. The author of this blog experienced this phenomenon on his 17th birthday and counts it as one of his more memorable camping moments.