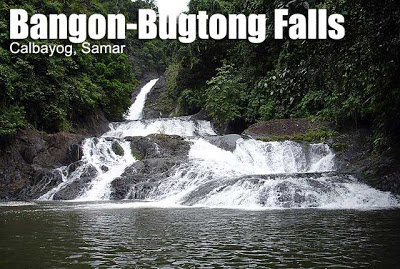 BANGON-BUGTONG FALLS
Calbayog City, Samar
Height: 60 meters (estimate)
Jump-off point: Brgy. Bugtong, Calbayog City
Trail length: 20-30 minutes
Foremost among the wonders of Samar's "City of Waterfalls" is Bangon-Bugtong Falls. Travelling to this waterfall from Calbayog entails taking a 1hr 15 min ride to Brgy. Tinaplacan, and then a 3-km walk from the highway (which can also be habal-habal ride). Kinda far, but well worth it.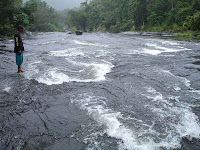 The waterfall is actually a system of cascades; to get to the main falls you have to walk on the cascades themselves. This ascending route will culminate in the main falls, which has a large, circular pool. Swimming, after the long ride, is refreshing. Just be careful because there are very slippery portions, just like any waterfall. Also, long habal-habal rides are quite expensive; so it is best to travel by groups or really prepare a budget. Although Calbayog is just one city, it is actually larger than the subprovince of Biliran Island!
Other nearby outdoor destinations include caves such as the Guinogo-an and Lungsod Caves in Brgy. Longsob, These destinations typically includes a 1-hr drive then a hike of less than an hour. It is best to combine proximate destinations in one trip for efficiency's sake. More waterfalls in the city include Tabokno Falls in Brgy. Caybago, with waters clean enough to be drank, Pan-as Falls with cascades so high that "the falling water becomes mere mist". Most of these destinations involve an hour or more of drive (the fastest public transport is by habal-habal, or modified motorcycles). Indeed, nature lovers with a particular interest will find Calbayog a very interesting place for exploration. It is said to have more than 20 waterfalls!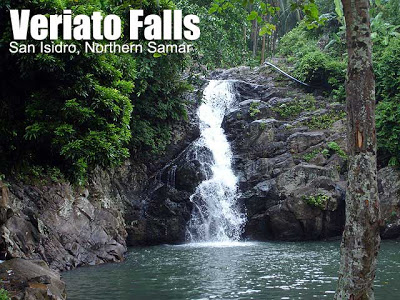 A few kilometers north of the jump-off to Bangon-Bugtong is a smaller waterfall called Veriato Falls. It's very close to the National Highway in San Isidro, Northern Samar, a few minutes from the Samar-Northern Samar boundary. You can easily ride a jeep or ask a habal-habal to take you there.