Mt. Banahaw de Lucban (1,875+)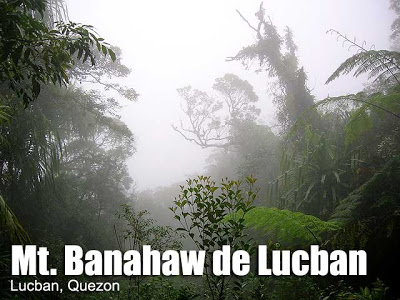 MT. BANAHAW DE LUCBAN
Lucban, Quezon
Major Jump-off: Brgy. Ayuti, Lucban, Quezon
LLA: 14°04'N 121°30'E 1875 MASL
Days required / Hours to summit: 2 days, 5-6 hours
Specs: Major climb, Difficulty 5/9, Trail class 3
BACKGROUND
Mt. Banahaw de Lucban is one mountain where the challenge does not lie in the steepness or length of the trails, but in the flora and fauna thereof. Its misty forest has an immaculate quality when viewed in pictures, but it is actually a wild jungle: trees and views grow in an anarchic fashion, obstructing the trails and creating a obstacle course, decked with infinite thorns and spikes. Meanwhile, different species of blood leeches pose a constant menace: the green-striped leech (seen in photo) is known as bulalangwan and is notorious for attacking soft tissues. Wild boar, deer, and monkeys have been sighted in the forest; its rich biodiversity has gained scientific interest. This environment is uninterrupted from the basecamp to the summit; the trees obstruct not only movement but vision: there are no views atop this mountain, making it appreciable only to true enthusiasts who will enjoy the '4×4 trekking' in a less-frequented, pristine mountain trail.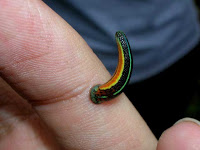 This mountain is part of the Banahaw complex, together with Mt. Banahaw and Mt. Cristobal. Contrary to some reports, it is actually not covered by the DENR ban on climbing in Mt. Banahaw. From Los Baños and other towns, it is perfectly conical in shape, giving it a Mayon-like appearance. Although it does not have the rich culture and mysticism of its more popular counterparts, its abovementioned jungle gives it a unique and notable characteristic. Set in the highland town of Lucban, Quezon (525 MASL), it is bounded to the southwest by the town of Majayjay, Laguna, whose famed Taytay Falls has become part of the ideal Banahaw de Lucban itinerary, because of its proximity and accessibility from the trail.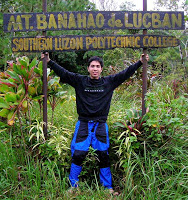 The first part of the trek is a one hour walk from Brgy. Ayuti, Lucban to the ranger station of Southern Luzon Polytechnic University. The rough road here is spacious, and leads to the PLDT relay station with its towers. Beyond this is the ranger station, where you can spend the night before proceeding the next day to the summit. Here there is electricity and you can spend the night inside the station. Very early the next day, you can start the assault. With a light pack, it takes 4-5 hours to reach the summit; the trails are virtually unchanged except for a part where a river runs along an old magma flow uncovered by a landslide (~1100 MASL). This counts as a water source. Tree ferns, rattan-like vines and spiked palms dominate the scene throughout. Periodically, elevation markings can be seen posted in the trees.
There is a clearing at the summit that counts as a campsite. The atmosphere is similar with that of the crater campsite of Cristobal. A water source is available here. After returning to the basecamp, the trip to Taytay Falls in Majayjay requires another 2-3 hours. This waterfall has exceedingly clear waters, and is further discussed in a separate article.
It has become a local saying in Lucban that whenever somebody climbs Mt. Banahaw de Lucban, it rains in the mountain. When the author asked if this is true, one local quipped: "See for yourself!" And I say likewise!
ITINERARY
MT. BANAHAW DE LUCBAN + TAYTAY FALLS
Day 1
1800 ETD for Sta. Cruz, Laguna via Green Star bus in LRT-Buendia (P123.50)
2030 Take last jeepney trip Sta. Cruz-Lucban (P38)
2200 ETA Lucban (525 MASL), take tricycle to Brgy. Ayuti (P8)
2300 ETA Ranger Station (~800 MASL)
Day 2
0600 Wake up call / Breakfast
0800 Start trek to Banahaw de Lucban summit
0900 ETA Old Magma Flow (~1100 MASL)
1000 Major stop at Rest Area (~1400 MASL)
1100 ETA 'Mukha' (~1600 MASL)
1200 ETA summit of Banahaw de Lucban (1875 MASL). Exploration / Lunch.
1300 Start descent
1700 Back at Ranger Station
1800 Dinner / socials
Day 3
0700 Start descent to Taytay Falls
0930 ETA Taytay Falls; explore the system
1200 Lunch before departure
1300 Take jeep to Majayjay town (P12) then Sta. Cruz (P20)
1430 ETA Sta. Cruz
1500 Take bus bound for LRT-Buendia or Cubao
1800 Back in Manila
SPECIAL CONCERNS
The above itinerary can be done on a regular weekend, since Day 1 only eats up Friday night. The ranger station becomes a 'headquarters' from which you would launch the summit assault (Day 2) and the trip to Majayjay (Day 3). If properly coordinated with Sir Mario Nañola and the station is available, you can even do away with tents.
Sir Mario, being the caretaker of the mountain, is also the person to contact in securing permits and guide/s for the trek. He may be reached at +639194515472. There is an entrance fee of P50. Guide rates range from P500-600. Add a tip for the use of the station. Electricity is available so you can bring your chargers and gadgets.
Blood leeches (limatik) are a concern. Echoing the words of locals of Mt. Napulauan, the bulalangwan is said to be more dangerous, targeting the eyes, ears, nose, and other 'soft tissues'. Hence, body protection has a double purpose, the other being to help protect against the thorns. Minus these concerns the trail is actually benign.
TRIVIA
Although frequently referred to as such, the BDL-Taytay Falls trip is technically not a traverse. A climb route must cross mountain through its summit to be called a 'traverse'. Not even the Cristalino-Tatlong Tangke route of Mt. Banahaw (Dolores) can be called a traverese.
According to Long Henson, there are folktales that speak of a 'Princess Samantha' that dwells in the mountain in the same way that her reputed cousin, Maria, dwells in Makiling. My guide did not know of this legend but it is worth retelling. What was told me what that the airs of the mountain have a healing quality. An asthmatic who was brought to the summit was said to have been cured.
Geology notes: Mt. Banahaw de Lucban is actually a volcanic edifice (vent) of Banahaw. Scientists believe that BDL is the youngest volcano of the complex, forming from the old caldera. Although the last volcanic activities were recorded in 1721, 1743, 1843, and 1909 (Internet sources vary in dating the last volcanic eruption), Philvolcs continues to monitor BDL. In fact, there is a seismic station in Bgy. Ayuti — along the trail to the Ranger Station.
Cultural notes: Lucban is famous for the Pahiyas Festival, held every May 15 in honor of San Isidro. The town's longganisa is a delicacy and a great pasalubong.
Mountaineering notes: Leo Oracion, the first Filipino to reach the summit of Mt. Everest (May 17, 2006), is a Lucbanin. Locals say that Sir Leo, as a young boy, used to climb Banahaw de Lucban frequently.
WEATHER OUTLOOK: LUCBAN, QUEZON
CLIMBS IN THE BANAHAW COMPLEX
Mt. Banahaw
Mt. Banahaw de Lucban
Mt. Cristobal
Tayak Hill
Sir Mario's eldest son Marion guided me, together with other members of the UP Med Outdoor Society, on Nov. 30 – Dec. 1, 2007.