Chica: the mountain dog of Pulag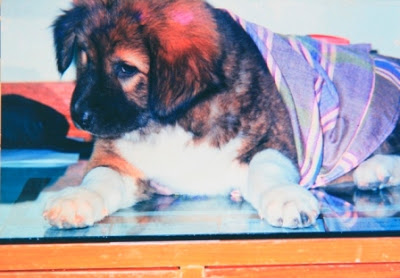 by Gideon Lasco
Chica was the dog who used to guide climbers to Mt. Pulag. In those days when hiring a jeepney to the Ranger Station was not yet common practice, the furry brown dog would follow mountaineers all the way up to the grassland summit. In her short life of four years, she won the affection of many mountaineers, myself included.
Chica was born in early 2001. Her mother was named Strike. Owned by the nearby school's superintendent, Strike would frequently drop by the DENR Protected Area Office, where the kindly staff and rangers would feed her. She felt so at home at the PAO that when she was pregnant, she decided to give birth there. Her offspring were two puppies. One, a male, went back to the superintendent; the other was given to the PAO and being a girl, they named her Chica. His picture as a pup is on the right.
Very soon after her birth, Chica showed signs of animation. She would really follow climbers, and she knew the trail very well. Whenever climbers would follow the wrong trail, Chica would insist on the right way by staying there and barking until the climbers realize that they're on the wrong. Chica loved to eat anything mountaineers with give her: Oreo cookies, Jellyace, and rice.
One time, Chica joined a party who went up from Ambangeg but descended via Akiki. The party, however, did not take a guide with them. They rode the bus from Kabayan but Chica, being afraid of buses, did not ride with them. She wandered around Kabayan for a week, worrying the people at DENR. Fortunately, a mountain guide walking in Kabayan spotted her. However, when the guide tried to take her back to the PAO by riding a vehicle, she refused. Chica only allowed herself to walk by the mountain trails, so the guide had to take her up Akiki and back via Ambangeg, where she was back at her home (her favorite spot was the nipa hut below the office).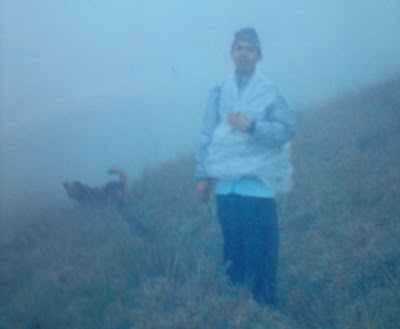 I met Chica in 2003. At age 17, I was very excited back then to reach the summit of Mt. Pulag. So excited that I wanted to take the lead in the trail (we took the Ambangeg route but started from the Visitors' Center). Our team leader permitted me to, and Chica accompanied me. In fact, she guided me, It was a very chilly, rainy afternoon (see left picture). I didn't expect the trail at the grassland to be that muddy, but then finally I saw the MMS stone that once marked the summit. I shouted "Yes" at the top of voice, happy in spite of the cloudy nothingness that enveloped me. Since she was my only companion, I patted Chica, who was wagging her tail, perhaps sharing the excitement I felt.
Definitely other climbers will have their own stories about this dog. Unfortunately, her life came to an end in 2005. She guided foreigners on the way up, but when they got down, Chica was no longer with them. They didn't know where she went, because after they woke up at camp, they could not find her. The DENR people waited and waited, but she did not come back. She never did. A year later, the staff found out that Chica was hunted down and eaten by some fugitives who sought refuge on the other side of Pulag.
Chica may have died in this tragic way, but I'm sure for the climbers who spent a moment with this brown mountain dog, she will live on in their hearts, as memorably as the beautiful mountain which was once her home.

MT. PULAG ITINERARIES
Mt. Pulag/Ambangeg-Ambangeg
Mt. Pulag/Tawangan Trail
Mt. Pulag/ Akiki Trail
Picture of Chica as a newborn pup courtesy of the DENR Protected Area Office; the other picture was taken using the blogger's own camera on Nov. 1, 2003.