Cleopatra's Needle (1,593+)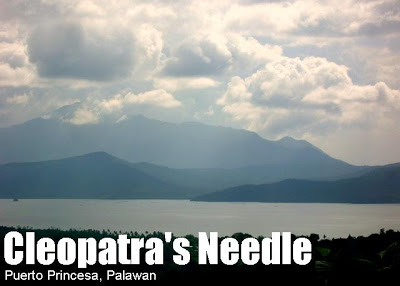 CLEOPATRA'S NEEDLE
Puerto Princesa, Palawan
Major jump-off: Brgy. Concepcion, Puerto Princesa
LLA: 10.12389 N; 118.9953 E; 1593 MASL
Days reuired / Hours to summit: 3-4 days / 10-12 hours
Specs: Major climb, Difficulty 7/9, Trail class 1-4
THIS ARTICLE WAS MADE IN COOPERATION WITH THE SUAKWAL MOUNTAINEERS, BASED IN PUERTO PRINCESA
BACKGROUND
Cleopatra's Needle is one of the mystical mountains of Palawan; the name is derived from the obelisk-like rock structure that is found in its peak. This is the mountain you will pass on the way to the Puerto Princesa Underground River – a UNESCO World Heritage Site and one of the most famous attractions in the province. According to the Suakwal Mountaineers – source of the itinerary for this article – the environment is extensively covered with forests and full of wildlife. At the summit, if the skies are clear, one will be offered a view of Honda Bay and Sulu Sea (E) as well as South China Sea (W); and of course, a panorama of the city proper (SE).
The trek to Cleopatra's Needle has been described as a 'challenging hike for serious climbers', taking 3-4 days. The trail involves countless river crossings, boulders, and of course, an enchanting biodiversity that has attracted scientists. At least three jump-offs have been described, but the most frequently used starts at Sitio Tagnaya in Brgy. Conception. Travelling to the place is usually done as a night trek on Day 1; the next day is a hike to the foot of Cleopatra's Needle. Only on the third day will one be able to assault the summit of Cleopatra's Needle – and back to camp. Finally, Day 4 covers the treks of the first two days, all the way back to Puerto Princesa.
ITINERARY
(from Puerto Princesa)
Day 1
1700 Meeting place @ San Jose terminal
1900 ETA Bgy. Concepcion, hike to sitio Tagnaya
2130 ETA CAMP 1 – Sitio Tagnaya, packed dinner
2230 Lights out
Day 2
0530 Wake up, breakfast, break camp
0700 Start trek
1200 ETA at Kampo Uno, break (packed lunch)
1300 Resume trek
1630 ETA CAMP 2 – foot of Cleopatra's Needle
1700 Break camp, prepare dinner
1800 Dinner / socials
Day 3
0530 Wake-up, prepare breakfast
0700 Start peak assault (w/o backpacks) – trek takes about 3-4 hours
1100 ETA summit, break (packed lunch)
1400 Trek down to CAMP 2
0530 ETA CAMP 2, prepare dinner
2100 Lights out
Day 4
0530 Wake-up, prepare breakfast
0700 Start trek back to CAMP 1
1200 Lunch break (packed lunch)
1300 Resume trek
1600 ETA CAMP 1, break
1700 Resume trek to natl. highway
1900 ETA natl. highway, dinner..wait for PUV to city proper
SPECIAL CONCERNS
Travel to Palawan is usually by plane: major domestic airlines ply the Manila-PPC route daily, with roundtrip costing an average of P4000-5000. From the city terminal, you can go the jumpoff. To arrange a guide to Cleopatra's Needle, contact Ms. Maribel Buñi of Palawan's Provincial Tourism office at turismopalawan@yahoo.com. Don't ask her for a guide, but ask her to refer you to someone who can give you one. Alternatively, you can inquire at the tourism desk at the PPC airport upon your arrival.
Malaria care. Although the province of Palawan is very active in trying to eradicate malaria, PinoyMountaineer still recommends taking prophylaxis. Melfoquine (Lariam S) once weekly – one week before until two weeks after your trip – can be procured in Mercury Drug and other large drugstore.
TRIVIA
A nearby peak is dubbed 'Cleopatra's Nipple' because of the contours of its slope. Sometimes Cleopatra's Needle is mistaken to be the highest in Palawan, being perhaps its most popular mountain, but the title of highest actually belongs to Mt. Mantalingajan.
PinoyMountaineer thanks Mayo Valencia of the SUAKWAL Mountaineers, Puerto Prinicesa, for contributing the information for this article.