Essay: I say NO to the proposed 'stairway to Mt. Apo'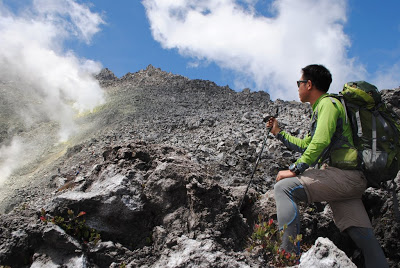 Facing the Boulders: This is the Mt. Apo I want to cherish and remember
by Gideon Lasco,
PinoyMountaineer.com
LAST APRIL, while climbing Mt. Kinabalu, I met fellow Pinoys who said they were there to observe and learn from how things are run in Mt. Kinabalu, and find out what can be applied for our own Mt. Apo. Many in my team responded with interest because this mountain means a lot to us. Personally, it is home to many beautiful memories, since I first climbed it in 2005. As a climber and an organizer, I have learned many lessons from Mt. Apo, and I have also seen many aspects of its beauty: from the immortal Boulders of the Kapatagan Trail to the serenity of Lake Venado; from the mystical forests of Talomo to the capricious Marble River in the Kidapawan Trail.
Mt. Kinabalu and Mt. Apo have one very important thing in common: They are the highest mountains of their respective countries. As the 'highest mountain', they are national symbols that represent our highest aspirations as a nation. Oftentimes, the highest mountain of a country also stretches its geographic and environmental domain into unique ecosystems, or else, fascinating terrains. Mt. Kinabalu has its massive granite peak, beautiful birds and flowers; Mt. Apo has its Boulders, its volcanic edifices, beautiful Lake Venado, and is home to the Philippine eagle and many other flora and fauna. It is for these reasons that Mt. Kinabalu is a UNESCO World Heritage Site and a national park in Malaysia; Mt. Apo is also a national park in the Philippines, and is
being proposed as a World Heritage Site
.
Highest mountains also attract a lot of visitors, because people love superlatives. We look up to the most beautiful, the biggest, the highest, the best. And this is where the problem lies. Every year, especially during summer, thousands of people flock to Mt. Apo to climb its summit. In the process, they overwhelm its trails and campsites, leaving their waste and garbage, not to mention potentially damaging the ecosystem by noise pollution and physical harm to the trees and wildlife.
Sadly, local officials have not done anything to effectively amend the situation. They have collected fees, which rank as among the most expensive in the whole country (ranging from P500 to P700 for locals; more for foreigners) and issued certificates, but nothing much else. Considering that thousands of people climb Mt. Apo yearly, the money that could have been generated must amount to millions, but Lake Venado remains a devastated lake come Holy Week; and as a national park, it is woefully understaffed. Worse, there is no single entity that manages the whole park: Each local government has its own policies, its own standards, its own fees. If you climb from Digos City, you will pay them an 'entrance fee' and of you traverse to Kidapawan, you will also pay them an 'exit fee'.
If there is something that everyone can agree on, it is that something needs to be done about Mt. Apo. For the Kidapawan City officials to recognize this, and try to do something about it, I commend them. But I object to their plan for several reasons:
First of all, I do not think that the fate of Mt. Apo, a national symbol and a national park, should be decided by an individual municipality or city. Any unilateral steps (literally) to change the mountain might result into a catastrophic tit-for-tat that might lead to other local governments building their own stairways to the mountain. Usually, something of national interest should be dealt with by a national agency, namely the Department of Environment and Natural Resources (DENR) in consultation with stakeholders like wildlife conservationists, indigenous peoples, and mountaineers, among many others. With all due respect to the Kidapawan City officials, I believe that they are overstepping their jurisdiction. Malacanang Palace may be within the city limits of Manila but the Manila Tourism Office cannot just open the Palace to the public. Similarly, no matter where the boundaries of Kidapawan City lie, I contend that Mt. Apo is not within its authority.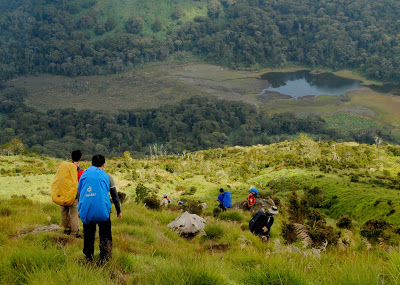 Can you imagine stairways replacing this part of the Kidapawan Trail?
Second, building a stairway, and other facilities such as state-of-the-art public restrooms in Lake Venado, are an affront to the natural beauty of the mountain. Remember
the furor over the Batangas Provincial Government's plan to build a 'Batangas' sign in Taal Volcano
? People got mad because the sign ruins the very attraction it attempts to highlight. Similarly, a stairway to Mt. Apo defeats the purpose of people seeking to climb it in the first place, and that is, to overcome a great challenge. I have said before that "It is the trail that gives meaning to the summit". What meaning will a rope-supported stairway give to our Mt. Apo? It is true that hiking should be for everybody. In 2009, I organized an
Amputee Climb in Mt. Batulao
and saw how empowering hiking is for persons with disability, and I do believe that hiking should be an inclusive, not an exclusive sport. However, "making it easier" itself does not constitute enough reason to alter the way a mountain is. Moreover, building a stairway – whether wooden or cement – should not be seen as 'improvement' because nature, in my view, needs no upgrade; this is the very reason why we say: "Don't change the mountain, let the mountain change you."
Third, building a stairway to Mt. Apo would exacerbate the fundamental problem in Mt. Apo, which is an excess of visitors.
In the InterAksyon report
, a local official was quoted as saying: "This time, we will make the tour to the peak a lot easier for tourists by constructing a permanent stairway." I know of a lot of places that are 'easier for tourists', like Mall of Asia and Rizal Park. For these places, the more, the merrier. But for Mt. Apo, more tourists mean more damage, even more than the damage it is already subject to. Also, 'making it easier to climb Mt. Apo' is a dangerous line of thinking that would ultimately lead to cable cars and elevators. There are also unintended consequences of a stairway: If it will make it easier for climbers, it will also make it easier for vendors, for unscrupulous persons, and many others to come to the mountain.
Fourth, there is the actual damage that the construction and maintenance of the stairways and facilities can cause. I put this as my last argument because its finer points are debatable, and I myself believe that trails can be improved in a way that does not harm the environment. For instance, the wooden steps in Mt. Kinabalu keep the soil from getting eroded. However, I also understand the concerns of many mountaineers that if improperly done, these might wreak further havoc to the mountain.
I believe that something good can come out of this issue, however, and that is to finally bring to national discourse the environmental situation in Mt. Apo, and the need for something to be done about it. Looking at the proposal of the Kidapawan local government unit (LGU), I see some bright spots, such as the construction of a Visitors' Center at the jumpoff, where I hope
Leave No Trace principles
will be introduced or reminded to every visitor; as well as the recognition that people should not build trails left and right; there ought to be designated trails that people should follow.
These can be the starting points of a meaningful conversation. And if I might add: Regulation is the key. We should limit the number of climbers at any given time in Mt. Apo. I hope this is one lesson the officials learned from Mt. Kinabalu, where limits are strictly enforced. For this to happen, we need the participation and cooperation of all the local governments involved, as well as the oversight of the national government through the DENR. There are mountains like Mt. Kanlaon, Mt. Bulusan, and Mt. Kalawitan that have been implemeting limits already;
Mt. Pulag is also heading towards this direction
. I do hope that the officials in Mt. Apo will follow suit.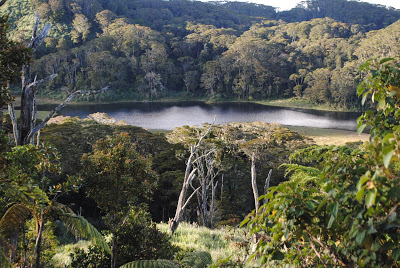 Beautiful Lake Venado: Can you imagine facilities beside it?
Certainly, the locals are entitled to earn something for providing good services. However, there is a reason why "eco" goes ahead of "tourism" in "ecotourism": The primary concern must be the environment; any financial gain should be secondary. If money-making is placed ahead of caring for our mountains, we will end up seeing convenience stores, and eventually, a hotel in Lake Venado; we will end up destroying the very attractions we sought to promote. Mt. Kinabalu, for all its beauty, should not be the absolute paradigm of what is good. I have talked to some Malaysian hikers and they do not like they way that their highest mountain has been 'commercialized'. Mt. Everest is said to be one of the most polluted mountains in the world. This is not a problem that is endemic to the Philippines.
I was in Davao last weekend and I talked to some hikers who expressed their concern for Mt. Apo. With
social media abuzz with talk about saying no
to the Mt. Apo stairway, I am heartened that there are still many people who love Mt. Apo, and are concerned about the mountain. The challenge for us is to be conciliatory, not combative; humble not hostile. We need to get everybody to work on this, and yes, we want the Kidpawan City LGU on our side. I appeal to everyone who says 'NO' to the Mt. Apo stairway to also say 'YES' to sustainable solutions that will protect the mountain.
God save Mt. Apo! But God also calls us to be stewards of the environment, and therefore, let us join hands in saving it – from ourselves.
Los Banos, Laguna
March 12, 2013