Hiking matters #16: Finally, Fuji!
TOKYO – I just arrived in my dorm after doing the most famous hike in Japan, a climb up Mt. Fuji to view the goraiko – the glorious coming of the sun. My friend Shimmel, a fellow medical student doing an elective in Tokyo, was with me and we joined a whole troop of gaijin wanting to try the Fuji experience. We did it the Japanese way – we took a bus to the Kawaguchiko 5th station at night, arrived there 2220H and immediately started trekking. As per tradition, we got Mt. Fuji walking sticks with bells and Japanese flags, and we had these sticks stamped on each station.
The night trek was straightforward and manageable. The stations (5,6,7,8,8.5) served as resting stops and food shops, but the prices are exorbitant so it's best to bring your own trail food. For my part I brought maccha (green tea) bean buns and onigiri (rice balls). Very Japanese. As for drinks I had Pocari Sweat (it's like the Gatorade of Japan).
The distance between each station is around an hour, and it will make you feel the cold when you stop so I just went on and on. I arrived at the summit at 0428H.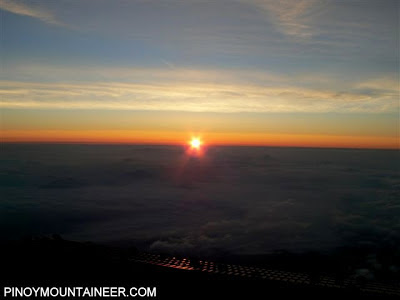 Just as I was entering the torii that marked the entrance to the summit, the sun rose above the various shades of red that heralded its arrival. It was brilliant, intense, and yes, majestic. The sea of clouds enveloped everything; making it an intensely personal encounter between Mt. Fuji and the sun. And instantaneously what was a benign red sphere became bright light and searing heat, illuminating the summit, still decked with snow, and highlighting the mountains around Fuji.
There was Kita-dake, Japan's second highest flanked with its companion peaks; there was also the Northern Japanese Alps, still snowcapped. It was a seemingly a view of all Japan, and it is no surprise that the Japan should be symbolized by the sun. It is truly the land of the rising sun, and I have witnessed this rising sun in its glory.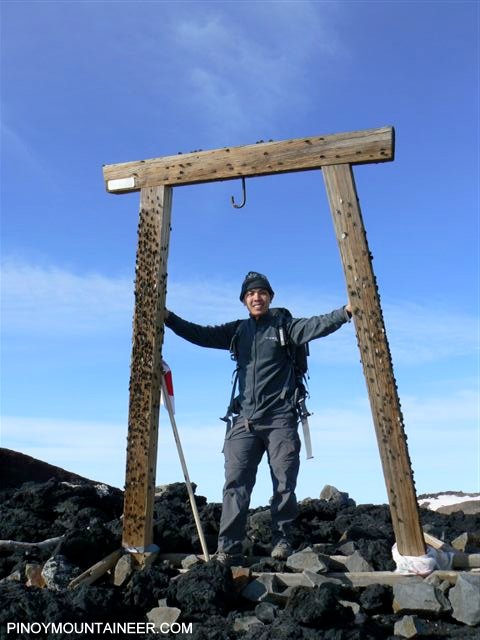 Meanwhile, we explored the summit; some trails are still closed because of the snow but the crater was very accessible, and so the other areas including the tower structure (N) that mark the highest point in the summit. After spending three hours at the top, then came the descent: now in daylight, the Yoshidaguchi trail was revealed to be almost purely volcanic rock, gravel, and sand. Only at the trial from 6th to 5th station did some pine forest appear, and it was a beautiful and refreshing change from the bare earth.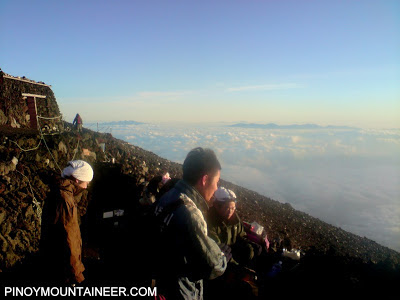 Japan offers grander and more challenging climbs, but Fuji is a cultural experience that has no rival. You get to meet a lot of Japanese who would tell of the famous phrase, "You are wise to climb Fuji once, but a fool if you climb it twice." The Japanese – from schoolchildren to grandparents – climb Fuji. And of course there are the foreigners with whom you will climb. "Oh wow, you're from the Philippines! Manila?" One kind lady from Belgium offered to take my shots at the summit when my battery ran out (I hate it when that happens!)
As the highest in Japan at 3776 MASL, Mt. Fuji is also quite a challenging trek (around Difficulty 5-6/9 in our standards). So I am very pleased that finally, I was able to do Fuji. I am coming back to the Philippines this weekend and my Fuji experience is great finale in what has been an enjoyable and memorable stay in Japan. Definitely my Fuji climbing stick would be a treasured souvenir that I will take home!
INTRODUCTION TO JAPAN
Hiking matters #14: Nantai-san and Shirane-san
Hiking matters #15: Tokyo rain
Hiking matters #16: Finally, Fuji!