Hiking matters #21: Pulag mischief update / White Peak part of Phil Top 10?

This is an article under 'Hiking matters', the weekly notes of blogger Gideon Lasco about mountaineering news and updates in the Philippines as well as his personal mountain climbing experiences.
Pulag mischief update
It will reassure everyone that the suspects in the Pulag holdup incident on June 10 are now in jail. According to Ma'am Mereng, the suspects themselves surrendered in the Babadak police station, where they were apprehended. It turns out that they were from Lusod, and it seems to be an isolated incident. Ma'am Mereng assures that it is now safe to climb to Mt. Pulag.
White Peak in Compostela Valley
Elsewhere, what is going on in the mountaineering world? In the past month we've featured new mountains thanks to local mountaineering clubs, most notably the traverse trail of Mt. Tapulao thanks to Tarlac Mountaineering Club, and Mt. Candalaga in Compostela Valley thanks to Earth Island Outdoor Environmental Club.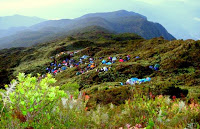 Speaking of Compostela Valley, we've been told several times now that White Peak, the Peak 2 of Mt. Pandadagsaan in New Bataan, ComVal is actually 2705 MASL (see summit pic). This basis of this reading is the signage found at the top of the mountain, which reads '8876 ft'. The tourism officer of New Bataan told me that this mountain also goes by the name of Mt. Tagub. If confirmed, White Peak can potentially dislodge Mt. Amuyao as the 10th highest mountain in the Philippines – by just three meters!
In the Top 30 mountains, we have a Mt. Tagubud in Davao del Norte, 2670 MASL, ranking #13. Since we relied on the old Rodol map for this, we didn't factor in the fact that Compostela Valley has since separated from Davao del Norte. Hence, Mt. Tagubud may very well be Mt. Tagub, which is actually White Peak. And thus, we are altering the #13 entry to say "Mt. Pandadagsaan / Mt. Tagub (White Peak)". This mountain can be elevated to the Top 10 if a higher elevation can be proven. Also, it can be elevated one notch higher if it can break the tie with Mt. Kapiligan whose elevation is listed as either 2670 or 2669 MASL. Just one meter, whew! More research is needed. But right now, we consider White Peak as the 13th highest mountain in the Philippines.
What's so special with this mountain, which seems to be a favorite of the Mountaineering Federation of Southern Mindanao (MFSM)? It appears to be a challenging two- to three-day climb that starts off at Brgy. Andap in New Bataan. An annual climb is held every Holy Week, but I don't know the details yet.
The first day is spent on a Camp 1, and the second day is a steep ascent (some ropes involved) and a beautiful mossy forest. There are two peaks, Peak 1 is reached first, then Peak 2 where the second night is spent. Looking at pictures of past climbs in White Peak, what strikes me as remarkable are the splendid views of Compostela Valley, and a complete, marvelous view of Mt. Apo! It is said to be one of the more challenging peaks of Mindanao (and there are plenty of them)
We'll feature this mountain once we get more information from New Bataan and our mountaineering friends.
PinoyMountaineer thanks Ma'am Lutie Polinar of the New Bataan Tourism Office for information about White Peak, and for Ma'am Mereng of Mt. Pulag for keeping us updated.