Hiking matters #24: Ipo Watershed, Angat Dam, and La Mesa Ecopark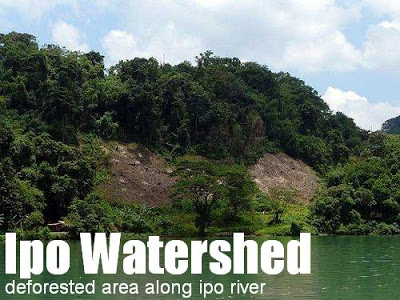 Exploring Manila's water sources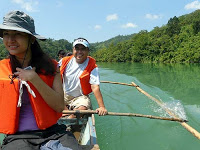 Last Saturday, I went with Ivan Henares and fellow UP Med Outdoor Society member Siena Ona to Ipo Watershed to see the site for ourselves and join the UP Mountaineers' tree-planting activity. The drive to Norzagaray was long and the Bulacan roads were narrow, but once there the atmosphere. Fredd Ochavo of UPM Environment Committee made arrangements with the MWSS personnel, and upon arrival at the dam we were ushered into a pumpboat, which took us across the river to the tree planting site. Along the way, we saw the prominent, still-obscure peaks of Bulacan such as Mt. Oriod, the highest point in the province. Though we didn't spot it, Mt. Maranat was also nearby.
Although the area is now being rehabilitated, traces of logging were manifest. We passed by some areas that may have been 'balded' by kaingin. According to Fredd, the loggers spare the easily-accessible areas for show. My question is, if they can log protected areas such as the Ipo Watershed in nearby Bulacan province, how much more can they do to faraway provinces in the Sierra Madre, far from the supervision of our authorities and the eyes of the public? Alas, the vast Sierra Madre is victimized by greedy hands. But we can do something about it! In Ipo Watershed last Saturday, 475 Narra seedlings were planted.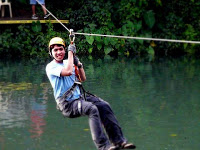 We took leave of the UPM group and headed by pumpboat to see Angat Dam upstream. Then, after lunch we headed to La Mesa Ecopark to complete the tour of Manila's "water source". This forested picnic area for Quezon City residents may be a good venue for Manila-based groups to do their initial activities, like teaching BMC modules. It is also a good place to unwind, although mountaineers will doubtless find it too crowded and noisy during weekends. For our part, we just took a quick runthrough and as a finale, we took turns in trying out the zipline that went above the La Mesa lagoon.
Environmental Corner now online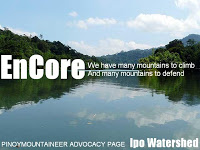 The latest addition to PinoyMountaineer is EnCore – the Environmental Corner and Advocacy Page wherein issues involving mountains such as logging, mining, garbage, and other concerns can be raised. Through these page, mountaineers and environmental advocates can spread the word about ongoing "battles" in which the cooperation of mountaineers will make a difference between habitat destruction and habitat preservation. Initially, we are posting about our Sierra Madre concerns, the ongoing debate over 4,000 trees in Mt. Kanlaon, and – this just in – a threat in Mts. Palay-Palay / Mataas na Gulod National Park, site of the popular Pico de Loro.
Also recent features in the website is an ongoing series on climb health, as well as an exclusive featured itinerary – that of the Seven Lakes of San Pablo. Moreover, we have posted the Seven Principles of Leave No Trace – the international movement that advocates outdoor ethics. To support the LNT I have also joined the movement as an individual member.
Banahaw and other updates
We've received word from our contacts in Brgy. Kinabuhayan that Mt. Banahaw will be reopened in Holy Week 2009 upon the expiration of the five-year climbing ban. However, we learned that it is possible to receive a permit to climb from the CENRO in Pagbilao, Quezon. We will confirm this with the CENRO, but if you wish to climb Banahaw legally this lead is a worth pursuing. Let me remind you that in Mt. Makiling, it is also possible to secure a permit from the UP College of Forestry if you wish to legally climb the mountain.
While others may think it fashionable to do 'illegal climbs', PinoyMountaineer recommends going through the authorities – for your security.
PinoyMountaineer thanks Fredd Ochavo and the UP Mountaineers for accommodating the blogger's party in their visit to Ipo Watershed on August 27, 2008.