EnCore: Environment Corner+Advocacy Page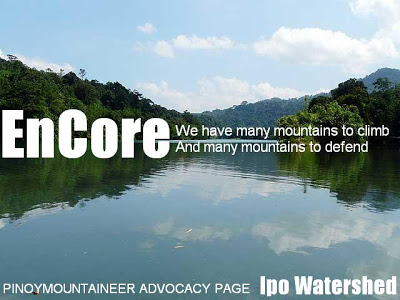 Welcome to EnCore, the advocacy page of the blog where mountaineers and environmental-minded people can share and call to attention the clear and present threats that our mountains and forests face today. Together, we mountaineers are a stakeholder in the condition of our forests. We are a force that can help save our forests, and bring to public attention what is going on in the mountains.
Through EnCore, we can coordinate and collaborate activities such as protest climbs, tree-planting, river-cleanup and many other activities. If you have an ongoing advocacy in your province or town, you can share it here. We must tap the power of the Internet to bind us together into action. We are now connected through the cyberspace – let us use this connection to shed light upon issues that affect our nature.
Is the situation that bad? Yes, it is. Our forests, among the most biodiverse in the whole world, are fast dwindling in number. We go to faraway mountains and enjoy the beauty of virgin forests, but sadly, these same forests that we see as beauty are seen by greedy men as money. The endangered species that we know we ought to protect are viewed as mere creatures to be sacrificed for personal and financial gain. Misguided practices of the past such the kaingin (slash-and-burn) system of agriculture continue to exist, ruining precious hectares of our watersheds. Alas, these are powerful and stubborn men and we have to take an extra mile if we are to count in this battle to save our forests.
We are not only after the destroyers of our forests. We must also fight against trekkers who ruin the name and reputation of a "mountaineer". They call themselves mountaineers but litter their garbage in the campsites. These are people who instead of leaving only their footprints, leave bottles of gin, and plastic wrappers without concern. We must also correct these practices and our environment corner is also a venue to report these wrongs. We must promote outdoor ethics, as enshrined in the Leave No Trace principles.
With these, I invite you to read the advocacies and issues raised in this page. Speak out and let us know what you think of these issues. Share your ideas by posting comments on how best to solve these problems, and tell us if there are advocacies you think deserve to be heard. We have many mountains to climb, and many mountains to defend.
ONGOING ADVOCACIES
Click on the images to learn more about current campaigns to save and protect Philippine mountains and forests.



SIERRA MADRE LOGGING PROBLEM
The issue: Several groups including the UP Mountaineers have been campaigning against the logging problem in the Sierra Madre. Incessant, unbridled logging operations threaten to destroy this final frontier for many wildlife, as well as the largest remaining forest in the country. In particular, the Ipo Watershed in Bulacan has been stripped of its forest cover, although they have hidden this act by sparing the more visible areas of the watershed. There are many other areas in the mountain range that are crying out for help.


TREES VS. MEGAWATTS
The issue: Environmental and mountaineering groups in Negros have protested against the expansion of a geothermal site in Mt. Kanlaon that would entail cutting 4,000 trees in what is supposedly a protected area. A "Save Mt. Kanlaon Coalition" has been formed to lobby against this intrusion to the forest. In fairness to the PNOC-EDC, they have vowed to comply with their agreement with the provincial board to plant trees in project site in exchange for the trees that would have to be sacrificed. Still, the environmental impact of the over 4,000 trees cut may not be that easily compensated, and so the issue carries on.
ENVIRONMENTAL GROUPS YOU CAN JOIN
(This list is still being populated and will be posted soon)