Mt. Cinco Picos Traverse to Silanguin Cove (881 +)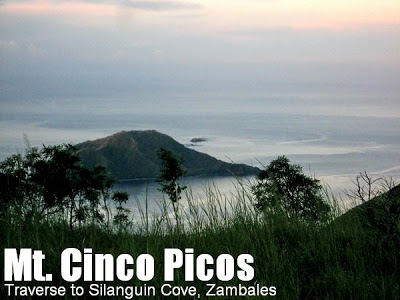 MT. CINCO PICOS TRAVERSE TO SILANGUIN COVE
Subic, Zambales
Entry point: Sitio Cawag Settment, Subic
Exit point: Silanguin Cove, Pundaquit, Zambales
LLA: 14° 47′ N 120° 9′ E, 881 MASL
Days required / Hours to summit: 2 days / 6-7 hours
Specs: Major climb, Difficulty 4/9, Trail class 1-3

Information and pictures for this article provided by Ericson Escalante and the Adventure Trekkers (ADTREK Mountaineering Club) who did the traverse from October 4-5, 2008. PinoyMountaineer thanks Sir Eric and ADTREK for this contribution.
BACKGROUND
In this variation of the Mt. Cinco Picos trek, the descent is shifted to the lesser-known, but equally fascinating sister beach of Anawangin – Silanguin Cove further south on the same coastline. Day 2 also include Anawangin as the final destination in a land-and-sea adventure that is certainly a great addition in the growing number of destinations in Zambales and Central Luzon.
Whereas Day 1 is just a repeat of the same Cinco Picos experience, Day 2 involves the westward descent to Silanguin Cove. The first half of the trail is set on basically the same environments as the ascent – talahib grasslands exposed to the sun (hence the need to negotiate this early on). The second half, however, features two hours of river trekking – said to be the highlight of the trail – until one reaches the Anawanginesque feel of Silanguin Cove: pine trees, white volcanic sand and a coastline twice as long as its more popular counterpart.
ITINERARY
Day 1
0300 Take first trip Manila-Olongapo via Victory Liner
0600 ETA Olongapo; take rented jeep to jump-off (P1,600)
0730 Arrival at Sitio Cawag jump-off. Secure guides.
0900 Start trek
0930 Courtesy call to Chieftain; leave settlement
1100 Reach Peak 1
1200 Lunch at hut
1230 Reach Peak 2
1600 ETA Peak 3
1630 Reach campsite
1800 Dinner / socials
Day 2
0530 wake up call
0700 breakfast/breakcamp
0830 Start descent to Silanguin cove
1030 ETA river, break
1045 Start of river trekking
1300 ETA Silanguin cove, break
1315 ETD for Anawangin cove
1400 ETA Anawangin Cove, lunch; exploration, rest
1700 ETD for Pundaquit
1720 ETA at Pundaquit, tidy up
1830 ETD for Olangapo
1930 ETA Olangapo City, dinner (take-out)
2000 ETD for Manila
2230 Back in Manila
SPECIAL CONCERNS
Logistics and transportation. Much of the information on getting to Cinco Picos is tabulated in the original article, but there are updates: As of October 2008, two guides are required for 1-10 persons, then 1 additional guide for every additional five climbers — the rate is 300/day/guide. As for the transportation, if following the itinerary in this page it is possible to secure a roundtrip (Olongapo-Sitio Cawag then Pundaquit-Olongapo) jeepney rental with P2,600.
Meanwhile, aside from the numbers listed in the Anawangin article, you may also contact Mang Florante in Pundaquit – the boatmen will fetch you from Silanguin to Anawangin and then back to Pundaquit. Cell numbers: 09299620416 and 09108053388. Depending on your schedule and number, prices may range from 300-500 per person.
Safety. It is safe to assume that the same dangers of Anawangin beach may be present in Silanguin. Moreover, it may be potentially dangerous to trek the river down to Silanguin if it is raining heavily because the river may rise and rage: thus always consider the possibility of heading back to Sitio Cawag as a fallback plan.
For more information on Cinco Picos and Anawangin, refer to the PinoyMountaineer pages on these destinations.
CINCO PICOS TRAVERSE TO SILANGUIN PICTURES
Courtesy of ADTrek members: Eric Escalante and eyefocus.multiply.com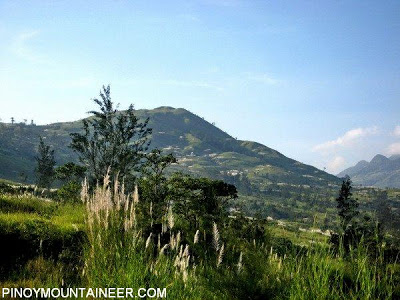 The meadows up Cinco Picos, past the river crossings, can be very scenic.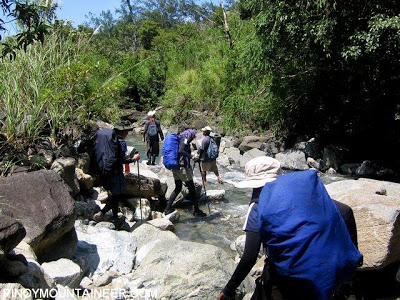 The highlight of the descent to Silanguin is the two-hour river trek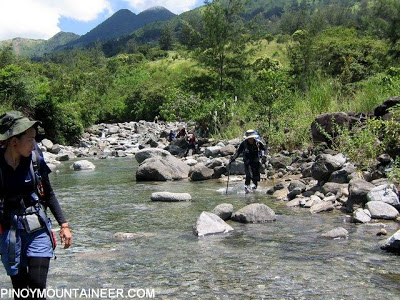 At the background are the peaks of Mt. Cinco Picos. Take note of the pines.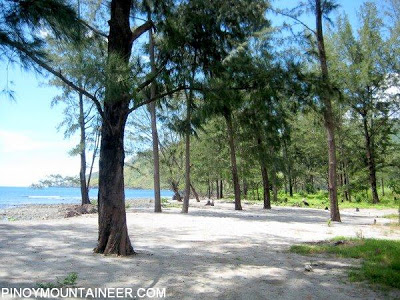 The reward? Silanguin is very much like its northern, more popular counterpart, Anawangin.
TRIVIA
The boatride from Silanguin to Anawangin by itself is a noteworty part of the itinerary, for you will be passing by Nagsaza and Talisayen coves, and what is known as Kastila Island: ask your boatman for snorkeling possibilities along these places.
This destination is the latest among Central Luzon climbs recently posted in PinoyMtnr, which include the Mt. Tapulao Traverse (courtesy of the Tarlac Mountaineering Club). Future itineraries would include Mt. Tangisan in Tarlac, the Porac trail to Mt. Pinatubo, and Pantingan Peak in Bataan.