Hiking matters #37: Cristobal Crossover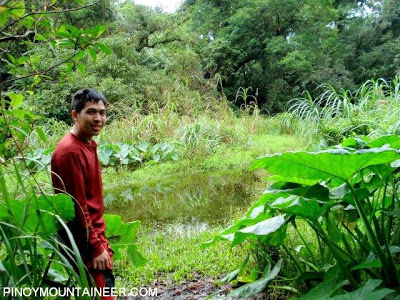 After Tirad Pass, my next adventure was a traverse of Mt. Cristobal, from Dolores, Quezon – to – of all places – San Pablo City! Yep, we did not cross to Nagcarlan or Rizal, but to the city of Seven Lakes. Joining me in this climb were my friends in UP Med. And of course, my longtime guide, Kuya Lito of Brgy. Kinabuhayan, was with us.
We arrived late in Dolores, but then we lost no time in ascending to the crater. It took around 3.5 hours – with some nighttrekking involved. I don't need to tell you the details of the crater campsites – I'm sure it is familiar ground to many mountaineers. It had been raining the whole month, so the crater was a swamp, but it spared the proximal campsite where we set up our tents.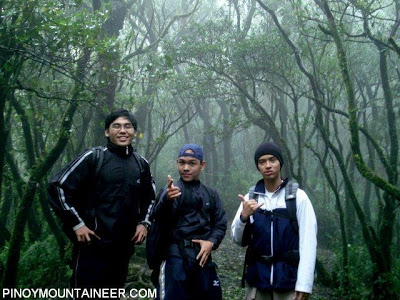 Fortunately it was a sunny day – and a moony night (full moon is always a blessing when you climb). But by 0300H the next day, the clouds started to fill in the blanks, and by the time we woke up, it was raining hard. The temperature dropped to around 17 C, and we didn't want to leave the tent! But we had to — it would be a long day still and further delays may threaten our return to Manila for medical school.
And so the real adventure actually began when undertook the traverse. From the crater campsite, we took the north path, up the elevated campsite, and after following the trail for thirty minutes, we reached what is known as Jones' Peak – at 1415 MASL the highest point in the entire Cristobal trail system (the summit, at 1470 MASL is still higher but it is not accessible).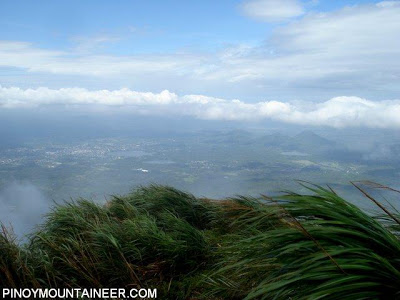 At first, the peak was just like a flat piece of ground but when the clouds opened up, we were enthralled by the view of the entire City of San Pablo – and all the seven lakes (WNW) plus of course the other mountains in the area, namely Mt. Kalisungan and Atimla (NW) and even Mt. Makiling (NW). Malipunyo loomed to the west, and beyond Laguna Lake on the other side – the urban plains of Laguna and Muntinlupa could be gleaned.
After Jones' Peak, we plummeted down a very sharp descent, clinging to cogon grass for support. At times, ropes were in place for safety purposes. Thank you to the guys who put them in place (and thanks also to those who put the yellow and red ribbons as trail signs). Somewhere down the road, the trail diverged into various subtrails leading to Rizal and Nagcarlan; we headed to the leftmost branch which serendipitously took me to my hometown! It was still a laborious trek in steep trails, made more difficult by the rattan thorns, but there was the visual reward of seeing the Seven Lakes in front of you. We spotted a young monkey jumping from branch to branch; a snake hanging in one of the trees; and some wild boar tracks.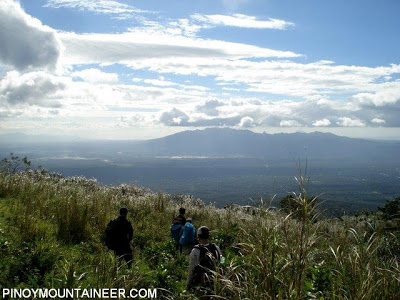 Then after the forest ended, the tayak grass appeared – with bananas – and we reached a scenic, almost Cinco Picos-like Green Mountain – a pilgrimage spot which looks very much like Tayak Hill (there is a hut atop). But when I asked where we were, it turns out that we had landed in Sitio Awas, Brgy. Sta. Elena in San Pablo City! Still, it was another 1.5 hours of descent before we finally reached the road. I treated my pals to crispy pata in Max's San Pablo for a job well done!
This is my 26th climb of the year. One or two more climb to go and I'm ready to end another year of adventure. Watch out for a detailed itinerary of the Mt. Cristobal Traverse to be posted soon in PinoyMountaineer!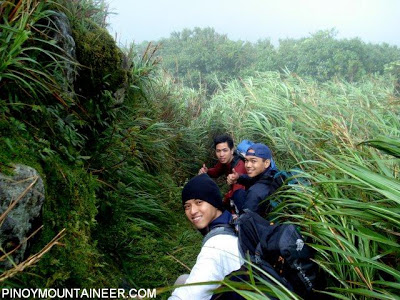 PINOYMOUNTAINEER IN MT. CRISTOBAL