Gear review: MSR Hubba Hubba tent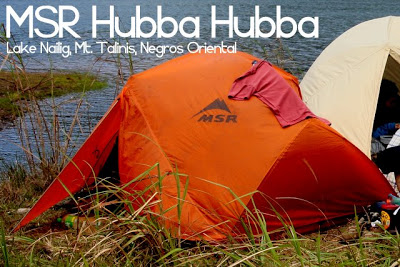 It has been described and acclaimed as the world's best-selling tent and no less than Backpacker magazine chose it as its "Editor's Choice" tent. All said, the MSR Hubba Hubba could very well be the most popular two-person tent in the world. But how does it fare in tropical conditions? Can it still be called the best, or one of the best? Does its unique features justify shelling out P15,000 for it?
During the Visayan Voyage – a succession of five climbs spanning 12 days in the Visayan islands – the MSR Hubba Hubba was one of tents our team used and we were able to experience it in cold, tropical settings such as Kanlaon's Margaha Valley and Talinis' Lake Nailig. I have to admit that its being lightweight (just 4 pounds or 1.8 kgs) was a great advantage especially for long treks or expeditions; it was also very easy to set up with its unique pole configuration. As for the design, it is just right with two doors, two vestibules, and a spacious interior (unless you want to cram 3 or 4 persons inside)
For tropical conditions, the specific considerations are humidity and water protection. The humid tropics is a ventilation challenge, and tropical downpour is simply incomparable with temperate drizzles. The Hubba Hubba makes use of a fine mesh to solve the ventilation problem. It also passes the downpour test, but it does so just like any other tent so it's not a real plus. Perhaps the only criticism that one can throw on the Hubba Hubba is that through time, it offers suboptimal protection from the cold. Its advanced version, the Hubba Hubba HP, is said to do better on that department, but its design for alpine weather makes it inappropiate for our setting – for sure it will not be able to tolerate the humidity here. At any rate, between a very lightweight tent and a heavy duty tent that somehow insulates better, I'd still go for the lightweight.
Going back to the questions I raised: is it one of the best tents around? Yes, it is, even in the tropics. The P15,000-P20,000 price tag is the hard part, though. Nevertheless, I think it's a good investment for anyone who wants to climb for a long time – here and elsewhere.