Invitation to Ilocos #1: Pico de Loro Norte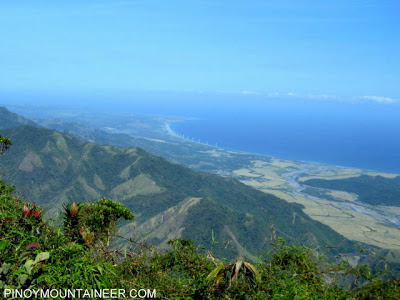 PinoyMountaineer presents "Invitation to Ilocos", featuring the newly-documented mountaineering destinations of Ilocandia. This new column is by Agnes Fidelis Gloria-Pinzon, PinoyMountaineer correspondent for Northern Luzon and the One Degree Mountaineering Group.
We've heard of Pico de Loro from mountaineering circles. It's quite a popular mountain in South Luzon. Since One Degree has started scouting for mountains to climb in Ilocos Norte – to be just within arm's length of home – we've set our sights on the peaks in Adams, Ilocos Norte. Adams has been gaining popularity since it was featured in TV Patrol, Rated K and very recently in Trip na Trip- mainly for its beautiful falls (Anupleg falls being the most featured and most frequented one). Adams has been called Ilocandia's last frontier and is lesser known for its challenging mountain ranges. Its highest peak is locally called Mt. Palemlem but if one were to look at military satellite maps or even just Google Earth, this peak is also called Mt. Pico de Loro. So we can call it Pico de Loro Norte.
We hired a jeep (cost ranging from 2000-2500) to drive us 3 hours to Adams from Laoag City. Adams sits past Pagudpud and is technically the last town of Ilocos Norte before entering Cagayan Valley. Getting there means going past the towns of Bacarra, Pasuquin Burgos, Bangui (home of the now famous windmills) and Pagudpud. Once off the main hi-way, one has to endure a good 45 minutes of very rough road to get to the jump-off: Sitio Maligligay. Here we met our contact from the Adams Municipal Hall, Mr. Paul Acupan, and guides. The municipality charges a minimal fee of P20/person as Green Fee and P30/person as camp fee if a visitor would be staying overnight. Guide fee ranges from P300-P400/day depending if one needs a porter as well. From the sitio's little plaza, one can stare up the majestic heights of Mt. Pico de Loro Norte.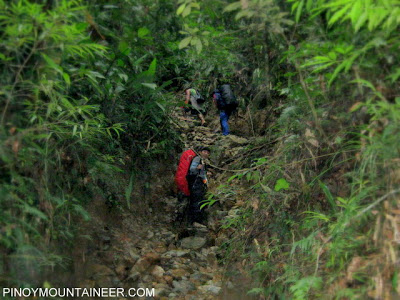 Our Pico De Loro is 1271 masl and it's one very challenging climb! The trail begins with a steep ascent, made easier by a splendidly made rock staircase leading from a flowing stream at the foot of the mountain. The guides were uncertain if the water here was potable but they were sure there weren't any other water sources up the mountain. It was a good thing we brought water from Laoag. The trail is not very well established as very few, even among the locals, assault its slopes. We can easily put trail class at 3 and the difficulty level at 6/9. The climb would require 1-2 days and 4-5 hours to summit but we're talking here of 70-75 degree slopes, fallen tree trunks that one has to climb over, scoot under or literally squeeze through and protruding vines and branches that are either life savers to break a fall or actual fall culprits themselves. There's a constantly lingering fog right about mid way up the mountain even at 2 in the afternoon and that coupled with an endless cacophony of a million insects and wild birds gives the whole scene a thrilling, almost primordial feel.
The roughly cut trail is padded with a thick carpet of rotting leaves and natural debris, one can actually smell the decomp going on. The presence of really large ants that pack a mean bite (locally known as buos) and the more timid but equally voracious limatik made the trail all the more challenging as there's really no place to sit when one stops for a breather. We wanted to stop for lunch but a clearing was hard to come by so we decided to push it. There was already a slight drizzle that came with the fog and the higher we climbed, the fiercer the wind howled. At around two thirds of the climb, the thick canopy overhead breaks and we find ourselves, quite suddenly, in a sort of natural view deck on the side of the mountain. Here the view is breathtaking and welcome to our already weary limbs.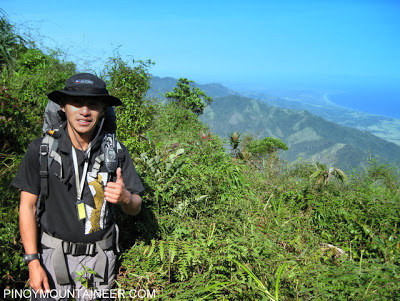 We reached the summit after hours of strenuous climbing through thick foliage and a spattering of dangerously eroded ravines where one had to kiss the wall. There's a point when the trail narrows to a tight squeeze between towering prickly ferns, vines and ancient trees and that's when you realize that very few people go beyond that point. A couple in the group fell marvelously while trying to negotiate a particularly high slope which was strewn with already slippery leaves. We all had to use a precariously anchored root to clamber up. That's when the thought of rope seemed like a mighty fine idea.
The summit campsite was only a small, barely cleared 6 x 6 meter area on top of one of the mountain's twin peaks. There, atop the mountain, the sea side breeze escalates to what feels like constant typhoon winds which battered our tents with freezing gusts and unending drizzle. It was only 3 pm but we felt like turning in for the night already. At the back of everyone's minds is the fact that there won't be any traverse trail – we would have to climb down the same way we came up. But that was a problem for the next day. Our lunch/dinner had to be prepared so we can seek shelter in our tents as soon as possible.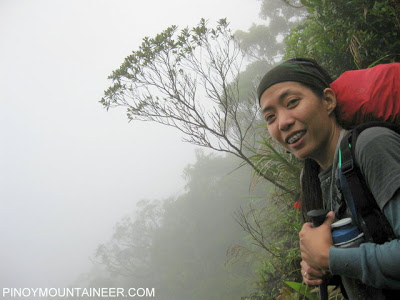 By 5 pm we were cozy inside the tents already, treating limatik bites, sharing stories and wondering when night would finally fall. When it finally did, we endured the freezing cold huddled, cramped but grateful for sleep and rest finally. We awoke to an early sunrise – around 5:30 am – ravenously hungry. The wind was still blowing strong and cold from the sea. We ate hurriedly, fearing that typhoon Dante (which was already up over the Pacific) had built up to a big storm from the way the wind sounded. By 8:00 am we were ready to descend but not before taking in the magnificent view atop Adams' highest peak. From there one can see the mighty Bangui windmills shrunken to thumb size and the magnificent white beaches of Pagudpud reduced to a wispy, powdery white shoreline.
It was a surprise to everyone when the wind died down as soon as we were off the summit campsite. Our guides smilingly told us that it was always that windy up in the summit. It took us less time to descend, the shock already out of our systems. But the trek down was as difficult and arduous, calling upon knees, calves and legs to work above and beyond what they were anatomically designed for. Four hours after we broke camp, we reached the scorching, dusty barangay plaza of Maligligay again.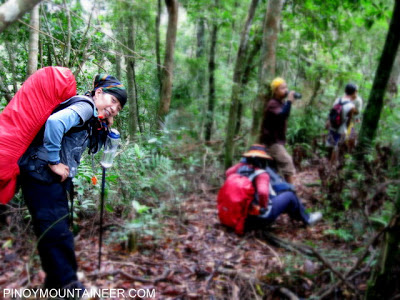 That was indeed one tough climb but it was a mountaineer's dream come true! The virginity of the trail and the enveloping forests was hauntingly thrilling and reminds one why mountains are climbed in the first place. It was truly and utterly beautiful seeing nature that way – yet untouched and undisturbed, one felt obtrusive and out of place.
We've found a genuine gem here, right in our own backyard and we're proud to share this experience with everyone seeking for newer mountains to ascend. We plan to scale Mt. Pico de Loro again in the very near future with more members of the group. Then we're looking at its neighbors: Mt. Linaw and Mt. Pao. A challenge for the group is Ilocos Norte's highest peak, standing at 2,234 masl, Mt. Sicapoo in Solsona, Ilocos Norte. Scaling that would hopefully be the subject of another feature.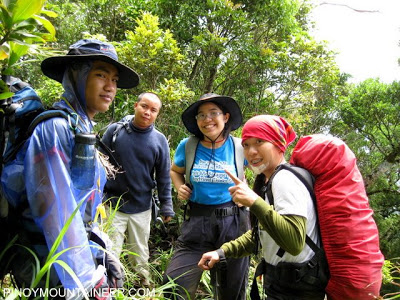 [The One Degree Mountaineering Group was formed last year and seeks to popularize, professionalize and promote mountaineering as a sport and way of life in the province of Ilocos Norte and the rest of Northern Luzon. As our advocacy, we would like to promote environmental awareness, protection and preservation as we advance the development and growth of local eco-tourism. The ODMG members who participated in this climb are Archie Pinzon, Agnes Pinzon, Alecs Pinzon, Danielle Pinzon and Russel Edra. Special thanks should go to Mr. Paul Acupan of the Adams Municipal Hall for his invaluable assistance and guidance, as well as to Mr. Eric Bawingan, Adams' Municipal Mayor for this opportunity.]