Invitation to Ilocos #4: Mt. Siminublan and its pine forests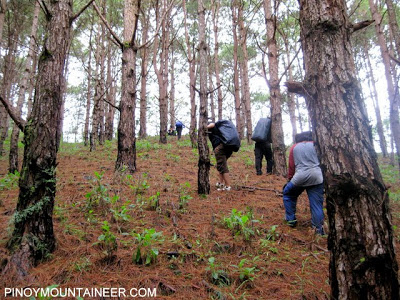 PinoyMountaineer presents "Invitation to Ilocos", featuring the newly-documented mountaineering destinations of Ilocandia. This column is by Agnes Fidelis Gloria-Pinzon, PinoyMountaineer correspondent for Northern Luzon and the One Degree Mountaineering Group.
An hour and a half jeep's ride from Laoag City, Nueva Era is Ilocos Norte's eastern most municipality. Any more East and one reaches Abra. The cemented Ilocos Norte-Abra road crosses the town and from a still rough road junction, the trail to Mt. Siminublan (and the more frequented abandoned mining site, Hercules) begins. We've heard of this peak from mountain bike groups who frequent Nueva Era. Its towering height was too tempting to pass up and we were looking for a respite after an arduous ascent of Mt. Simagaysay and Mt. Timarid just a month ago. Exploring yet another little known peak was becoming a trend for One Degree! We thus expected an unestablished trail once again. Since we were climbing at the heels of an exiting Typhoon Kiko (Typhoon Signal #1 was still up over the province) we knew the trek would be extra challenging with the possibility of harsh winds and fierce rains.
From the jump off to the foot of the mountain, the trek is straightforward with four small river crossings, a few minutes through thick forest that required some scrambling up an eroded vertical portion and ridge walks that were made less perilous with thick, cogon grass that one can hold on to for balance or use to pull oneself up some sharp inclines. At the foot of Mt. Siminoblan is the last water source and a makeshift bamboo and labig dap-ayan that is for common use by the few locals who plant rice in the mountain's slopes and hunt for wild boar in the dense forest. While we fill up hydration packs and water containers, we inquire about Nueva Era's highest peak. Siminublan in the dialect refers to a large cooking pan or wok, the siliasi, used to cook native delicacies – turned upside down. The mountain did indeed look like a giant overturned bowl! Our guides tell us that only one group has reached its summit in 2007, led by the Bishop of the Diocese of Laoag, Bishop Utleg.
We started the ascent through a forest that had a relatively clearly marked trail since the locals used it to hunt for game and wild fowl or gather edible mushrooms and roots. After that we clambered up a long and very steep stretch of tall conifer trees. Strong headwinds make this part of the trek difficult but exhilarating as the view is breathtaking all the way to the top of the hill where one can see the whole of Nueva Era and nearby Abra province. At this midway point, at a little above 700 masl, we rested after three hours of continuous climbing. Then we entered another forest and because the trail in this part of the trek was completely hidden by thick overgrowth, we covered ground at a snail's pace with the guides clearing a path foot by foot. It took us another three hours to exit the forest and by this time, it was getting dark very fast. The rains came in at the final stretch and with it, gusty winds and heavy fog. At this point, night set in and it took more than the usual steely nerves to make it through the last few hundred meters of rocky grasslands up the summit. The wind was fiercest here and it buffeted our single filed line violently – that coupled with the impenetrable dark of fog and night and the exhaustion of half a day's climbing through a grueling trail tested all our mettle. At the side of the top of the mountain was a small uncleared portion of forest where we sought shelter and made camp.
It rained the whole night! We gave up trying to get some sleep at around 4 am since rain water was pooling inside the tents already. After a hurried breakfast, we struck camp and made ready for the descent. After a wet and restless night we were all looking forward to at least a good view from the summit. We were disappointed though, the summit was completely enveloped and blanketed by copious clouds and fog! We made our way down, a little disheartened but jubilant still from a successful summit climb of Mt. Siminublan. The magnificent view we were promised would have to wait for clearer skies and warmer months.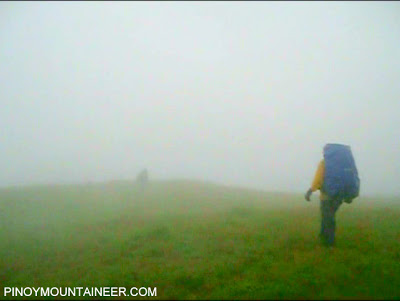 [The One Degree Mountaineering Group was formed last year and seeks to popularize, professionalize and promote mountaineering as a sport and way of life in the province of Ilocos Norte and the rest of Northern Luzon. As our advocacy, we would like to promote environmental awareness, protection and preservation as we advance the development and growth of local eco-tourism. The ODMG members who participated in this climb are Archie Pinzon, Agnes Pinzon, Alecs Pinzon, Danielle Pinzon, Willie dela Cruz, Jay Gambalan, Louie Angancgo, Russel Edra and Melvin Pingkian . Our gratitude goes to Mayor Eldrin Garvida and his wife for this opportunity to explore Nueva Era's highest peak.]