PinoyMountaineer Top 10 Hikes of 2013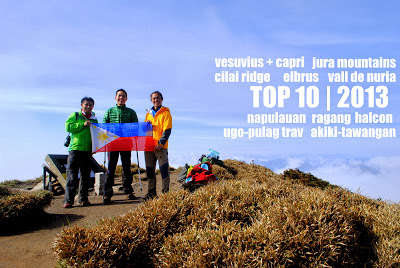 Continuing my tradition of choosing ten hikes that represents best the adventures I had in the past year, I offer this post today, New Year's Day, filled with excitement for the hikes to come but at the same time with thanksgiving for the successes of the past. I am especially happy with the ascent of Mt. Ragang, the first three hikes of the Grand Cordillera Trail particularly the Ugo-Pulag Traverse, and my second of the Seven Summits, Mt. Elbrus.
Note, these hikes are in chronological order.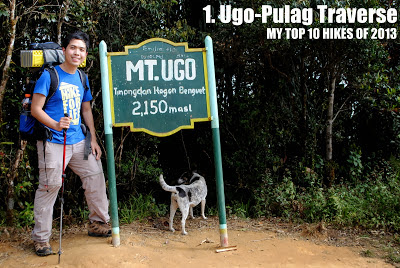 1. Ugo-Pulag Traverse (Benguet – N. Vizcaya – Benguet)
It took us four long days of intense trekking to complete this epic hike but it was greatly rewarding. The villages between Ugo and Pulag are beautiful, and so are the trails that connect them. This hike opens up the possibility of a 'Grand Cordillera Trail' that traverses the entire region, from Ugo to Sagada. The GCT is a project that I hope to continue in 2014.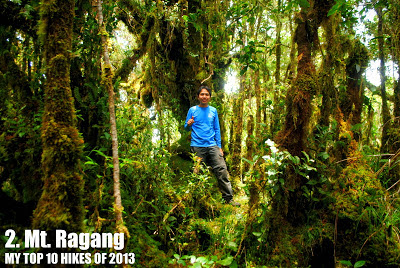 2. Mt. Ragang (ARMM)
The only one among the 10 highest mountains of the Philippines that has never been previously documented, Mt. Ragang is shrouded in mystery and fear – and it has been the dream climb of many for decades. This year, I decided to give it a try and was rewarded with the most memorable hikes in my life. It turned out to be a difficult mountain in its own right, taking us four days to reach the summit and get back.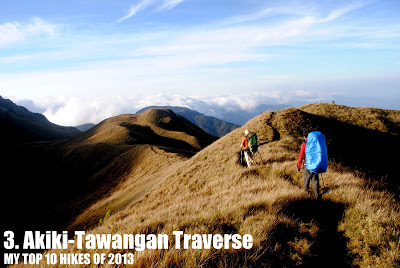 3. Akiki-Tawangan Traverse (Benguet)
Continuing the GCT and seeking an alternative to the overcrowded Ambangeg, we did a two-day traverse of Mt. Pulag from the steep and pine-forested Akiki Trail to the more gradual, mossy-forested Tawangan Trail. It was a very beautiful hike and so far my favorite combination of trails up Luzon's highest peak.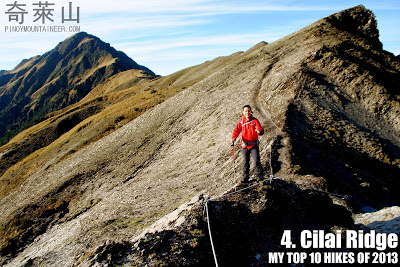 4. Cilai Ridge (Taiwan)
Cilai Ridge with its black, barren, intimidating appearance in Central Taiwan was my goal since I completed its more difficult relative, the Holy Ridge, in 2012. So for my 27th birthday I headed there with hiking buddies Coby and Martin. Fortunately we were rewarded with fantastic weather and a breathtaking ridgewalk 3500 meters above sea level.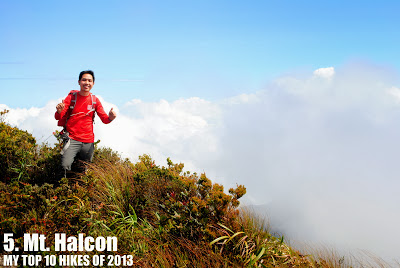 5. Mt. Halcon (Oriental Mindoro)
Regarded as one of the most difficult mountains to climb in the Philippines, Mt. Halcon has always been one of my goals and when we heard about its reopening we lost no time in mustering an expedition. The approach of the rainy season notwithstanding, we managed to have a fantastic and intense hike. Truly there were lots of limatik but we also had lots of fun! Thank you Dominic and Zeus, as well as my companions Koi and Daryl!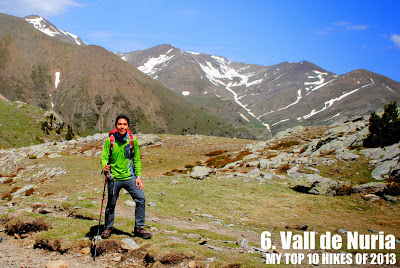 6. Vall de Nuria, Pyrenees (Spain) – Eager to experience Europe's great hiking, I went from Barcelona to Vall de Nuria, a village nestled in a valley in the eastern part of the Pyrenees – or what the Spaniards call Los Pirineos. Within Vall the Nuria I managed to hike up two of the peaks – Puigmal and Pic d'Aliga, and I also walked a lovely section of the GR-10 on the way back.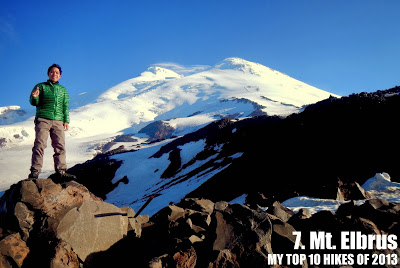 7. Mt. Elbrus (Russia)
The highest mountain in Europe and one of the Seven Summits, Mt. Elbrus proved to be a tough challenge, especially with volatile weather conditions that forced us to abort the ascent on our scheduled summit day. Faced with limited time but offered a second chance, four of us did our very best and reached the summit.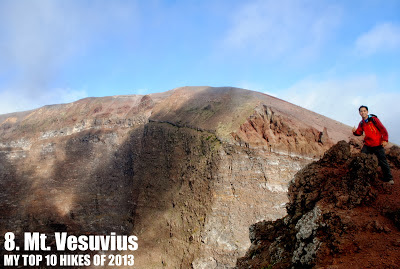 8. Vesuvius and Capri (Naples, Italy)
After visiting Rome I went south to Naples, covering much of the island of Capri on foot, and then proceeding to do a hike of one of the world's most famous volcanoes, Mt. Vesuvius. Followed by a sidetrip to Pompeii, this was both a natural and historical journey. Amalfi Coast, which I would have done with Iron Lady Jo Steven had she not been indisposed, will have to wait for a next time!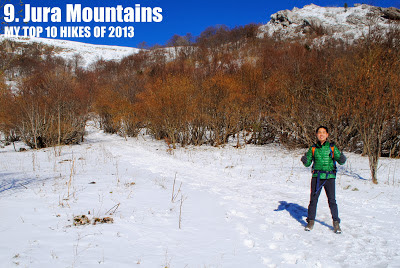 9. Jura Mountains, (Switzerland and France)
This is actually a trilogy of hikes around the Geneva that I did with my two good friends and mentors, Everest climber Leo Oracion and Iron Lady Jo Steven. Just being reunited with them was rewarding enough, but on top of that, I was rewarded with two hikes in the Jura Mountains – Le Dole and Le Reculet, plus a hike in Mont Saleve, the 'Balcony of Geneva'. Considering that it was already late in autumn and I had limited time, I think I was able to make the most out of the trip.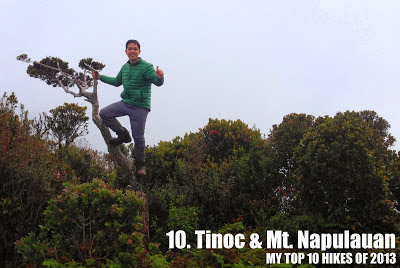 10. Tinoc and Mt. Napulauan (Benguet and Ifugao)
Attempting to continue to GCT, I went to Tawangan where we ended the previous hike, and continued on to Tinoc. Unfortunately, from Tinoc we had difficulty finding a suitable trail; the old ones had already been expanded to become cement or rough roads. So we instead chartered a vehicle to Hungduan, where we did a dayhike traverse of Mt. Napulauan, which turned out to be a mesmerizing finale for a year of adventure.
Special mention to my frequent companions in these hikes: Coby Sarreal (Ragang, Akiki-Tawangan, Cilai, Elbrus, Napulauan), Chris Tejirian (Ugo-Pulag, Akiki-Tawangan), Daryl Comagon and Koi Grey (Halcon, Tinoc-Napulauan) – as well as to the Mt. Elbrus Team (Carina, Doc Koko, Swami Del, Mutya, Niel, Ed, Doc Jun, Farah, Coby, Cynthia). And of course I greatly appreciate everyone who joined and made these hikes possible!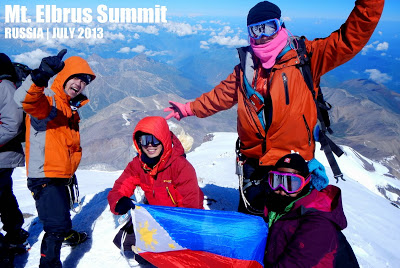 PINOYMOUNTAINEER TOP 10 HIKES OF THE YEAR
Top 10 Hikes of 2013
Top 10 Hikes of 2012
Top 10 Hikes of 2011 (PH)
Top 10 Hikes of 2011 (International)
Top 10 Hikes of 2010
Top 10 Hikes of 2009
Top 10 Hikes of 2008