Tadpole tents compared: Jetstream, Apexus, and the original TNF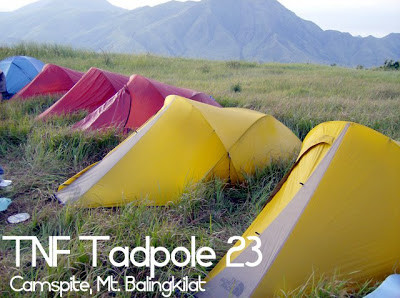 Gear review by Cecil Morella (AMCI)
Equipment Adviser, PinoyMountaineer.com
As you build up your vertical mileage in mountain-climbing, you learn the hard way that certain things just do not mix: Tents and open flames. Rainfly and direct sunlight. Tents and washing machines. Fly and cat….
But for the marvelous invention called duct tape, the bored feline in a friend's home would have wrecked nearly a week's worth of sleeping arrangements on our Tawangan-Akiki traverse of Mount Pulag last year. In the end, the taped-up Apexus shell held up well in relatively dry conditions on the campsite beside the Eddet River, where our group's shelters were compared by another team to a "Baseco," the Manila slum notorious for its jobless men who sell their kidneys to the Japanese. But it had no answer to the deluge that swamped our Lake Tabeo camp, which thankfully came at dawn and not in the evening.
Dubbed as a "tadpole," the Apexus (Apexus Tadpole classic) and a similar model sold by second local outfitter, Jetstream (Jetstream Tadpole), are inspired by the iconic elongated, low-slung shelter produced by The North Face that gave the design its name – the TNF Tadpole 23. Two long poles intersect above the tapered rear end of the canopy, with a shorter third cross-pole creating headroom space at the wider front end, which has a single door and a vestibule. The design itself is now an anachronism in the age of avant-garde dome shelters with pre-bent, hubbed pole configurations and vast footprints that provide vestibules in pairs.
Built like caves and designed to withstand strong winds that would flatten shelters with plastic or fibreglass poles at high, open grassland campsites, the aerodynamic tadpoles hug the ground and their rectangular footprints come on their own in tight and narrow places where open space is at a premium — think Tarak Ridge, where you are instantly under pressure to race to the campsite to claim valuable real estate if you had the misfortune of having packed a four-person tent — or open grassland campsites like Pulag's Camp 3, where partial, "bikini" rainflies typical of beach tents could expose its occupants to hypothermia after sundown. My first ever tent was a Jetstream while I still frequently use a TNF Tadpole. Several friends of mine own Apexus, which comes in a variety of striking colours including hot pink that stands out even from several miles away. The local brands use clips to attach the tent body to the poles, ideal for fast pitching, while the TNF combines clips and sleeves for even more stability against the wind.
Given a choice, all of us would plump for the TNF in an instant, but at less than half the price, Jetstream and Apexus are real value for money (Gid's note: around P5,000+ for either). The Jetstream's livable area is about three inches shorter, an inch narrower and the headroom is four inches lower compared to the 26 square-foot TNF, while the Apexus is about an inch wider but four inches shorter and three inches lower than the TNF. Because I am taller than most my toes touch the radically sloping rear canopy of the 86-foot long Jetstream, forcing me to curl up or stretch out diagonally. That is why I usually treat tadpoles as solo tents, finding them a bit of a squeeze for two men. But a female friend said her Apexus routinely sleeps three women and sometimes four. She concedes "it's a bit tight" at the back, where their feet touch.
While the Apexus and Jetstream both have full-fly coverage like the TNF, care must be taken to pitch them properly and guy them tautly so the rainfly never sags onto the nylon mesh inner canopy, either through the force of the wind or loose guyout lines, which is sometimes a problem on uneven ground. Always pack string to give yourself flexibility with your pegs and guy lines. Both tents claim to weigh just under two kilograms minus the stakes, compared to about 2.3 kilos for the TNF version that I use, but you would need quite a few owing to their layout, and the pegs' collective weight swiftly adds up. To compensate, get a pair of scissors and trim the footprint if you use a regular-sized tarpaulin cut to conform to the tent's tapered shape, leaving about two inches or so for allowance.
My feet got wet for two nights' running from condensation while camped out in Signal Number 4 typhoon conditions in the forests of both Mosimus and Binulauan in Kalinga in 2006. All three tadpoles also let some rainwater through the door when you open the fly fully, even in the Apexus' U-shaped door which has two layers. My friend also said the seam seal of her tent started to unravel less than two years after purchase, which appears to be a common complaint with Apexus. There are of course do-it-yourself sealant remedies sold at outdoor shops, while at least one local shop actually accepts seam repair jobs along with broken pole replacements.
The other gripe for tadpoles is that the single vestibule cannot hold more than one backpack without blocking the door. Here you have a choice of tossing a coin with your tentmate or buying the TNF, whose long vestibule allows two packs to be stacked on one side.
Tent picture courtesy of Alex (alexskywalker.multiply.com)