Gear Review: Teva Forge Pro eVent, field-tested in Mt. Apo's Kapatagan-Kidapawan Traverse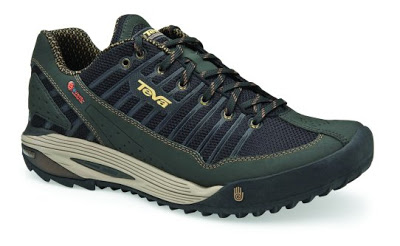 Joining me in the recently-concluded Mt. Apo Sembreak Climb was a pair of Teva Forge Pro eVent hiking shoes. More accurately, they were not just joining me, they were actually carrying me up the mountain. And what can I say? They did a marvelous job, beating my expectations.
As a hiker, what do I look for in a shoe? And how do my specifications figure when you're climbing the country's highest mountain? First, the durability is very important. You can't afford to have your shoes breaking down in the middle of a trek. In this regard, your hiking shoes can really make or break your expedition. Durability also means that you won't feel rough surfaces of the rocky ground you're walking on, or your feet won't get injured even if a branch threatened to pierce your shoe.
Second, comfort is also crucial. Shoes must not suffocate your feet, nor must it feel too warm inside, and definitely your toes should not battle against the shoe. Comfort cannot be judged in a matter of seconds, but in a matter of days. The four-day Mt. Apo expedition is a perfect opportunity to judge comfort.
Third, stability also cannot be compromised. Especially in a mountain like Mt. Apo where you will trek through a variety of surfaces, and where there are ravines, you cannot afford to slip. Again, Mt. Apo with its river trails, boulders, and lengthy forest and grassland walks provides the perfect environment to test a shoe's stability.
There are attributes that I look for: waterproof or not, weight of the shoe, as well as, of course, design. But for serious hiking considerations, the above three (durability, comfort, and stability) are what matters the most.
So how does the Teva Forge Pro eVent rate against these parameters? In terms of durability, it holds up very well. Although durability is tested not by a single climb but through months and years of hiking, at least I know it can survive a tough climb with. Also, it was able to shield my feet from any offending objects.
Comfort, on the other hand, is perhaps the Forge Pro's specialty. Unlike most hiking shoes that feel tough, the Forge Pro feels very cozy inside – quite a remarkable feat (no pun intended). It's light weight also adds to the comfort, and of course, although the waterproof shoe had no match against the mighty Marbel river and its leg-deep waters, the fact that my shoes remained dry up until Day 3 meant a great deal of comfort, as well. the eVent technology that makes the shoe waterproof also provides ventilation, keeping water out, but letting the air circulate.
As for stability, it boasts of a Spider XC rubber that enhances traction. I actually tested if this traction will work against some steep parts of the Boulders, and it did. Now that I look back to the climb, not once did I slip, not even during the slippery descent from the summit to Lake Venado, or the torrential terrain of the post-Venado forest after we were caught in a downpour.
One other amazing thing about the Teve Forge Pro eVent is that it doesn't look like your typical hiking shoe. Oftentimes bulky, heavy, and full of all sorts of tough-looking designs, hiking shoes don't fit the bill when you're in the city. The Forge Pro's simple, sleek design, however, makes the Forge Pro eVent appropriate even in urban settings. The perfect all-around shoe!
I still love my Merrells, which have always been the mainstay of my mountain footwear and I've spoke highly of them in past reviews. But the Teva Forge Pro is an exciting, most welcome addition to my hiking gear and I'm glad I decided to try it for the Mt. Apo trip. I look forward to using it again and I highly recommend it to anyone who wants an all-around hiking shoe, or those looking for something new in the outdoor scene.
Teva shoes are available in all Royal Sporting House outlets in Metro Manila.