Nalgene bottles: Mountain eye candy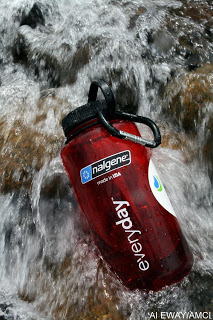 Gear review by Cecil Morella (AMCI)
Equipment Adviser, PinoyMountaineer.com
Quite a few climbers I know retired their old trail bottles last year when Canada moved to declare bisphenol A, or BPA for short, a chemical that until then was commonly used in all kinds of plastic products, including milk bottles for babies, as a dangerous substance. The brand that was hardest hit was Nalgene, maker of the, colourful, iconic loop-top bottles commonly seen hanging on the shoulder straps or external mesh pockets of people who climb mountains for fun. The available medical evidence on cancer risk caused by the chemical leaching on the polycarbonate bottle's fluid contents is not entirely conclusive, and the US manufacturer insists that the BPA in the old bottles is safe for humans. But the company has since pulled the products and made new models using BPA-free plastics including copolyester and high-density polyethylene (HDPE). Nalgene bottles in a burst of candy colours — reds, pinks, spring greens, purples — are back on the trail with a vengeance.
Filipino backpackers typically prefer one-litre (32-ounce) bottles that have loop-top covers to ensure that caps are not lost during refills. Widemouths are favoured over narrow-mouths, for the simple reason that it is far easier to refill them at the available sources of water on the trail — iffy springs on Mount Guiting-Guiting, shallow holes excavated on the shores of Mount Apo's Lake Venado, or tiny trickles from a Cordillera mountain brook.
Nalgenes are not the lightest bottles around — the widemouth copolyester model weighs 181 grams (6.4 ounces), about two small headlamps, while the colourless and therefore less fashionable HDPE model is a lot lighter at 99 grams (3.5 ounces). One climbing friend actually prefers to carry his trail water in two-litre plastic Coke bottles. However, copolyester is almost crush-proof and indestructible, while the HDPE version is only semi-rigid but withstands boiling water. A climbing colleague recalls his Nalgene survived after he accidentally dropped it down a 30-foot ravine on Mount Halcon. Another colleague lost his white polyethylene bottle during a Tarak Ridge climb in the Mariveles mountain range. A reconnaissance team from our club retrieved the moss-covered bottle the following year, and it was duly returned to the owner who still uses it to this day.
I used my old Nalgenes as instant coffee mugs on mountain campsites. They were excellent. I must confess I have yet to replace them — the BPA-free ones apparently no longer come in brilliant firefly-yellows. For those climbers like me who insist on using the old bottles, US medical authorities advise against using them for warm or hot liquids, heating them (duh!) or washing them with harsh detergents. All these are said to induce leaching.