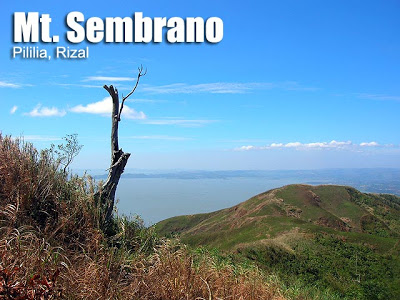 MT. SEMBRANO
Pililia, Rizal
Major jump-off: Brgy. Hall of Malaya, Pililla
LLA: 14°23'10″N; 121°21'57" E; 745 MASL
Days required / Hours to summit: 1 day / 3-4 hours
Specs: Minor climb, Difficulty 3/9, Trail class 1-3
Features: Views of Laguna Lake and Southern Tagalog mountains
The hiking advisory for Mt. Sembrano has been lifted as of August 2012.
BACKGROUND
At the helm of Jalajala peninsula, jutting into Laguna Lake like a frigate, is Mt. Sembrano in Pililla, Rizal. Once a haven of NPA insurgents, it is now a popular hiking destination. The trails are challenging for a daytrip, and takes 3-4 hours to climb. First there'll be a wide rough road which leads to a rocky path. Locals, if you encounter them, would offer to get fresh coconut juice for P10. Characteristic of the earlier portions of the trail are the numerous mango trees; it is like an orchard. If it is mango season, you might just be tempted to pick a fruit or two. Thus the area is called Manggahan – and there is a campsite here, before the trails become moderately steep (~45 degrees).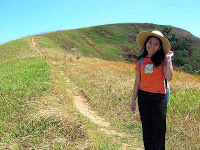 Fiery red flowers bloom from the trees, and the view, facing Laguna Lake, emerges. Finally after 1.5-2 hours in the woodland there will be the grassland. North Peak, the first high point, will be reached in 10 minutes, and some hikers prefer to camp here. From North Peak, the South Peak (summit) is still 30 minutes away, but you can already see the outline of the trail.
There are no markers in the summit, and sometimes grass overgrowth may obstruct the view. Although the heat can overwhelm the senses, the view at the peak is scenic, and is best appreciated in the late afternoon. Laguna Lake, Talim Island, the Sierra Madre, the Banahaw Trilogy, Mt. Makiling, and even a distant Mt. Arayat comprise its illustrious list of sights.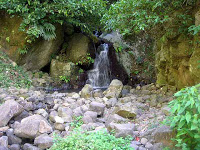 On the way down, you may visit the Manggahan Falls. It is just a small falls but it is a welcome sight after a long trek. The five-minute trail going there is right of the campsite if you're going down. Here you can shower at the lower parts, or get water in the higher sections of the falls. At the Brgy. Hall of Malaya, you may tidy up before going back to Manila. There and within the vicinity, you can ask around for shower rooms. On your trip back, the sun sets in Laguna Lake, and on clear days it is a nice sight to behold.
ITINERARY
Dayhike
0500 Assembly at EDSA Crossing. Take jeep to Tanay, Rizal
0700 ETA Tanay Rizal; take jeep to Pililla (there's a queue of jeeps in the terminal)
0800 ETA Brgy. Malaya, Pililla (jump-off). Register.
0830 Start trek
0930 ETA Manggahan
1045 ETA North Peak
1130 ETA South Peak (summit). Lunch.
1230 Start descent.
1400 ETA Manggahan Falls.
1600 Back at jump-off, tidy up then take jeep back Tanay (or Manila)
2000 ETA Manila
PRACTICALITIES
Transportation

Public

(1) Jeep or van, EDSA Crossing to Tanay market [1-1.5 hours; 53-70 pesos]

(2)Tricycle or jeep, Tanay to Pililla [30-45 minutes; 20-50 pesos]

Approximately 2-2.5 hours travel time because of various stops and delays.

Private. Follow the Manila East Road all the way to Pililla and go straight to Brgy. Malaya. Stop at the barangay hall to register and ask the locals for the left turn that leads to the trailhead.
Approximately 1.5-2 hours travel time.

Registration

(1) Logbook at the barangay hall of Malaya. P20 registration fee; (2) Managuan – P10
[Total fees 30 pesos]

Available; assigned at the barangay hall (500 pesos/10 persons/day). Not required as of January 2015.

Campsites and waypoints

(1) Manggahan campsite
(2) Grassland campsite
(3) summit – 14°23'10″N; 121°21'57" E; 745 MASL

Water sources

(+) Managahan campsite

(-) summit

Cellphone signal

Present in most parts of the trail

River crossings

None

Roped segments

None

None

Minimal

Rattan

Minimal

Hiking notes

*Sembrano, especially the summit area, is fully exposed to the sun. During the dry season, brushfires pose a danger to hikers because they can engulf entire portions of the slopes in flames. Thus be extra cautious when climbing on these months.

*In the jungle, take note that there is a very steep trail that also leads to the grassland but is not the actual trail.

Sidetrips

In Tanay, Daranak and Batlag Falls can be visited before visiting Mt. Sembrano.

Alternate trails

There have been reports of a traverse to Mabitac but as of 2015 it is unsure if the trail is extant

Security concerns

As of 2014 there are still occasional reports of in-campsite theft and therefore hikers are warned to be extremely cautious, to avoid bringing valuables to the mountain. Also for this reason, dayhikes are recommended instead of overnight hikes.

Yes (2.5-4 hours to summit; 1.5-3 hours down)

Facilities at jumpoff

(+) Sari-sari stores
(+) Wash-up / shower places
(+) parking

300-500 (dayhike)
500-700 (overnight)
MT. SEMBRANO PICTURES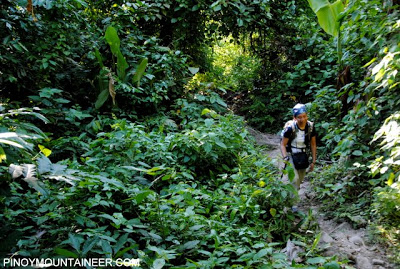 The trail is lush with shrubs and forest trees – the vegetation is thinner than those of Makiling and Cristobal, but thicker than those of Mt. Maculot.