Mess kits: Titanium or plastic?
Gear review by Cecil Morella (AMCI)
Equipment Adviser, PinoyMountaineer.com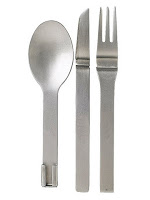 You are dining with the best views and the best seats in the world, in the company of yourdearest friends. The coffee, the pasta, the fondue, everything acquires a superior taste in the crisp, clean and cool air of the highlands. What a disgrace that you have to carry the cutlery and the china up there with you. Every mountaineer I know has his or her own way of coping with this inconvenient detail, with weight and bulk being the main considerations. I have a few climbing mates who favour chopsticks, who use the pot lids or even plastic bags instead of plates, and the plastic utensils that come with fastfood chain takeaways. One of them uses super-lightweight (a medium-sized bowl weighs 47 grams), collapsible squishy bowl sets of food-grade silicone crafted by Guyot Designs, though I have yet to see this product at local outdoor shops. But the most radical solution I've seen is the one employed by the owner of the Pinoy Mountaineer website himself, who uses dark-green, Japanese seaweed wafers to wrap rice, viands and everything in like a mountain sandwich or taco. (How do you like your soup Gideon?)
For most in my climbing circle, they have settled on a plain supermarket staple, the airtight, dishwasher-safe, freezer-grade, microwaveable and stackable food containers, while I have gone the titanium route, using a 600ml single-wall mug and regular-size spork (a spoon with the tip shaped like a trident) in which to consume anything from juice, soup, steamed rice or fried milkfish.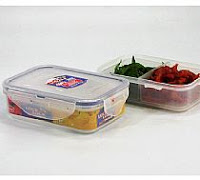 The polypropylene food containers pioneered by the Australian company Lock & Lock are not the lightest ones in the business, but they more than make up for it with their versatility and price. The sealed lid allows you to store your packed lunch into them (make sure to debone the chicken leg or pork chop, to shave weight), even if the meal comes with messy gravy. A popular model is 6 x 4 x 2 inch rectangular lunch box that contains about a third of a litre and weighs just under 150 grams. It comes with two square dividers that my friends use to drink their coffee and put their soup in. Or leave one or both at home to shave 20-40 grams off. They are strong enough to survive the microwave, so the heat does not melt the plastic unless you put them over the fire. Throw in a short-stemmed teaspoon and maybe a fork and you are good to go.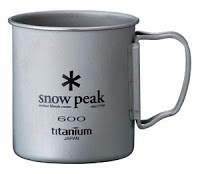 The Snowpeak mug and spork weighs even less — just under 80 grams for the mug and 17 grams for the silverware. Look for the short-stemmed spork to save, well, three grams. However they do not come cheap. But I like the earth-saving ethic of the Japanese outdoor company — the titanium material comes salvaged from retired submarines. I hope they were not of the nuclear-fuelled kind though.I still own a stainless steel nesting set of camping silverware, available at local Coleman outdoor shops.
I like the short-stemmed spoon but I found out you do not really need the knife, which poses a hazard to the other contents of your backpack. And yes, they are heavy. I used to have a GSI Ring Cutlery Set set made from acetal plastic, but I found out they broke easily. Plus, a friendly word of warning here. They will melt if your fellow climber makes the mistake of using them to stir the contents of a boiling pot.