Hiking matters #67: Bakun Trio Day 1: Mt. Lubo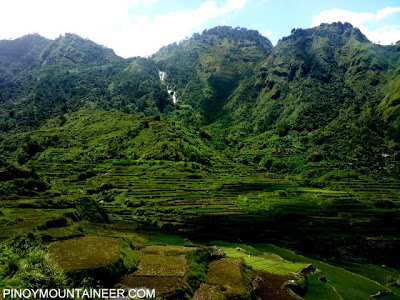 The Bakun Trio adventure typically involves three dayhikes in a row – a very exciting and convenient prospect. Some hikers however would argue for a more "hardcore" adventure that involves camping in any of the mountains. The advantages of camping, aside from the "extra challenge", are nice views in the early morning. On the other hand when you do a dayhike, you'll arrive at the peaks by late morning at the earliest — missing the window of usually very clear daybreak skies. Still, it is the recommended option especially if you have limited time and if you want to make sure that you'll hit all three mountains in one visit. Also, it much better to have socials in the barangay hall with its facilities (stove, shower room, sleeping quarters). Interacting with the locals (especially the curious kids) is also a nice thing to do.
The most logical first mountain to climb in Bakun is Mt. Lubo, the highest mountain in Bakun Poblacion at over 2000 MASL (Mt. Osdung at 2500+ is technically the highest in Bakun but it's not accessible from the town proper). If you follow the road map from Baguio, the initial barangay you'll reach in Bakun is Brgy. Dada followed by Brgy. Poblacion. In between these two barangays stands Mt. Lubo. Although possible to perform a traverse from Brgy. Dada down to Poblacion, the more advisable option is to carry your things to the Poblacion first before hiking up Lubo with light packs. When I joined the PALMC climb, some of the guys decided to camp in Lubo while the rest of us decided to just do a dayhike.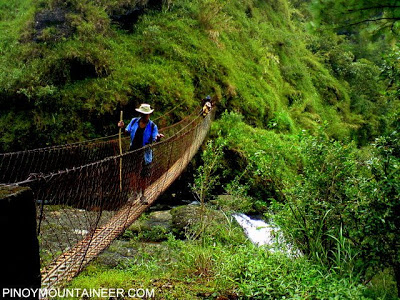 Unfortunately it was already quite late when we started our trek – around 1330H. Although we were able to leave Baguio as scheduled, the road to Bakun was under construction and we were forced to prematurely start our trekking by negotiating by foot the remaining distance of unfinished road. Even so the weather was good and we were optimistic that we can finish our first mountain easily.
From the barangay hall, we walked SE, entering a mix of forest and upland farmlands with our guide Max. My groupmates were the dynamic duo of Mayan and Maynard, as well as the energetic PALMC president, Sir Ding. What amazed us initially were the near and distant waterfalls you'll pass along the way. Precariously hanging steel bridges connect the trails. After 1.5-2 hours of climbing the trees will give way to pines and grassland slopes. Amazingly, there are sections of the mountain close to the peak that are actually inhabited! You will reaach a plateau that affords expansive views (unfortunately it was already late and cloudy when we arrived). Then finally, the summit of Lubo will loom – a pyramidal peak that sits above the plateau. Despite our progress, however, time was fast running and the weather was turning for the worse. Coming from the hospital environment without rest and having to take that arduous trek made and I was surprised that my legs started cramping in the final 200 meters of the trek.


I scrambed to take some raisins (high in potassium, sodium) and took in a lot of water. Slowly but surely we reached the peak by 1630H after 3 hours of trekking. Welcoming us at 2000 MASL were a family of goats. Desperate for salt they began licking our feet and perhaps wishing that we could spare some food for them! Unfortunately we couldn't oblige. Unfortuntately too there wasn't much view at the top. But still, one down, two to go, and it's very soon it's time to go: we didn't want to spend too much time night trekking and it was already raining.
At this time my legs have recovered. But, while crossing of the slippery parts, I slipped and my left index finger hit a rock! At first I couldn't move it. Fearful of a fracture, I immediately immbolized it with some Leukoplast. All the more did I hurry back to base. Upon arriving I quickly examined myself to see if it was indeed a fracture. The hallmarks of a fracture include (1) limitation of range of motion both active and passive; (2) gross deformities; and (3) intense pain and tenderness. Fortunately I had none of (2) but I had a bit of (1) and (3).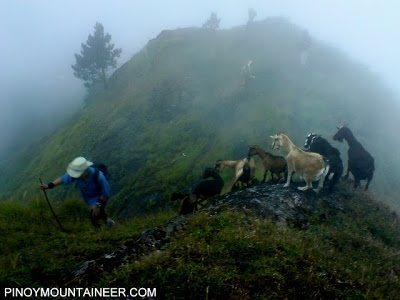 My decision? To observe first and decide early the next day. Meanwhile I bought all the ice candies in one of the sari-sari stores and applied them to my injury. I Hope for the best! The PALMC guys tried to cheer me up and I wasn't really in sunken spirits, buoyed by the success of our Lubo climb. At the worst case at least I saw Bakun and did one mountain.
So I struggled to sleep on that night with my left hand raised and my mind worried about the possible outcomes tomorrow: I would have to wake up at 0530H the next day and make the fateful decision: either to pack my bags and take the only trip in the next two days for Baguio City, or to join the second climb. Having come all the way I prayed that it would be the latter.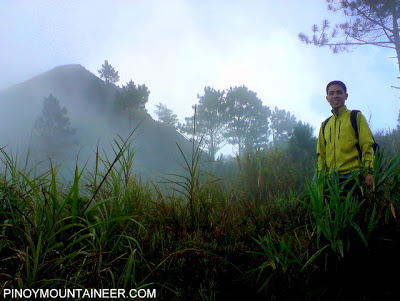 PinoyMountaineer.com thanks Philippine Airlines Mountaineering Club (PALMC) for accommodating the blogger in their Bakun Trio climb last September 19-21, 2009.
BAKUN TRIO ADVENTURE