One foot at the summit, and the other foot up in the air: The First Annual Amputee Climb!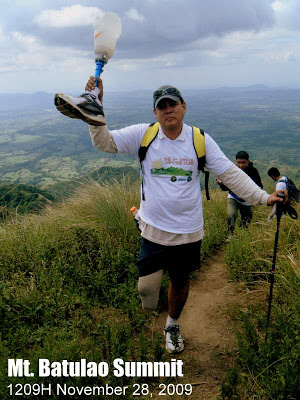 I am humbled to be part of a climb that is both deeply meaningful and very enjoyable – the First Annual Amputee Climb yesterday at Mt. Batulao. It was not just a climb, but really it was a momentous occasion that left me moved in many ways.
I'm still very tired from my sleepless night duty at PGH and I haven't seen the nice pictures taken by our participants yet so my blog account of the climb will have to wait for later. But I can't wait to say that I was truly moved by the determination of our amputees to reach the summit. It was really a great challenge but they persevered, and the participants who helped, accompanied them are part of this success.
The warmth and friendship we received from the participants was also moving. It may only just be a dayhike but I think it was a great time we shared together. To my Team 1 members: John and Diego, the physical therapists Michael, Paolo and Ivan; Red, Bart Lee from Taiwan, Julie, Sherwin; Daniel, Uly, Polo, Gawani, Reno, Miko, Marcus; my MakTrav companions Kevin and Clyde, the energetic cameraman Kuya Mong, and of course Romel, it was nice climbing with you guys!
I am sorry for the glitches that occurred during the climb, including the delays in the itinerary. I hope you will bear with the organizers who will surely strive to make a better, more exciting Second Annual Amputee Climb next year.
So once again, thank you to everyone who joined the climb – the participants, the amputees, the organizers, and the sponsors. Thanks be also to God who granted perfect weather. Such a beautiful day for a memorable, enjoyable climb!