Photoessay: The First Annual Amputee Climb
Romel was one of the victims of the 1990 Earthquake in Baguio City; after almost two decades of struggling with an incapacitated foot he had it amputated in 2008. Taruc was a bus conductor and while on the job, a vehicular accident cost him his right foot. Leah and Cherrilyn were born with absent limbs, and they since their childhood they have tried to cope with this seemingly insurmountable condition.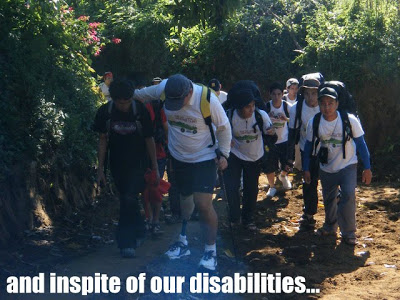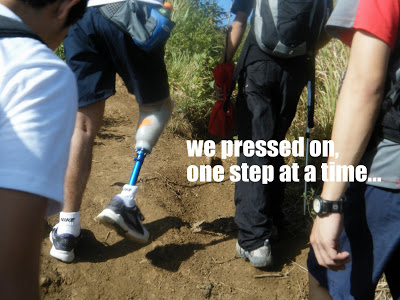 But I am making a mistake in beginning my essay that way. And so are many people who emphasize what amputees cannot do, instead of highlighting what they can do. It is about time to shift the focus from disabilities to abilities: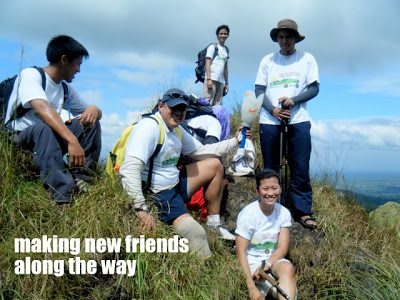 Romel is a practicing nurse; Taruc is a utility man; Leah and Cherrilyn are both technicians in the Prosthetic Laboratory in PGH. And one fine November day they scaled the summit of Mt. Batulao in Nasugbu, Batangas. In what can be recognized as the first-ever Amputee Climb in the country, they were accompanied by over eighty mountain climbers. The climb was organized by PinoyMountaineer.com and sponsored by SMART, Physicians for Peace, and Mu Sigma Phi Fraternity.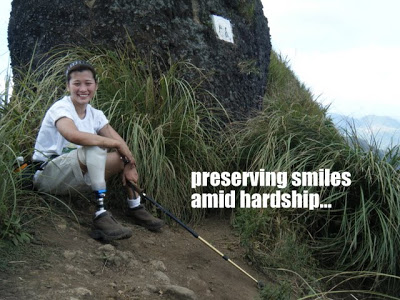 How can a minor climb be a major accomplishment? This is a question that mountaineers who joined the climb sought to answer. Mt. Batulao is considered to be a mountain with a difficulty level of 3/9 – an easy to moderate climb. Most climbers can finish the climb in 2-3 hours. But this time, the challenge was not to reach the summit, but to help others reach it. The come-on was not enjoying the mountain, but sharing the fun and experience to others.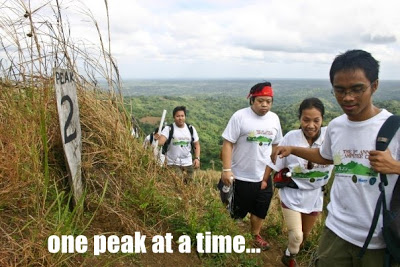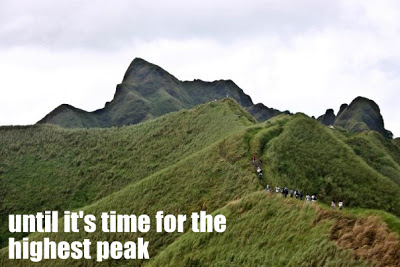 Prior to the climb, the amputees were very excited. For all of them, it was their first time to climb a mountain. And although the organizers have climbed the mountain several times, we did not know what it would entail for amputees to climb. Definitely it was a great challenge. But during the climb, they showed great determination to reach the top. As the climb got steeper, their resolve got even stronger, and although it was clearly a struggle, the amputees showed the attitude they have been showing all their lives to overcome their handicap: when you are determined to achieve something; if you put your heart, body, and mind into it, then you can make it happen.
When the amputees finally reached the summit, it was a moving, very inspiring moment for everyone. The amputees were very glad. Tired but fulfilled. Empowerment is often talked about but seldom witnessed, but during that moment both the amputees and participants could feel how true it was, what Sir Edmund Hillary said – "It is not the mountain that we conquer, but ourselves." For the amputees, their physical limitations have been 'conquered' and they can move on in pursuing their other dreams. We hope to do more amputee climbs in the future, with the hopes of sharing the same experience to others facing a similar situation.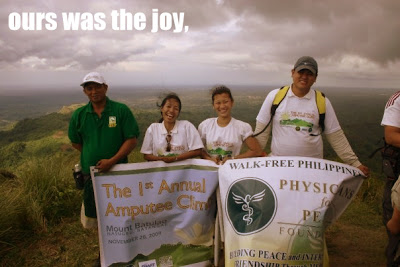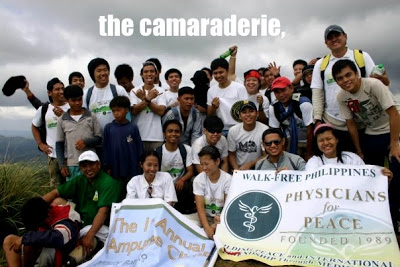 The physical limitations can truly be overcome. We all have our restrictions – it may be a medical condition, financial constraint, work-related problem, emotional dilemmas. But if we are determined to pursue our goal – be it a mountaintop or a hurdle in life – we can do it. We just have to be determined, never giving up, always setting our mind on the goal.
And so, at the end of the First Annual Amputee Climb, my parting thoughts are: if amputees can climb a mountain, what else can they do? If physical limitations can be overcome, what is stopping us from moving onwards – reaching higher peaks and pushing beyond our limits?May these questions challenge us as the image changes from a wheelchair to a mountaintop. The view is amazing.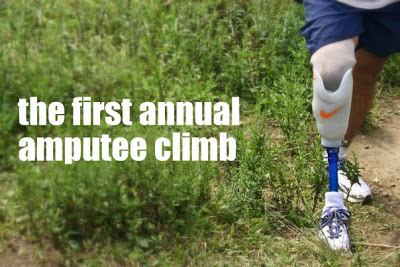 Pictures by Gideon Lasco, Gawani Domogo, and Paul Basco. Many thanks!