Update: Details of the First Annual Amputees' Climb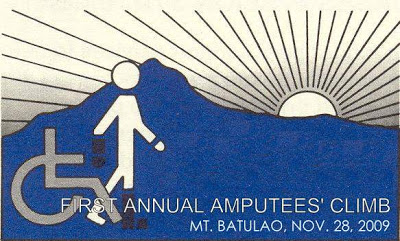 We are now releasing the full details of the First Annual Amputees' Climb. To make sure everyone will be arriving at the same time in Mt. Batulao and for a smoother itinerary, we have decided to charter a bus that will carry participants from Manila to Mt. Batulao and back to Manila. The registration fee is now P400 but this is already inclusive of roundtrip transportation, registration and entrance fee, and souvenir shirt. Those who will go straight to Mt. Batulao can still available of the original P250 registration fee.
ITINERARY
0400 Assembly in Manila
0600 ETA Evercrest; Orientation; Registration
0700 Start trek (Team A)
0715 Start trek (Team B)
0730 Start trek (Team C)
0745 Start trek (Team D)
1000 Earliest arrival at the summit
1200 Latest arrival at the summit
1300 Latest descent from the summit
1600 Earliest departure to Manila
1800 Latest departure to Manila
2100 Latest arrival in Manila
RESERVATION
To reserve slots for the climb, pls fill up these details and email to info@pinoymountaineer.com:
NAME/AGE
MOUNTAINEERING CLUB/AFFILIATION/S
MOUNTAINEERING EXPERIENCE
MOBILE NUMBER
EMAIL/MULTIPLY ADDRESS
HOME ADDRESS
Deadline for reservation is Wednesday, November 18, 2009.
PAYMENT
Because we need to pre-order shirts and make deposits for the transportation, we are requesting participants to deposit the registration fee before the
climb. Deposit details will be emailed to you after you have emailed a reservation. If you are joining as a group you may deposit as a group. If you are near
and find it hard to deposit, you can also arrange a meetup with our volunteers. More payment details will be sent once we receive your reservations.
Deadline for payment is Tuesday, November 24, 2009.
FREQUENTLY-ASKED QUESTIONS
1. What should I wear/bring?
These are recommendations only:
Wear comfortable and light clothing and a sturdy pair of hiking shoes or sandals
Bring extra shirt, hat, windbreaker, sunblock, camera, plastic bag (to cover stuff in case of rain)Bring packed lunch and trail food, as well as 2 liters of water; basic first aid kit/ meds
2. How difficult is the climb?
Batulao is a Minor Climb, Difficulty 3/9. We will be using the New Trail since it would be more accessible for the amputees.
3. I am a first timer. Can I join the climb?
If amputees can climb, so can you! But please read up on the basics of hiking in PinoyMountaineer; get yourself a good aerobic workout before the climb, and read up on Mt. Batulao in the site also.
4. How are we going to assist the amputees?
Each amputee will be accompanied by a team of hikers. Hikers will be encouraged to help the amputees in challenging parts of the trail, and we hope hikers will interact with the amputees so that we will also gain awareness on the difficulties they face in their daily lives and how they labor to overcome these difficulties.
5. Where will the proceeds of the climb go?
This climb is a non-profit activity; your registration fee will be spent for the transportation, shirt, registration, and climb expenses. Your support will not be financial but moral – a big boost to the amputees in sharing a day of interaction, adventure, and fun.
FOR MORE INQUIRIES EMAIL INFO@PINOYMOUNTAINEER.COM