Hiking matters #75: Yearender in Mt. Isarog
MANILA – For my 25th and final climb of 2009 I climbed Mt. Isarog in Camarines Sur, Bicol Region with members of the Visayan Voyage team as well as my brod Daniel Dellosa. It was a very intimate climb with close friends and I'm very glad that I managed to squeeze this climb in spite of my relentless duties at Philippine General Hospital. Bicol Region is literally 'hot' these days with Mayon Volcano still being on Alert Level 4 (hazardous eruption imminent) and the chance to see spews of ash or even lava flows from the world's most perfect cone volcano is an added come on. Of course, even without this theoretical bonus, Isarog is an enticing destination. Dubbed as an "Agua de Vuclan", it has numerous waterfalls, some of which are along the trail. Then, at the top, is a view of Mayon Volcano.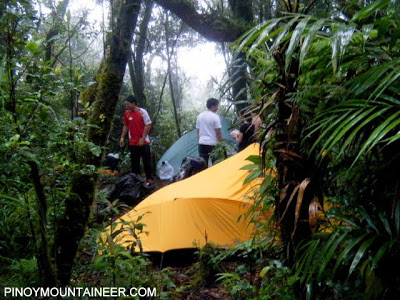 There was the choice between Patag-Patag and Panicuason. The former, the more challenging, has become quite popular these days and with the desire for a quiet climb in mind we chose Panicuason. Sleepless, I didn't want to overexert myself as well.
We took the first flight to Naga City early Dec. 29, 2009, and met with our friends who were already there at Bigg's Diner. They had secured our permits at the DENR-PASU at Panganiban Drive (where there are a lot of government buildings). We then proceeded to Brgy. Panicuasion via rented jeepney. By 0900H we we started trekking, first stopping at Malabsay Falls. By 1030H we started the ascent to Camp 1, where we spent lunch; the succession of campsites until Camp 4 ensued, and by 1530H we were already pitching our tents. Unfortunately, It was a very wet and cold camp! We were content to just sing, "The sun will come out / Tomorrow!"
And thankfully it did happen. When we woke up at 0400H to do the summit assault the skies were clear, two hours later we had a sunny view at the summit of Mt. Isarog (1966 MASL) and Mayon Volcano was right in front of us, its perfect crater effusing a hint of ash. The vast crater greeted us; so did the towns of Camarines Sur and Albay (it was after all a southward view) and had the clouds been absent a smaller Mt. Asog would have flanked Mayon to the right.
On the way down, the break the monotony of the endless forest, we visited the two other waterfalls which were quick segues from the main trail: Slide Falls just 100 meters away before Camp 1, and Nabunturan Falls around 150 meters from the DENR site. Also, although my teammates were in a hurry to get to Naga, while waiting for some of them I made a final visit to Malabsay Falls, where, in my final outdoor moment of the year, skinny dipped in the pool that I had all by myself, making for a quick but very tranquil moment of solitude.
Thus I was very refreshed when I arrived in Naga city, where we foodtripped, trying the pinaggat and the bicol express at the famous Molino Grill at SM Naga, and for dessert I had Mocha Java Raspberry (or something like that) at Beanbag Coffee. To cap off the day we visit the newly-opened branch of Kadlagan Outdoors at SM Naga where we met with Sir Jojo Villareal.
Nine hours later I am back here in Manila, preparing for my 24-hour New Year's Eve duty. Even though I won't be able to spent New Year's Eve with my family, I'm glad that I was able to make the most of these final days of the year in what was a most memorable yearender in Mt. Isarog.


PinoyMountaineer.com thanks Ms. Yolda Abante, PASU of Mt. Isarog for accommodating our group as well as our guide Jun Buenviaje.