Book Review: "Mountaineering: The Freedom of the Hills" by The Mountaineers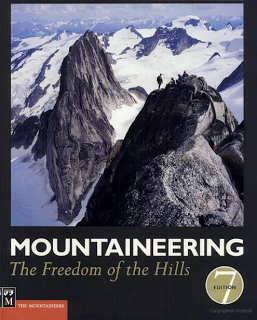 by Gideon Lasco
The authoritative textbook of mountaineering, "Mountaineering: The Freedom of the Hills", whose latest edition is sometimes dubbed 'Freedom 7', did not disappoint me. Highly informative and highly inspirational, it gives a comprehensive overview of mountaineering. This book evolved from the annual mountaineering course (very much like our BMCs) offered by The Mountaineers, a very old and prestigious mountaineering club in Seattle, Washington (very well the place where Arlene Blum first discovered mountaineering – I just wrote a book review of her 'Breaking Trail' yesterday)
Since the first edition in 1961, Mountaineering: Freedom of the Hills has become, as I wrote above, the authoritative textbook of mountaineering. Just like any excellent textbook, it is accessible to beginners and experts alike. Among Filipino mountaineers, its influence can be demonstrated by its status as probably the most quoted book by Filipino mountaineers on their Facebook or personal web pages. Let me now dissect the book into two:
Many of the chapters, while not applicable in a tropical country like the Philippines, are still very useful. These chapters, such as "Glacier Travel and Crevasse Rescue" and "Alpine Rock Climbing Technique", give us an overview by which we can fully appreciate the accounts of alpinists – which begin to include Filipinos as more and more Pinoys start to climb in ice. Indeed, I predict that the direction of Philippine mountaineering will take us not only higher, but beyond. Romi Garduce and the First Philippine Mount Everest Expedition led by Art Valdez are good examples of this emerging trend.
Many of the chapters, on the other hand, are universally applicable. The first six chapters deal with the basics, while chapter 7 deals with "Leave No Trace" and its family of outdoor ethical principles – a must-read for all mountaineers. Other useful chapters include that of rappelling, rock climbing, safety, first aid, and interestingly, there's also a chapter on leadership!
I totally recommend this book to all mountaineers — even to those who have not yet planted their feet on the mountains. The overwhelming message of all mountaineering literature is this: You can reach the summit of your dreams; it is never too late and you are never too weak to climb a mountain. Be inspired, and be an inspiration to others!
Freedom of the Hills. When I think of the title, I see the endless sky, I feel the cold, and I hear the silence of the vast, endless mountain ranges. Textbooks are usually boring but not this one. This textbook is the textbook to the clouds.