Hiking matters #102: Yudal-san in Mokpo: A scenic peak in Korea's southwestern coast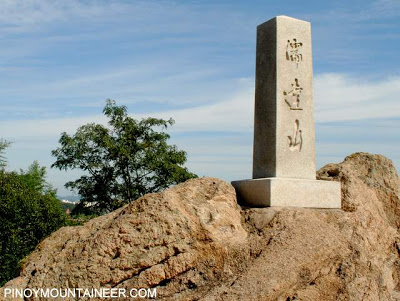 Mokpo City in Jeollanam-do is a major port city on Korea's southwest coast. Being the gateway to the famed island of Jeju, we proceeded there a day after completing Jiri-san to visit Halla-san and the other attractions of Jeju. We took the bus from Jinju City to Seongchon City, then we took another bus to Mokpo.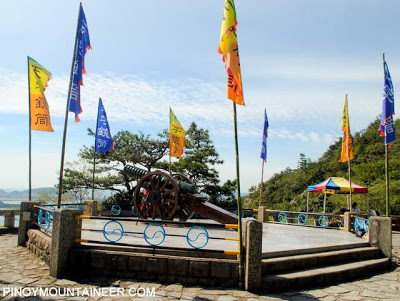 While looking for breakfast, we noticed a stunning peak right at the heart of the town, and discovering that we actually had time before the , instead of having breakfast we decided to climb the mountain instead, which was called Yudal-san (Yudal Mountain). In spite of its short height (228 MASL), the mountain boasts of a panoramic view of the entire city of Mokpo and the sea.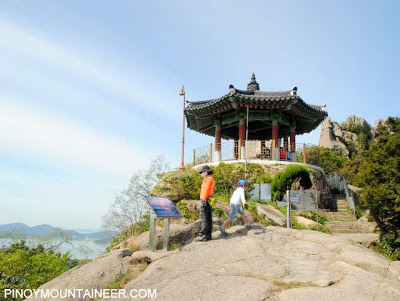 We just followed the road to and began ascending up some shrines and pagodas. Many people were hiking up the trails too, and like I mentioned before, Korea really seems to be a hiking country with many people into walking the trails from the easier ones (like Yudal-san) to the very strenuous (such as Jiri-san).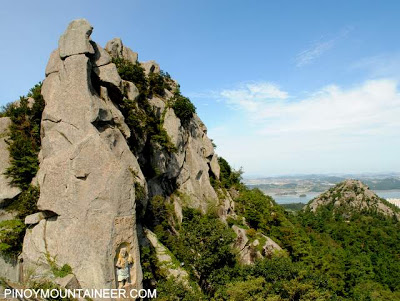 One of the attractions of Yudal-san is an old cannon that dates to the Japanese occupation of Korea (yes, like the Philippines they were colonized by Japan too – but in their case the occupation lasted for 40 years). A simple ceremony, which involves actually firing a cannon towards the sea by men in colorful costumes, is done everyday at 1100H and we were actually on the mountain when they fired it. A loud thud resonated throughout Yudal-san and we felt as if we were hearing part of history echoing in the park.


Very soon we reached the summit rocks of Yudal-san, known as Madangbawi and Ildeungbawi. The views of the harbor, and the surrounding islands, were breathtaking. The trails, too, were very nice. We may not have been able to eat breakfast, but the visual feast was more than enough to call it a very worthwhile adventure. Happily we walked our way back to the port where the ferry to Jeju island awaited!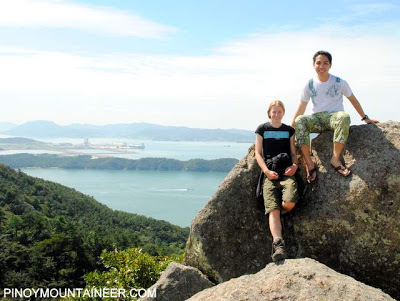 Hiking gear I used for this climb:
Sandals: Cushe Manuka Webb
Altimeter: Casio Protrek Waveceptor
Camera: Nikon D3000
KOREA HIKING TRIP 2010
Hiking matters #98: Korea in the clouds
Hiking matters #99: Korea, shopping paradise for hikers
Hiking matters #100: Jirisan Traverse: Hwaeomsa to Banyabong
Hiking matters #101: Jirisan Traverse: Banyabong to Cheonwangbong
Hiking matters #102: Yudal-san, a scenic peak in South Korea
Hiking matters #103: Dayhike up Halla-san, Korea's highest peak