Mt. Pulog (1020+) in Bacon, Sorsogon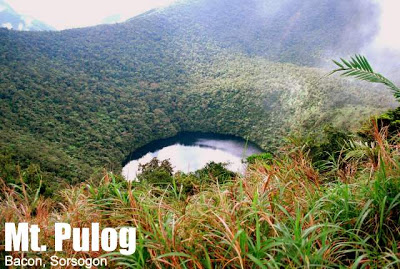 MT. PULOG

Bacon, Sorsogon

Major jumpoff: Brgy. Sta Cruz, Bacon

Alternate jumpoff: Brgy. San Juan, Bacon

LLA: 1020 MASL

Days required / Hours to summit: 1 day / 3-4 hours

Specs: Minor climb, Difficulty 4/9, Trail class 1-3
BACKGROUND
Beautifully lush and forested, ensconced in the mountain ranges of Sorsogon facing the Pacific, and best of all, dayhikable from Legazpi City,
Mt. Pulog
in the municipality of Bacon is one of Bicol's best-kept hiking secrets. It is, of course, not to be mistaken with
Mt. Pulag, the famous highest mountain in Luzon
, which is also sometimes pronounced Pulog, and therefore spelled as such.
Mt. Pulog is one of several dayhikes that can be staged from Legazpi City. In April 2011, Iron Lady Jo Steven and I dayhiked six mountains in one week, all staged from Legazpi: Asog, Malinao, Masaraga, Mayon (yes, it can be dayhiked via the New Trail), Binanderahan in Rapu-Rapu, and Pulog. You just have to take an early morning bus to Sorsogon City, and from there, take a jeepney to Bacon and ask to be dropped off at Brgy. Sta. Cruz, where you can get a guide.
At first, you walk through rural woodlands where abaca and pili are common sights; ask your guide if the native, sour fruit called hagis is in season – it is a nice trail food! After 1-1.5 hours, you will be in the Campsite, which offers good views of the Pacific ocean and of the town of Bacon. This is the halfway point in the trail.
Past this wide campsite, the trail gets steeper, and you begin to enter a forest reminscent of Mt. Cristobal and somewhat of Mt. Makiling. After another 1-1.5 hours, you will emerge from the forest into a "cogonal field" that is again reminiscent of Jones' Peak in Mt. Cristobal or the summit of Mt. Iraya in Batanes. From here, you can see beautiful views of the outlying towns.
However, the main attraction at the summit (babaw) is Pulog lake (danum); since both are called Pulog, it is useful to refer to them with the bracketed terms. It is almost perfectly round, and a traverse going to the lake is very possible – and manageable within a dayhike, especially if the weather is good. This traverse will eventually end up in the adjacent Brgy. San Juan.
Mt. Pulog is really a nice dayhike in the Bicol Region – and if you have time to spare, spending a night at the Campsite is also a good idea. Considering the volatility of the other hiking attraction in Sorsogon – Bulusan Volcano – Mt. Pulog is also a good fallback in case you cannot climb it. Hence, it is good to have Mt. Pulog in mind whenever you contemplate going to Bicol for some hiking.
ITINERARY
Based on the blogger's climb in April 2011
0500 Take bus from Albay (Legazpi) to Sorsogon City
0600 ETA Sorsogon City; breakfast
0630 Take jeepney to Bacon, Sorsogon
0730 ETA jumpoff; secure guides; register with brgy. officials
0800 Start trek
0930 ETA Campsite
1100 ETA summit. Lunch
1200 Start descent
1500 Back at jumpoff; Take jeepney to Sorsogon
1600 ETA Sorsogon City; take bus to Legazpi
1800 Back in Legazpi City
SPECIAL CONCERNS
Since the trail is relatively short and many locals know the way, it is possible to just walk-in to Brgy. Sta Cruz and secure guides on the spot. Mt. Pulog can be climbed year-round but it is also rainy in Sorsogon throughout the year; thus, one must not set high expectations on the weather.
Getting there. You must go to the Albay junction in Legazpi (one jeepney ride away from the city proper) and wait for buses that go to Sorsogon. This is a very familiar junction so you can just ask around. Of course, if you are coming from Manila, simply take a bus all the way to Sorsogon. The Central Terminal in SM Legazpi also has vans to Sorsogon, but we want to be very early to do this dayhike, so going there is not very advisable. Once in Sorsogon City, just ask for the jeep that goes to Bacon and passes by Brgy. Sta Cruz.
MT. PULOG PICTURES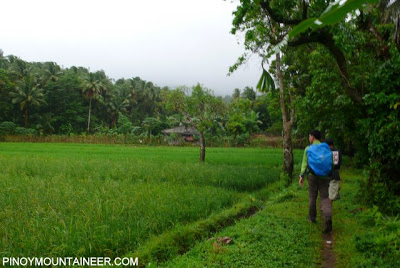 The first part of the trail passes by farmlands and woodlands.
The forest is reminiscent of that of Mt. Cristobal.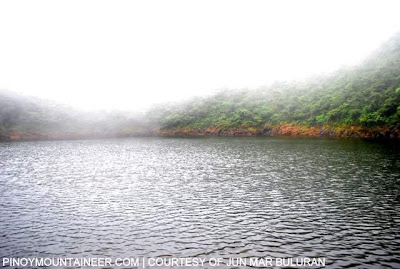 Lake Pulog can be descended as part of a traverse. It is not part of the regular trail, but if the weather is good, you can ask your guide if there is enough time to do it on a dayhike. (Courtesy of Jun Buluran)
TRIVIA
There are many mountains in the Poctol Mountain Range that Mt. Pulog belongs to; however, they are not yet explored. This possibly one of the exciting frontiers in Bicol mountaineering.
Cover photo courtesy of Jun Mar Buluran. Many thanks to him and to Gubat Mountaineering Alliance (GuMA) for accompanying us during our climb!
SEVEN BICOL CLIMBS IN EIGHT DAYS