Hiking matters #101: The three-day traverse of Jiri-san: From Banyabong to Cheonwangbong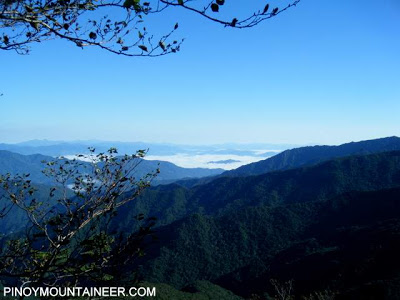 Continued from Part 1: From Banyabong Peak, we pressed on towards the next mountain hut, Yeonhacheon Shelter, where we arrived before 1800H. It became clear to us, though, that if we are to pursue a comfortable itinerary on our third day, we had to march on to the next shelter, Byeoksoryeong Shelter. So although night trekking is technically not allowed in the park, the ranger gave us permission to go ahead to the next shelter.
We began our night trek at 1930. The trek was not easy, because the slopes were rocky and there were even some roped segments. Nonetheless, before 2200H we were already comfortably sleeping in Byeoksoryeong Shelter. It was fully booked, but some kind Korean hikers ushered us into the inner chambers of the shelter – which was great because at least I experienced staying at an authentic Korean mountain hut!
The next day, though, we had to wake up very early to gain more time. We were already pushing to Seseok Shelter by 0500H, arriving there before 0900H. Again, the rock formations were very impressive. Father-and-son Pak ang Hwang joined us and they would later accompany us all the way to the bus station at Suncheon. Meanwhile, by 1200H we were at Jangteomok Shelter – just an hour away from the summit!
It was a very excited moment for us, even though I was near-exhaustion. From Jangteomok, it would be a nonstop ascent at noontime. My throat kept getting dry (and began to hurt) even though I was gulping a lot of water – this is because I am unused to the low humidity of temperate countries. The cold was more tolerable – it was just like Mt. Pulag.