Hiking matters #98: Korea in the clouds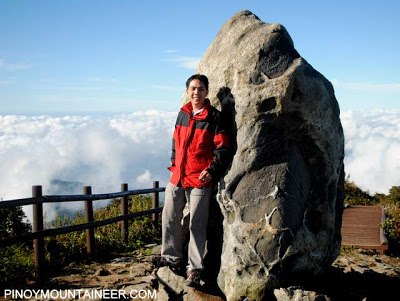 JEJU ISLAND, SOUTH KOREA – I am here in Jeju Island, located at the Sea of Japan, after a physically demanding, three-day traverse of Jiri-san, arguably the most difficult climb in Korea, and the highest mountain in the mainland. In this 8-day Korea hiking trip I am joined by hardcore Kiwi tramper Jo Steven, who is also based in the Philippines. We met in Seoul, then headed off to the city of Gwangju to commence our hiking trip.
Jiri-san, starting from Hwaeom-sa temple all the way to Jungsan Village, is classified as a 5/5 (Very strenuous) trek by the very helpful Korea in the Clouds website (after which this post is named), encompassing a grand total of 41 kilometers. We passed by three major peaks: Nogodon Peak, Banyabong Peak, and Cheonwangbong Peak, which is also the summit of Jiri-san (1915 MASL). I look forward to blogging about this extremely challenging trek when I get back to the Philippines.
Meanwhile, from Jungsan we proceed to the major cities of Jinju and Sungcheon, and finally to Mokpo where we boarded the ferry to Jeju earlier today. Before taking the ferry, however, we were able to climb another mountain, Yudal-san, in Mokpo. It offered very scenic views of the port city and the surrounding islands.
Hiking, it is said, is Korea's national recreational activity, and literally millions of Koreans are hikers. Just about everyone, from young boys to elderly women, can be seen on the trails, sporting colorful hiking attire, with all the colors you can imagine. Korean mountains may not be so high (Jiri-san is 1915 MASL) but there are endless trekking possibilities, from the easiest to the most difficult.
Then, there are many other fascinating aspects of Korea which make it a very nice destination. The technology, the cultural treasures, the natural scenery, and the cuisine are all quite nice, and we've found the people, particularly the hikers, quite friendly, too. We will not forget the kindness of the Korean friends we met along the trail: Okchun Jade Kim and her friend; as well as father and son Pak and Hwang. Though very tired, I am glad I made this trip. Another hiking day tomorrow – I hope the weather holds. Meanwhile, I thank God for taking us here in one piece!
KOREA HIKING TRIP 2010
Hiking matters #98: Korea in the clouds
Hiking matters #99: Korea, shopping paradise for hikers
Hiking matters #100: Jirisan Traverse: Hwaeomsa to Banyabong
Hiking matters #101: Jirisan Traverse: Banyabong to Cheonwangbong
Hiking matters #102: Yudal-san, a scenic peak in South Korea
Hiking matters #103: Dayhike up Halla-san, Korea's highest peak