Gear Review: Deuter ACT Trail 32 daypack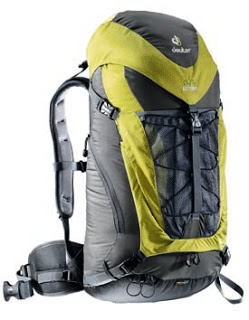 Gear review by Cecil Morella (AMCI)
Equipment Adviser, PinoyMountaineer.com
PinoyMountaineer.com is honored to have Sir Cecil Morella of AMCI as its equipment adviser starting May 2009, providing insights on camping gear and equipment in the website's "Climb Gear" section.
I bought a 32-litre Deuter ACT Trail shortly after routine day hike gone awry across Mount Makiling in July, when eight hours turned into 24 and I realised that a day pack should be able to carry more than trail water and snacks.
Rated as best all around in the category at the 2009 Backpacker Magazine Gear Guide and gear of the year for Outdoor magazine in 2007, the rucksack is a tall top-loader (26 inches by 12.5, and 9.5 inches deep) with a U-shaped access zipper in front below a kangaroo pouch that can carry a raincoat, an emergency tarp, a rain jacket, or all of the above if necessary. It comes with its own rain cover attached, which folds into a zipper pocket at the bottom. All that buzz does not come cheap however. You could buy a good locally made tent for its retail price.
The pack bag fabric is made of some thin, rip-resistant nylon and the frame is removable foam. To keep the weight low (about 1.35 kilograms), the shoulder straps are narrow and with minimal padding, and the similarly made hipbelt makes the pack sit lower on your back compared to a regular-size weekend pack. The belt features a pocket that can carry a point-and-shoot camera, mobile phone or portable music player. The manual does not indicate the optimum load range, but reviews put it at 22 pounds, or about 10 kilograms. It felt comfortable during a recent traverse day hike of Mount Batulao, with the total load a bit below nine kilos. I also use it on other short trips.
So what should a day pack carry, anyway? Apart from trail water and trail food, first aid kit, rain gear, waterproofing and washup clothes, experience suggests it should make allowances for the probability, however slim, that the outing would extend into an overnighter. People do get lost, get injured, or get sick and the timetable goes to hell. So in goes a headlamp with extra batteries, length of rope, knife, emergency shelter, a light sleeping bag, fleece sweater, extra food. Firestarter.
So does one need a Deuter ACT Trail for all of these? In practical terms no, any other pack bag with a proper hip belt, and the right dimensions for your torso (I have a 20-inch torso, though this model says it fits all between 17 and 21), would do. But it is nice to know that I am using a good one.