Gear Review: Deuter Aircontact 55+10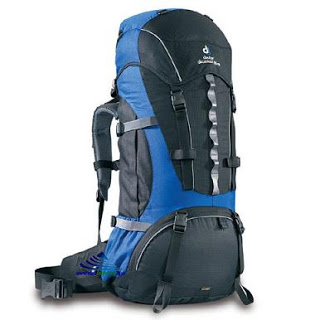 It was in February 2009 when I began using Deuter Aircontact 55+10 as my main backpack for multi-day hikes. Over a dozen major climbs and three major expeditions later, I can say that this pack is really a very reliable backpack which has lived up to my expectations.
For me, the beauty of the Deuter Aircontact 55 + 10 is its anatomic hip belt, which actually relieves much of the load from my shoulders. Many outdoor textbooks say that around 40% of the weight of the pack can be relieved by the hips, but this can only be made possible if the bag is designed to transfer weight towards the pelvic area. The Aircontact 55 achieves just th
at – and although my shoulder still ached after my recently-concluded traverse of Jiri-san in South Korea, I'm sure I would have suffered more if I did not have adequate pelvic support.
The pack itself is also highly adjustable, depending on the hiker's build, and on the bag's contents. This adaptation is what they call the Vari-Quick harness system. Then of course, the
internal frame provides support and my laptop can snug in quite easily. The 55+10 L space is more than enough even for a self-contained multi-day hiking trip.
One other observation I noted is that, although the Aircontact is not waterproof, water that is absorbed by the pack dries easily. I'm not sure if this observation is shared by others, but for me this is very important especially in the Philippines where rain during a trek is almost inevitable. Rain that is absorbed by the pack adds to its weight, making the trek even harder. So it's really a big advantage to have a pack that is hydrophobic.
I've also brought the Deuter Aircontact in my backpacking trips, and it has also fit the bill of a backpacking backpack, so I can use it also my travels.
All said, I'm not looking for a replacement pack at the moment. The Deuter Aircontact 55+10 does fine and will stay with me for a long time.